Community
UP Trainees on a 'Mission' to Lend a Hand
Posted July 17, 2014 07:45 AM CDT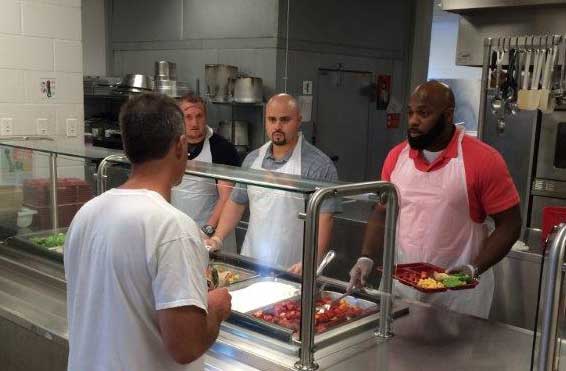 UP employees serve up community spirit. From left are: Ryan Curtis, manager of Operating Practices-Chicago; Alan Bixler, manager of Operating Practices-Chicago; Corey Shaw, manager of Yard Operations-Texarkana.
Omaha's Open Door Mission got some extra helping hands recently from Union Pacific employees in the Field Management Training (FMT) Program. The trainees took an evening to serve dinner at the mission, an organization whose credo is "breaking the cycle of homelessness and poverty."
The FMT Program is designed to give new front-line managers the tools necessary to become great leaders. "There were 15 of us in town for training," said John Maeda, manager of Yard Operations-Chicago. "When we had some down-time, we decided to do something to help out the community, instead of just hanging out. It was a group effort, and everyone was really happy to do it. When the need arose, our people went above and beyond. And the Open Door Mission always is very gracious when we're there."
"The Open Door Mission provides more than 800 safe shelter beds to the homeless, and more than 2,000 hot meals every day," said Candace Gregory, president and CEO of the Open Door Mission. "We really appreciate the time UP volunteers take to help make a difference in our community."
From the beginning of the nine-week program to graduation, participants are expected to take a leadership role, said Debra Berry, Union Pacific Human Resources program manager. "Seeing the journey each class goes through is very rewarding," Berry said. "One of the nice things about this most recent class was how they sought out different opportunities to give back to the community and the company while here in town."

Union Pacific Field Management Trainees, July 2014. Back row, from left are: John Dahlke and John Maeda. Front row, from left are: Robert Hoskin, Jeremy Hopcus, Sam Thomason, Alan Bixler, Joey Helm, Travis Oakes, Scott Larsen, Corey Shaw, Carl Spearman, Ryan Curtis and Randy Haney.