Community
Union Pacific Police Pass the Torch
Posted July 22, 2014 11:16 AM CDT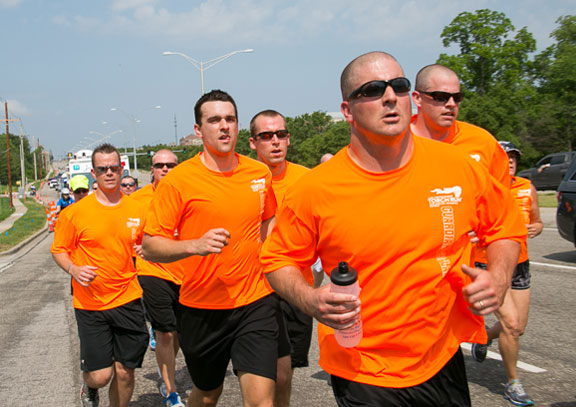 UP Special Agent Marcus Davis leads the pack during the Law Enforcement Torch Run for Special Olympics Kansas.
Union Pacific special agents recently joined local, county and federal law enforcement agencies to participate in the Law Enforcement Torch Run for Special Olympics in Nebraska and Kansas.
In 1981, Wichita, Kansas, Police Chief Richard LaMunyon created the Law Enforcement Torch Run to increase awareness of Special Olympics. Since then, the torch run has grown significantly, with events taking place in 46 different countries.
Special Agent Todd McKeeman of North Platte was one of three Union Pacific special agents to run in the torch run this year. McKeeman has participated in the torch run off and on for the past five years. He grew up watching his mother teach life skills to people with intellectual disabilities. Her clients spent a lot of time in the McKeeman home, and helping them gain independence quickly became a passion of his. McKeeman said, "When I got into law enforcement, one of the things I could do to stay involved in that community was the torch run. I love doing the torch run because I can see how much it means to the athletes. It's something I do every year if I can."
The mission of Special Olympics is to provide sports training and athletic competition for children and adults with intellectual disabilities. The training helps the athletes demonstrate courage, experience joy and build self-confidence. The funds raised during the Law Enforcement Torch Run are used to help pay for the athletes' overnight stays.
If you are interested in volunteering with Special Olympics, please visit their website at specialolympics.org for more information.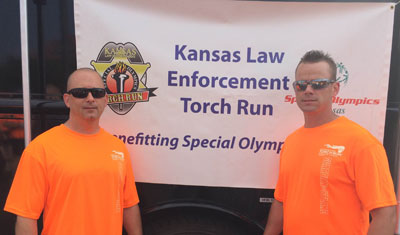 UP Special Agents Marcus Davis, left, and Division Director Bradley Thorne were among the participants at the Law Enforcement Torch Run for Special Olympics Kansas.