Community
Historic Rotary Snowplow Receives Warm Welcome in Roseville
Posted July 23, 2014 08:07 AM CDT
SPMW (Southern Pacific Maintenance of Way) 7221 on display in Roseville.
One of Union Pacific's legendary rotary snowplows — SPMW 7221 — made its final move July 1 into Roseville, California. It didn't cut through any drifts but still was welcomed by crowds who came out to see it become part of a permanent display just outside UP's J.R. Davis Yard, alongside the Southern Pacific steam locomotive No. 2252.
Davis Yard is an obvious choice to display this historic equipment as it is a processing point for 95 percent of all rail traffic though Northern California — that includes freight and passengers heading through Donner Summit, where snowpack can reach 18 feet deep.
"All rotaries for the Sierras ran out of Roseville," said Bill Lynch, retired Southern Pacific superintendent, responsible for battling snow over Donner Pass. "They were sometimes called War Wagons — going to war against Mother Nature. If there was any one place on the railroad that this belongs, it's right here."
Rotary snowplow technology hasn't changed much in 100 years. The equipment acts like a giant auger, cutting into the snow and shooting it off to the side. "A good rotary can travel three to four miles an hour, but Donner Summit gets what we call 'Donner Summit Cement,' a wet, heavy snow that's awful hard to remove," Lynch said. "I've ridden many an hour at the break-neck speed of two miles an hour, when that was the fastest you could make it go with a snow load."
City Councilwoman Pauline Roccucci said the moment was like deja vu. "I have a photo of my father from 33 years ago standing in front of a snowplow just like that. It's exciting to transcend history. When you come into Roseville, you will see the rotary, and you will see the locomotive — you will see Roseville: Past, Present and Future."
The snowplow dedication was part of the celebration of Roseville's membership in Union Pacific's Train Town Registry, a program instituted to commemorate Union Pacific's sesquicentennial in 2012, acknowledging the bond between the railroad and early settlements. The program continues today.
"This really makes the entrance into downtown even nicer. The trains are beautiful," said City Councilman Tim Herman. "When I moved to Roseville 25 years ago, I knew right away it was a train town, and always would be."
The history of the railroad and Roseville is intertwined, said Scott Moore, vice president-Public Affairs, Western Region. "For more than a century, through the Southern Pacific and Union Pacific, thousands of employees have passed through this yard, and cleared snow from the summit. For the next 100 or so years, history will continue to show how important Roseville is to our railroad and how important the railroad is to Roseville."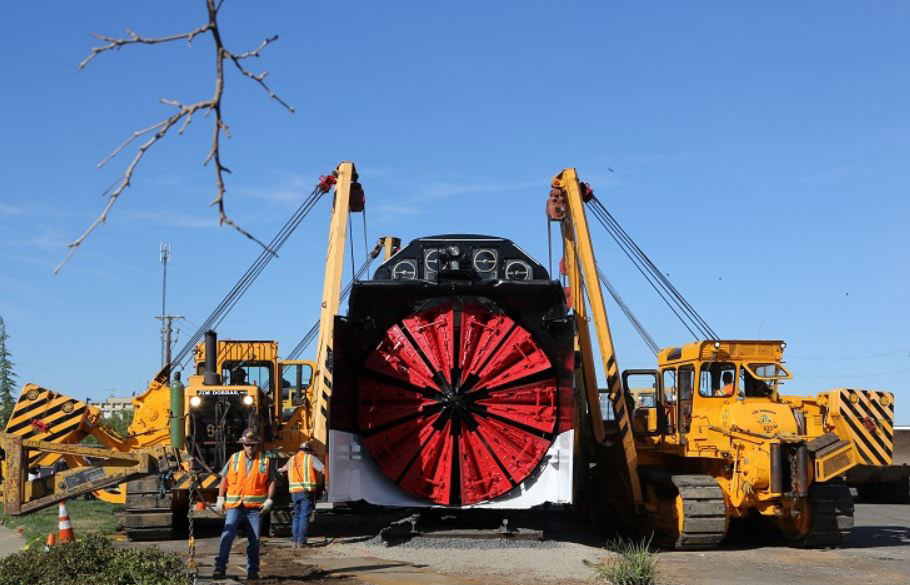 Cranes help move the rotary snowplow into place on Atlantic Street, just outside UP's J.R. Davis Yard.