Early Morning Action Helps Save Kansas Middle School
Posted July 30, 2013 02:45 PM CDT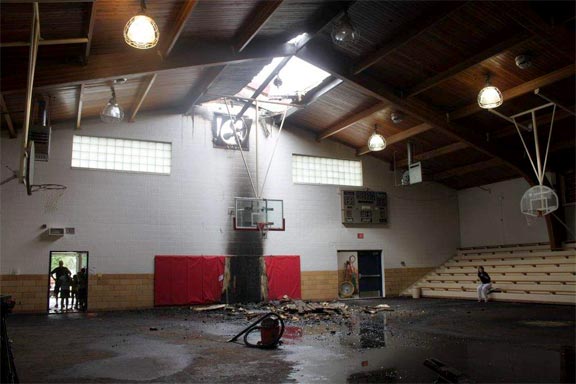 Canton-Glava Middle School, Galva, Kan. Photo courtesy of The McPherson Sentinel.
If you see something, say something. It's a national homeland security slogan, but two UP employees took it to heart for a local community and saved the Galva, Kan., middle school from completely going up in flames.
Eric Hardey, UP conductor, and Jim Iverson, UP locomotive engineer, were passing through Galva on July 26 and spotted the school roof on fire. The Kansas City Service Unit train crew contacted emergency personnel, and the blaze was extinguished, preventing further damage.
The efforts of Hardey and Iverson earned praise from the mayor of Galva, Kan., as well as from the Superintendent of the Canton-Galva Schools, Bill Seidl. "The crew's call to 911 at 2:36 a.m. enabled the Galva Fire Dept. to minimize the damage and keep it contained to a small portion of the roof of the gym," Seidl said. "It is possible that the entire gymnasium could have burnt down along with a portion of the entire school building."
Thanks to the quick actions of the crew and the emergency responders, Canton-Galva USD will be able to open the school on time with minimal damage to the structure. "We are so thankful for their reactions to what could have been a tremendous tragedy," Seidl said. "It goes without question that this is a great example of people helping people."
Terry Hanken, Hutchinson manager-terminal operations, said this crew was in the right place at the right time. "Our crews work on these territories year after year," Hanken said. "It's important for us to be a part of these communities and help safeguard them. I believe that any one of my crews would have stepped up to help in a similar fashion."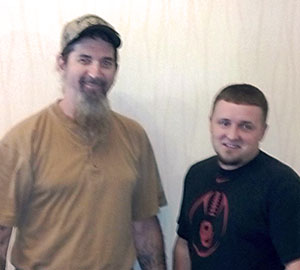 UP Locomotive Engineer Jim Iverson, left, and UP Conductor Eric Hardey.