UP Welders, Foreman Battled Blaze that Threatened Town
Posted August 27, 2013 03:57 PM CDT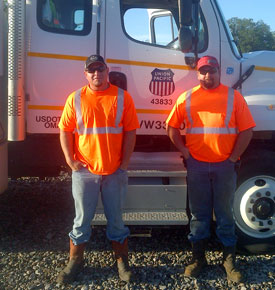 From left, Welders Josh Harrison and Dusty Stanglin.
Flames, sparks and hot environments are typical situations for welders, but three Union Pacific employees working the Choctaw Subdivision north of Fort Worth, Texas, got a firsthand glimpse of how hot a situation can get.
Welders Josh Harrison and Dusty Stanglin and Section Foreman Bradley Barkley were working on the track when they noticed a fire in the distance. An elderly man had backed his travel trailer into an electrical line, which snapped and sparked a fire.
Strong winds and tall grass fueled the fire, threatening not only the man's trailer and truck, but also a handful of houses in the area.
The employees had prepared a fire-risk assessment for the day and determined the risk to be fairly high. With no fire department nearby, they put their railroad training into action.
"You don't realize how important training is until something happens one day and you're ready for it," Barkley said.
The fire spread underneath the porch of one house, so the employees grabbed the fire equipment and water from their truck. After a battle to keep the fire under control, they were able to put it out – saving the house, truck and trailer.
A train crew witnessed the event and radioed to dispatchers that the welders had saved the town.
Barkley gives credit to his colleagues for being proactive in preparing employees for situations such as these, especially Total Safety Culture Facilitator Michael Cleary, who trained them and provided the necessary equipment to maintain a safe working environment.
The teamwork displayed by the crew was a testament to the employees' camaraderie.
"In Choctaw, we believe in teamwork," Barkley said. "My hat is off to Dusty and Josh for their actions. With their help, we were able to assess the situation and work together to do what needed to be done."
Barkley said anyone could work together to achieve a common goal.
"We all strive to be the best," he said. "As long as people work together, anything's possible, no matter what your title is."