ESGR Certificate Honors UP Veteran Support
Posted August 28, 2013 10:53 AM CDT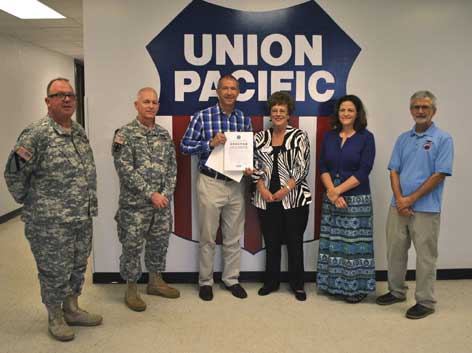 UP's NLR Service Unit receives the Employer Support of the Guard and Reserve (ESGR) Freedom Award Certificate Aug. 16. From left, Frank Tracy, Chief Warrant Officer 3 and Union Pacific locomotive engineer; Keith Klemmer, brigadier general; Monty Whatley, general superintendent-Transportation Services; Sen. Jane English, Arkansas ESGR vice chair; Hilary Dubois, lieutenant colonel; and Norman Baker, BLET #585 local chairman.
Frank Tracy, an Army National Guardsman with almost 20 years of military experience, had just started a new job with Union Pacific when the world changed. In the wake of 9/11, he was called to active military duty. He answered the call, placing an ocean between himself and his family and new co-workers.
After his return, he resumed his job as a locomotive engineer and immediately set out to thank Union Pacific.
"UP has allowed me to smoothly transition in and out of the military leave of absence periods," Tracy said. "Most importantly, during the four years away from my family and friends, I have never had to worry about what I would be doing when I returned home from combat."
Thanks to his nomination, UP's North Little Rock Service Unit received the Employer Support of the Guard and Reserve (ESGR) Freedom Award Certificate Aug. 16. It honored Union Pacific as one of the top 30 companies in Arkansas for outstanding support of current members of the National Guard and Reserves and veterans.
ESGR programs are designed to recognize employers for employment policies and practices that support their employees' participation in the National Guard and Reserve. All awards originate from nominations by individual reserve members, such as Tracy, who appreciates the railroad's commitment to veteran, active guard and reserve soldiers.
"Union Pacific is an extraordinarily military-friendly company, not just in Arkansas, but across the nation," he said. "Arkansans should appreciate Union Pacific here in North Little Rock – the Tracy family certainly does."
Tracy has been a member of the Armed Forces for more than 31 years and joined Union Pacific in February 2001. He has been deployed four times, serving in Kosovo and Iraq.
Tracy has previously nominated Union Pacific managers, union leaders and the North Little Rock Service Unit for the ESGR and Department of Defense's Patriot Award, and The Freedom Award.
Learn more about Union Pacific's military recruiting efforts by visiting the UP Careers website.