Colton Flyover Supports L.A.-Area Business
Posted September 5, 2013 04:52 PM CDT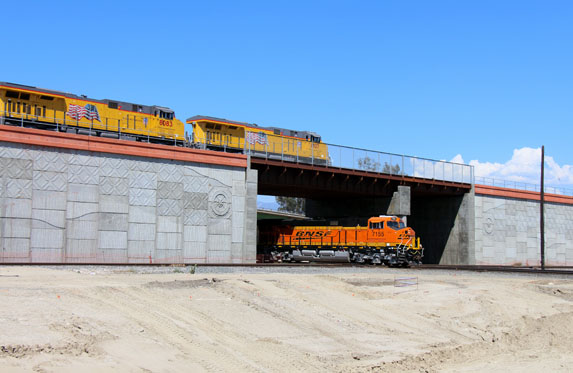 Standing 40-feet high at its pinnacle, the Colton Crossing flyover drastically improves freight fluidity for the more than 100 trains traveling through the area.
With the slice of a ribbon Aug. 28, Union Pacific CEO Jack Koraleski and UP partners signaled completion of the Colton Crossing public-private project, supporting business growth in Los Angeles and California's Inland Empire.
Construction on the Colton flyover began in 2011, elevating Union Pacific's east/west tracks over existing north/south BNSF tracks to dramatically improve fluidity at the 131-year-old rail intersection. Before the flyover's construction, Colton Crossing was one of the nation's busiest at-grade rail-to-rail crossings, accommodating daily more than 100 trains, carrying freight and passengers.

In addition to lessening rail congestion, the project will reduce delays for motorists at area rail crossings, decrease noise and air emissions from idling locomotives, expedite freight movement and improve passenger train schedules.
An impressive engineering feat, construction of the 518-foot-long flyover required 211,000 cubic yards of cellular concrete backfill and 1,800 tons of steel, which is the equivalent of materials required for three steel bridges. In addition, employees laid 27,500 feet of new track and installed 11 switches.
Federal, state and local government funding, coupled with private dollars from Union Pacific and BNSF Railway, made the project possible.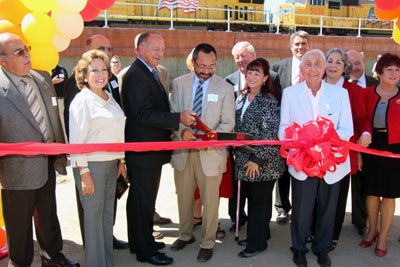 Joined by California community officials, Union Pacific CEO Jack Koraleski, left, and Juan Acosta, BNSF Railway regional assistant vice president-state government affairs, cut the ribbon on the Colton Crossing project, signaling that Los Angeles and California's Inland Empire are open for business.