Safety
UP Crew Recognized for Courage to Care
Posted September 19, 2013 02:00 PM CDT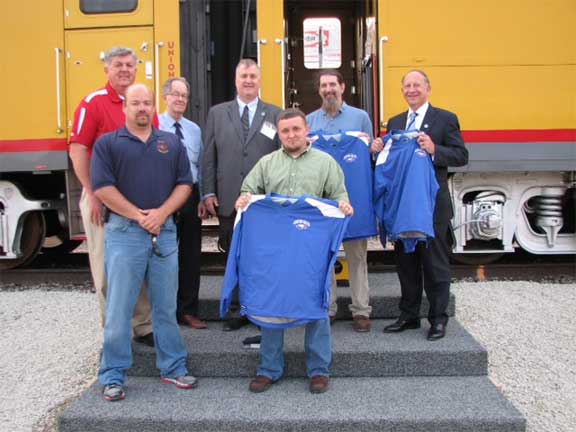 Union Pacific and community representatives involved in the August 21st presentation include,(front row from left), Richard Baldwin, captain with Galva Fire Department, Eric Hardey, UP conductor; (back row from left), Bill Seidl, superintendent - Canton-Galva school district; Wayne Ford, mayor of Galva; Denis Corcoran, UP general superintendent; Jim Iverson, UP locomotive engineer; and Jack Koraleski, Union Pacific president and chief executive officer. (Photo courtesy of The Herington Times)
Union Pacific employees Jim Iverson, locomotive engineer, and Eric Hardey, conductor, were honored by community and Union Pacific officials Aug. 21, for their actions in taking the UP safety initiative "Courage to Care" out of the workplace and into Galva, Kan.
Hardey and Iverson, both Kansas residents, were passing through Galva on July 26 and spotted the roof of the Galva middle school on fire. The Kansas City Service Unit train crew contacted emergency personnel, and the blaze was extinguished, preventing further damage.
"We're especially proud of them," said Jack Koraleski, Union Pacific president and chief executive officer. "Courage to Care is all about making safety a passion in your life. It's not just work, but anything not safe or not right, even if it means stopping the line or stopping the train. You've clearly lived that with this example."
"Courage to Care is an internal UP initiative for safety, represented by two lions that have each others backs. The Latin phrase for 'Go home safe' reminds employees to watch out for employees, but also watch out for those in their communities," said Donna Kush, vice president - Public Affairs. She added that the insignia is worn on safety vests, banners and hard hats to remind employees of the motto.
Denis Corcoran, general superintendent, gave the men gold safety spikes for "going above and beyond," by calling in the fire.
Thanks to the quick actions of the crew and the emergency responders, the Canton-Galva USD was able to open the school on time with minimal damage to the structure.
"Words can't say how happy we are that you called the fire in when you did," Bill Seidl, superintendent of Canton-Galva school district. "If the fire had gone on for another 20-30 minutes, who would know what would have happened. At 2:30 in the morning, for you to be aware of what's going on, you two were a gift from God."
Iverson and Hardey also received tokens of appreciation from the school district, the Galva Fire Department and the city of Galva.
"After the storms, you have helped our city come back together, said Wayne Ford, mayor of Galva. "And we love UP!"
Portions of this article appeared previously in The Herington (Kansas) Times, and are reprinted with their permission.