Actions Signal Employees' Courage
Posted September 26, 2013 04:25 PM CDT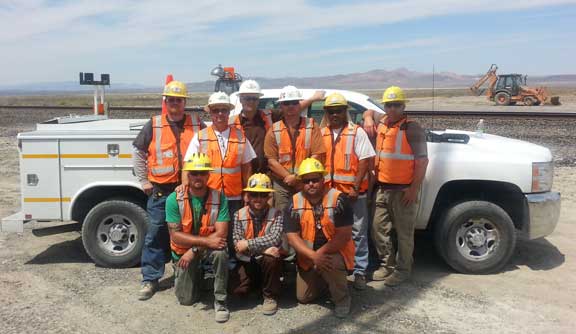 Standing from left are Jeremie Parks, signalman; Greg Walls, assistant signal foreman; Lonnie Klinkhammer, signal foreman; Mark Forgues, signalman; Robert Middleton, lead signalman, and Tom Shane, signalman. Kneeling from left are Signalmen Shane Robins, Brian Hogan and Rob Pate.
Union Pacific Signal Gang 7040 was installing track wires in West Sacramento when they heard an ear-ringing explosion.
"It seemed too loud to be a firecracker, and it broke our routine," said Greg Walls, Union Pacific assistant signal foreman. Earlier, he had noticed a group of teens riding their bicycles into an alley 150 yards south of where the gang was working, and the area sees a lot of foot traffic. The explosion was alleged to have been from a pipe bomb teens had been building in the alley. After the initial shock, the signal gang rushed into action.
A voice cried out, "Help me! Help me!" Signalman Brian Hogan headed toward the screaming victim. Walls dialed 911 and as others grabbed the trauma kit and duct tape from the truck, the gang ran to a teenager lying in the alley, bleeding, his hand and wrist mangled. He appeared to be in shock.
"He was sitting there with shrapnel in his leg, chest and chin," Walls said. "Blood was pouring from the spot where his right hand should have been."
Hogan immediately placed a tourniquet on the boy's arm, while others packed gauze on the bloodied limb and wrapped it tight with duct tape. The gang talked to the boy to keep everyone calm. Luckily, emergency crews arrived within 10 minutes.
"I stand proud to work with and be a part of Signal Gang 7040," Walls said. "These employees showed the courage to care and the courage to help a fellow human being by rushing in to face an unknown danger."
Though the signal gang made efforts to follow up on the boy's condition, they were met with no response.