UP in the Pink and in the Rain to Fight Breast Cancer
Posted October 7, 2013 03:51 PM CDT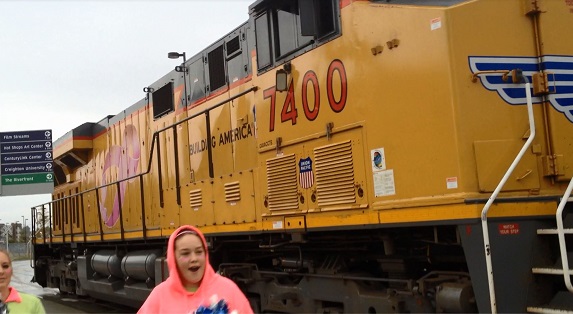 The steady drizzle of rain and temperatures in the 50s did not deter participants, including a large contingent from Union Pacific, in this year's Race for the Cure on Sunday, Oct. 6, in Omaha, Neb.
UP has been a race sponsor for 14 years, and consistently has the largest corporate team in Omaha's race. This year, registration from UP included more than 1,100 members and raised more than $105, 000 for the cause. Celebrating its 20th anniversary, the fundraiser helps Susan G. Komen for the Cure support community health outreach programs, with 75 percent of the funds collected from this local effort staying in Nebraska.
"This is an important fight we must take seriously every year. There is no one I know who can say they do not have a friend or relative who has battled this terrible illness," said Diane Duren, Union Pacific executive vice president and corporate secretary. Duren is the Race for the Cure executive sponsor through UP's women's initiative, LEAD (Lead, Educate, Advance and Develop).
In 2010, UP created and unveiled UP No. 7400, the Pink Ribbon Locomotive, as a tribute in support of Susan G. Komen for the Cure, and the many lives - employees, community members, friends and family - affected by breast cancer. The locomotive, on display during Omaha's race, also has been on display during Susan G. Komen for the Cure events in North Little Rock, Ark., Houston, Sacramento, Calif, Chicago and Los Angeles.