San Antonio UP Employees Man the Chow Line
Posted October 9, 2013 08:50 AM CDT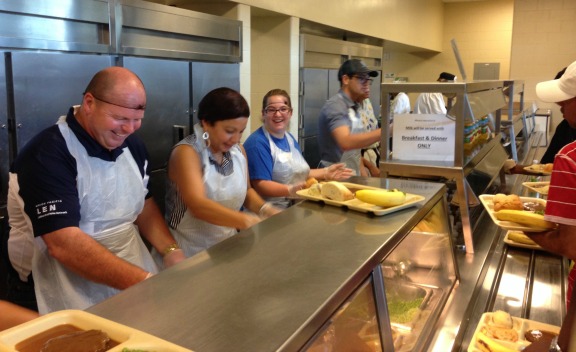 Manning the chow line at Haven for Hope, from left, are San Antonio Service Unit Superintendent Mike Brazytis, his wife Lana, daughter Lisa, and Daniel Balbontin, signal engineering associate.
September was Stop the Hunger month, and to do their part, members of Union Pacific's Latino Employees Network (LEN) in San Antonio volunteered to prep and distribute food to homeless residents at Haven for Hope, a local homeless shelter in Bexar County.
The volunteer crew, which consisted of UP employees from Operating, Damage Prevention, Claims and Signal departments, spent the morning and lunch hour Sept. 27 prepping TV dinners, bagging snacks, slicing vegetables, and then serving a nutritious lunch of Salisbury steak and mashed potatoes.
Damage Prevention Manager Marco Villarreal said the LEN chapter organizes volunteer efforts at least three times a year and hopes to make it a monthly endeavor. Haven for Hope was chosen because of its proximity to UP's main line operations in San Antonio.
"We're always looking for ways to reach out and make a positive connection to the communities we serve," Villarreal said. "In addition, these efforts give us a chance to do something off duty as a team that also involves our families."
The Union Pacific Latino Employees Network is an organization intent on focusing on the development, recruitment, retention and advancement of Latino employees within Union Pacific Corporation and its subsidiaries.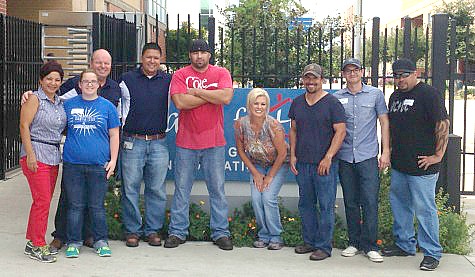 The Union Pacific team of volunteers at Haven for Hope, from left, Lana Brazytis, Lisa Brazytis, Mike Brazytis, Marco Villarreal, damage prevention field manager; George Salinas, yardmaster; Tonia Rodriguez, senior claims representative; Rolando Vasquez, manager signal maintenance; Daniel Balbontin and Jose Reyes, signal maintenance foreman.