Educators Tour UP's West Chicago Training Center
Posted October 14, 2013 03:33 PM CDT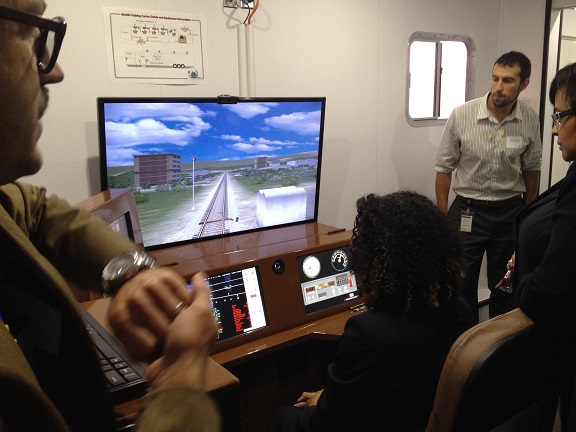 Education leaders check out a simulator during a tour of UP's West Chicago technical training center. "Showing some of our hands-on training drives the point home regarding what skill sets we look for in various job candidates," said UP's Wes Lujan, AVP–Government Affairs for Illinois, Minnesota and Wisconsin.
Union Pacific's Human Resources team and 23 Chicago-area education leaders met at UP's technical training center in West Chicago Oct. 3 to discuss skill sets the railroad seeks when considering candidates for employment.
Guests toured the welding laboratory, the signal laboratory and one of the new state-of-the-art locomotive and conductor training trailers. Among those on hand were Chicago-area education leaders representing the Chicago Cook Workforce Partnership, City Colleges of Chicago, National Able Network and Prairie State College.
"As educators prepare the workforce of the future, it's important to understand not only the technical skills sets we hire for, but also our safety culture," said Jamie Herbert, AVP–Human Resources. "Today's session was all about developing a better appreciation of the tasks new hires perform, the preparation required to succeed and how continuous learning is paramount given the evolution of our work."