Safety
Tucson Committee Targets Downtown Area with Safety Messages
Posted October 31, 2013 02:18 PM CDT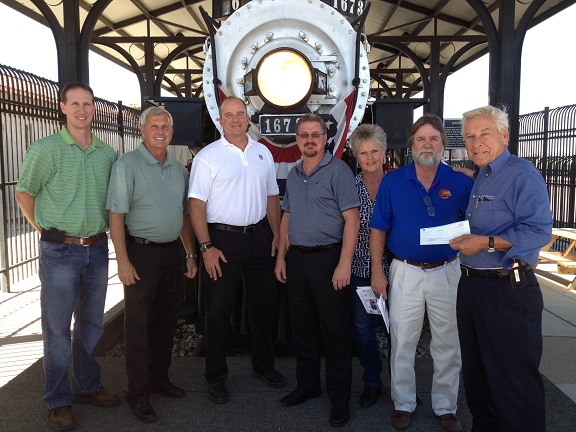 Standing in front of SP locomotive No. 1673 at the Southern Pacific Depot in Downtown Tucson, Ken Karrels from the Downtown Tucson Rail Safety Committee (far right) receives a Union Pacific CARES grant check from (from left) MTO Ryan Clare, DTO Will Thurman, MTO Craig Webster, DTOP Mike Stebens, Sr. MOP Christine Moore and MOP Mike Anderson.
As Tucson's downtown corridor continues to expand, a new rail safety initiative is being kicked off that targets the area's growing population.
Spearheaded by the Downtown Tucson Rail Safety Committee – a local community organization – the effort combines a variety of promotional materials, all with a central theme: Stay off railroad tracks.
The target audience includes University of Arizona college students who live in housing near rail operations. Additionally, the City of Tucson is constructing a modern streetcar line, which is expected to increase the number of people headed downtown to enjoy the area's many bars and restaurants located near railroad right of way.
With funds from a Union Pacific CARES grant, the safety committee is purchasing signage and vinyl sidewalk messages to educate students and others as they walk near railroad operations. In addition, posters bearing rail safety messages will be hung throughout campus, and handouts will be distributed to students and others who live in the area.
The effort also includes placing cactus fencing near railroad right of way to help eliminate trespassing. The project is expected to be launched in November.
The Union Pacific Cares Safety grant program provides financial support to community-owned railroad safety initiatives. Programs eligible for UP CARES grant funds include youth education activities, school or community safety days, community safety blitzes and grade crossing educational enforcement activities. Learn more about railroad safety and the safety grant program at UnionPacificCares.com.