The Proof is in the Railport
Posted November 4, 2013 12:28 PM CDT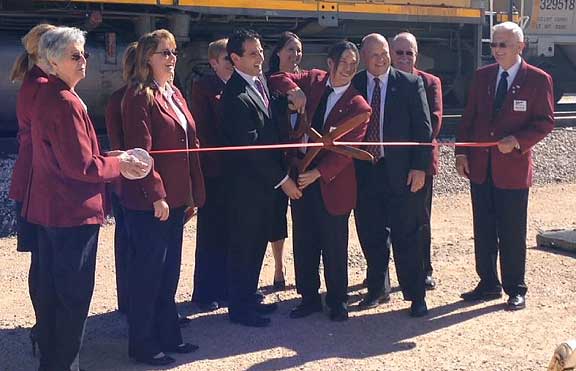 Dave Giandinoto, AVP and general manager - UPDS and Marty Huff, gen. director - UPDS, with the Odessa Chamber Ambassadors (in red jackets), at the ribbon-cutting ceremony Oct. 24.
The ribbon is cut, the railport is open, and Union Pacific Distribution Services is ready to serve the 'bread and butter' of Odessa, Texas, after a ceremony held Oct. 24.
"This huge dollar investment that Union Pacific has made for additional rail infrastructure is proof that UP believes in the long-term viability of the local economy," said Mike George, president and chief executive officer - Odessa Chamber of Commerce.
The railport, directly served by Union Pacific Railroad is a dedicated pipe and bulk transloading facility.
"Let me just say thank you to Union Pacific, for assisting our 'bread and butter' industry - oil and gas," said George. "By allowing [those industries] to operate more profitably, everyone in west Texas is indirectly benefited - even if they are not in the oil business.
"There's an ancillary benefit that drivers in this area will notice and appreciate - the reduction in the number of trucks hauling steel pipe, sand and heavy equipment on our local highways. This Odessa railport eliminates these 'over the road' trips, making our highways much safer," he added.
"We are excited to provide door-to-door transportation services that help meet the growing logistics needs of the region's energy sector," said David Giandinoto, assistant vice president and general manager-Union Pacific Distribution Services (UPDS). "We look forward to providing customers the benefits of direct rail access in the Permian Basin as a competitive alternative to long-haul truck shipments."
The Odessa Railport is located at the intersection of Texas 338 Loop and I-20 Business in East Odessa.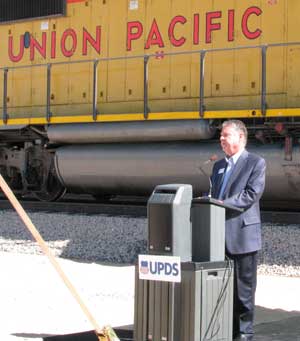 Mike George, president and CEO - Odessa Chamber of Commerce.