Steam
Big Boy No. 4014 Prepares to Leave Pomona
Posted November 14, 2013 07:40 AM CDT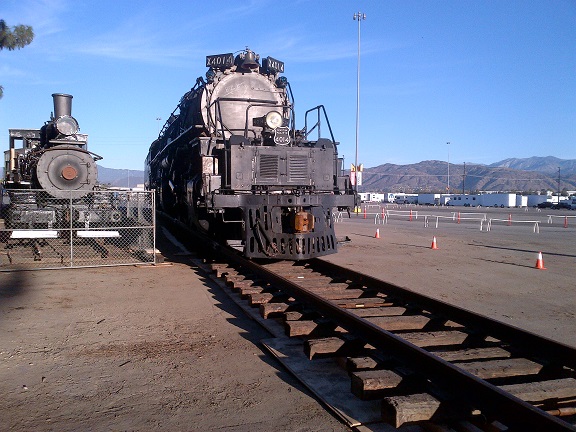 Union Pacific's Big Boy No. 4014 prepares to depart RailGiants Museum, located at the L.A. County Fairgrounds in Pomona, Calif. It marks the steam giant's first move in more than two decades.
Preparations are almost compete that will allow moving Union Pacific's latest addition to its heritage locomotive fleet – the Big Boy No. 4014 steam locomotive – from its former home at RailGiants Museum in Pomona, Calif., to the roundhouse in Cheyenne, Wyo.
Union Pacific reached an agreement in July with the Southern California Chapter - Railway & Locomotive Historical Society to transfer ownership of one of the world's largest steam locomotives back to Union Pacific. Since then, the UP Steam Team, headed by Ed Dickens, senior manager-Heritage Operations, spent the past few months working areas of the Big Boy that haven't been serviced in decades.
Before UP No. 4014 can hit the main line once again it first must cross the facility's parking lot. The plan calls for the UP Steam Team to install second-hand track panels, which will be "leap frogged" to connect to a staging area of the nearby Metro-Link rail line.
"We saw-cut the pavement and excavated down 14 inches to install the initial track panel," Dickens said. The locomotive then had to be pulled up a gentle 1 percent grade that the Steam Team affectionately called "Sherman Hill." A CAT 988 wheel loader did the heavy lifting. Plywood was used beneath the track panels to level out the parking lot's uneven surfaces.
Dickens said the tedious move across the parking lot will begin as soon as an NHRA racing event being held at the fairgrounds where the rail museum is located is complete, which could be as early as Nov. 14.
"The Steam Team couldn't have done this without help from all our numerous partners back at headquarters, Supply and General Superintendent Rodney Doerr, Andrew Gonzalez, Kyle Krzemien, Paul Rojas, Michael Canevit and the entire crew of the LA 90 maintenance of way supply facility," Dickens said.
The schedule to move the Big Boy across Metro-Link to its next destination – Colton, Calif. – Is currently under development with Metro-Link. Final travel preparations will be made in Colton, after which No. 4014 will be moved to Cheyenne. The restoration process is expected to take several years and will involve thousands of hours of work by a team of steam locomotive experts.