UP Makes Special Delivery to Omaha's Union Station
Posted November 19, 2013 08:30 AM CDT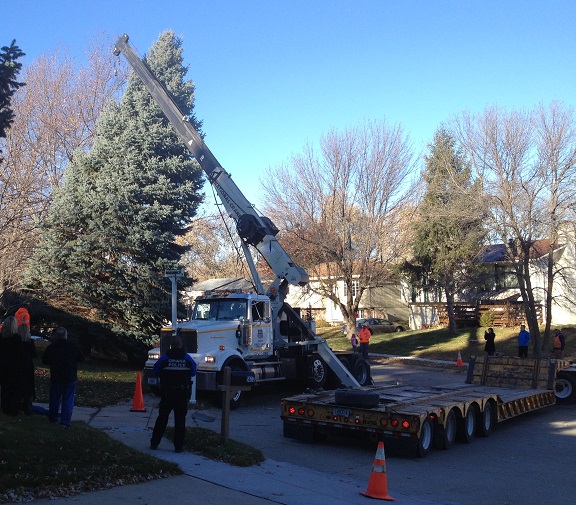 UP crews work to cut down and load the 45-foot blue spruce donated by Kevin and Linda Redlinger. The couple planted the blue spruce shortly after having their home built. They submitted a request to have the tree considered to be "Omaha's Official Christmas Tree" last year.
A sure sign that the holiday season is under way in Omaha is the annual raising of the Christmas Tree at Omaha's Durham Museum -- a Union Pacific tradition for more than 75 years.
The tradition continued Nov. 18 when UP employees cut and transported this year's tree -- a 45-foot blue spruce -- from the home of Omaha residents Kevin and Linda Redlinger.
"This is our 22nd year to harvest the tree locally and Union Pacific employees look forward to helping bring this holiday symbol to the former Union Station each year, just like their fellow employees did so many years ago," said UP's Kelli O'Brien, director–Public Affairs for Nebraska and Iowa. "The expressions on the faces of young and old alike when they first walk into The Suzanne and Walter Scott Great Hall and see the decorated tree for the first time are priceless."
Union Pacific began the tradition more than 75 years ago by cutting a Christmas tree from along its right of way in the Pacific Northwest and transporting it to Omaha's Union Station. The tree greeted the thousands of passengers arriving on trains during the holiday season in the heyday of passenger rail service.
After this year's tree is placed in The Durham's massive, art-deco-patterned, terrazzo-floored Suzanne and Walter Scott Great Hall by Union Pacific employees, it will be sprayed with a chemical fire retardant prior to being decorated by volunteers as well as employees from David M. Mangelsen's, an Omaha-area craft store.
The fully decorated tree will be ready for the lighting ceremony which begins at 4 p.m. on Friday, Nov. 29.