Safety
UP Crew's Actions Prevent Propane Accident
Posted December 10, 2013 07:49 AM CDT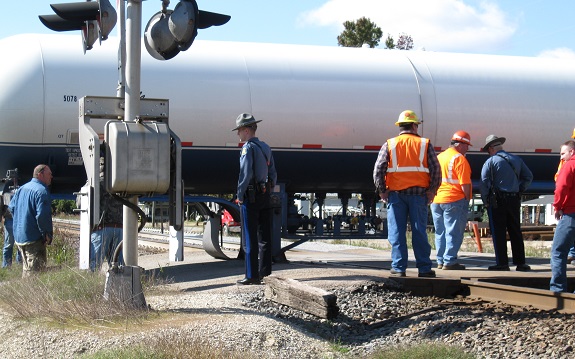 A local truck driver went around detours and tried to take a shortcut, becoming high-centered on a grade-crossing. The trucking company has cooperated with UP to better educate its employees on crossing safety.
When a propane truck became high centered on a rail crossing in Bell City, Mo., a UP civil construction work group acted quickly to prevent a tragedy.
The group has been working in the area for more than seven months, laying six miles of new rail and installing new grade crossings on the double main line. Recently the work involved temporarily closing a highway-rail crossing, and a detour system was put in place to safely divert traffic.
"A local truck driver tried to beat the system and save five minutes by going around the detours to another nearby crossing," said UP's Dwain Taylor, track systems foreman. "His mistake could have cost us all our lives."
Working about 1,000 feet away, SEMA Contractor Ken Grossman saw the truck's situation and radioed an urgent alert to Taylor, which set the team in motion.
Taylor knew UP-4462 North was approaching and immediately radioed the train crew, whose locomotive engineer put the train into emergency.

Fortunately, the train was moving up a slight grade, carrying a lighter-than-usual load and had reduced speed due to a slow order. It was able to stop about 500 feet from the truck.
"We were all scared and mad at the driver for putting us in this predicament," Taylor said. "I believe someone was looking down on us, because the conditions were in our favor."
After the incident, Taylor and UP's Jeff Hill, track systems foreman, contacted UP's Response Management Communications Center to send state patrol and a tow truck. It took more than three hours to remove the semitrailer from the crossing.
Kevin Dawson, UP public safety director, reached out to the trucking firm's owners to discuss the incident and offered the railroad's assistance to educate the company's drivers about grade crossing safety.
The owners were receptive, and even put Dawson in touch with associations such as the Missouri Propane Gas Association and the Missouri Farm Association (anhydrous ammonia) to help raise awareness. Dawson said in the next few months, he and other employees will extend their efforts to similar associations across UP's entire Northern Region.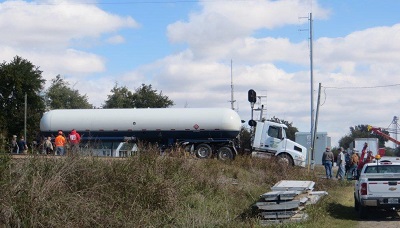 It took more than three hours to remove the propane truck from the crossing.