It's a Wrap for Operation North Pole
Posted December 11, 2013 07:58 AM CDT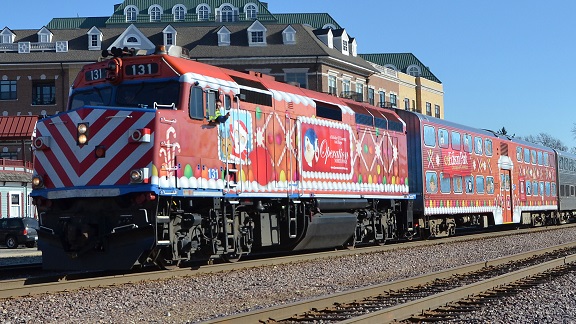 Santa's Gingerbread Express Metra train passes through the village of Palatine, Ill.
For the second year, Operation North Pole wrapped part of a Metra train in a holiday theme as a special treat for all the region's families.
One rail car and a locomotive were wrapped with bright holiday colors and images of Santa's Gingerbread Express. The train will remain wrapped for the entire holiday season, delighting young and old as it whisks by on Metra's Union Pacific lines.
Operation North Pole is devoted to bringing the joy of the season to children suffering from life-threatening illnesses and their families by providing a fun-filled day of respite, including the train ride, breakfast with Mrs. Claus and a visit with Santa at his workshop. This year's event took place Dec. 7 when 62 families boarded a chartered Metra train at the Des Plaines Metra Station. After a short ride, the families were escorted by Santa to the Rosemont Convention Center for a special holiday party and visit to Santa's workshop.
Operation North Pole is an all-volunteer, community-based, non-profit public charity. Its primary mission is to provide a day of fun and fantasy during the holiday season for Chicago-area families battling the emotional and financial stress of dealing with life-threatening or terminal illness of one or more of their children. ONP hosts various fund-raising events throughout the year to raise money necessary to fulfill the wishes of these very special children and their families.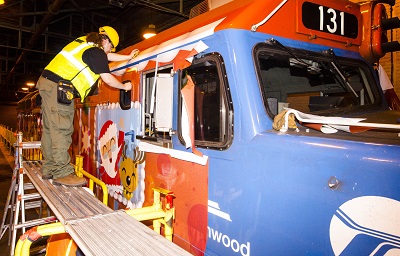 An Operation North Pole "helper" applies a festive wrap on a Metra locomotive. Helpers also applied a wrap on a Metra commuter car.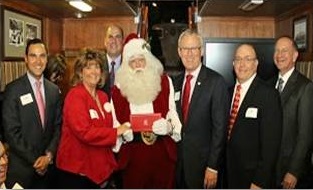 Santa receives a gift from Union Pacific to help support Operation North Pole.