Volunteering a Family Affair for UP El Paso Employees
Posted December 12, 2013 08:52 AM CDT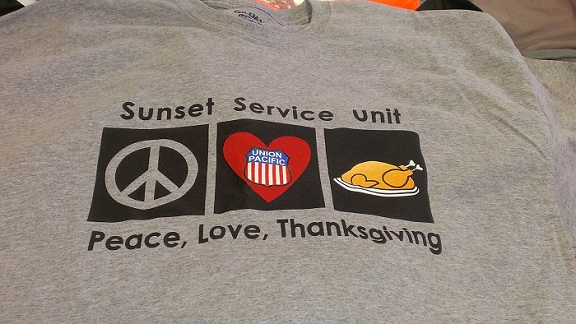 The T-shirt, worn by Sunset Service Unit volunteers, says it all.
Union Pacific Sunset Service Unit employees and family members continued a community tradition, serving Thanksgiving dinner to the city's homeless and near homeless during The City of El Paso's Thanksgiving Celebration.
UP's Pablo Gonzales, senior business manager-Marketing & Sales, coordinated the UP volunteers and participated with his daughter.
"I felt very proud seeing my daughter volunteer," Gonzales said. "When the shelter closed, she made sure a family that came in late received a meal. It was a great feeling to see her want to help the less fortunate."
The dinner, funded by charitable contributions from El Paso businesses, including Union Pacific, served nearly 5,000 people with 250 turkeys, 300 pies, 200 bags of rolls and 27 cases of potatoes.
"Employees who sacrificed their time volunteering did more than provide a meal for those in need, they also showed that UP cares about the well-being of neighbors in the communities where we operate," said Lance Hardisty, UP superintendent-transportation services, Sunset Service Unit.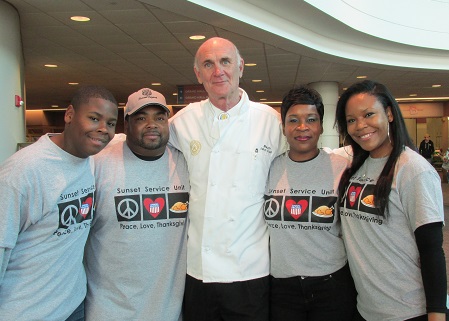 Former El Paso Mayor John Cook, center, stands with the Roe family: UP Manager of Signal Maintenance Donnelle Roe (the guy with the hat), his son D.J., far left; daughter Danielle, far right, and wife DeVona.