Talkin' Trains in Mesquite
Posted December 17, 2013 10:44 AM CDT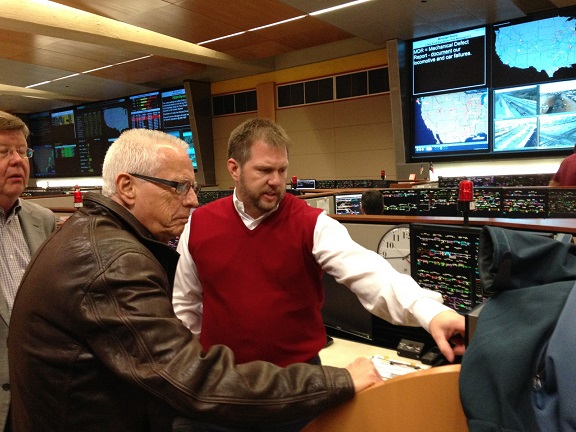 Corridor Manager Tony Wronko, right, shows Mesquite Mayor John Monaco what his city's rail network looks like on Omaha's Harriman Dispatching Center overview screens while Gen. Superintendent HDC Southern Region John Landers looks on.
Union Pacific was a guest at a special Talkin' Trains luncheon event held in Mesquite, Texas, Dec. 11.
The program featured Mesquite Mayor John Monaco and UP Sr. VP of Corporate Relations Bob Turner discussing the railroad, its operations and its impact on the city's economy. The audience included members of the Mesquite City Council and other community leaders.
Prior to the luncheon, Mayor Monaco received a tour of UP's Mesquite facilities, including its automotive and intermodal operations. The day's activities were part of an ongoing effort to educate the city about UP's ongoing expansion efforts.
A month earlier, Mayor Monaco traveled to Omaha to tour UP's Harriman Dispatching Center and receive business overviews from the railroad's marketing, engineering and operations groups.