Steam
Big Boy No. 4014 to Begin Historic Trek to Cheyenne
Posted April 24, 2014 08:36 AM CDT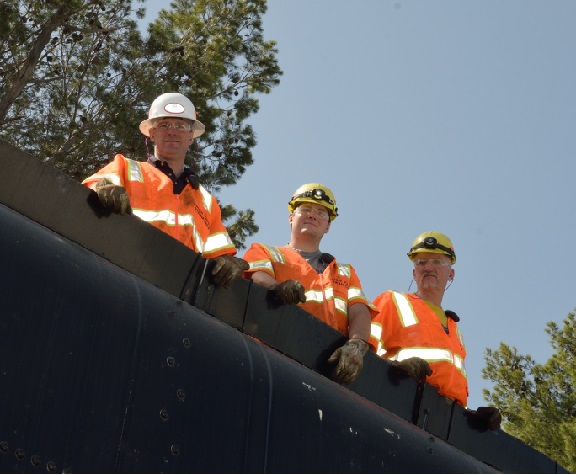 From left, Ed Dickens, senior manager of UP Heritage Operations; Austin Barker, steam locomotive journeyman machinist; and Ted Schulte, steam locomotive fireman, during preparations of UP No. 4014 last month in Colton, Calif.
After months of preparation, the Big Boy No. 4014 will begin its move from Colton, Calif., to its new home in Cheyenne, Wyo., Monday, April 28 at 8 a.m. PDT.
The 1.2 million pound steam locomotive will be towed 1,293 miles by modern diesel-electric UP freight locomotives to Heritage Fleet Steam Operations headquartered in Cheyenne, where it will undergo restoration for the next five years.
Ed Dickens, senior manager of UP Heritage Operations, said employees and rail fans have been eagerly awaiting Monday's move. "Thousands have come out to see us in Southern California during the preparation for this move," Dickens said, "and we expect thousands more to visit us on the journey to Cheyenne."
Big Boy No. 4014 will be on public display in Las Vegas, Salt Lake City and Ogden, Utah, during the 11-day excursion to Cheyenne. The detailed schedule – including display hours – is available online at upsteam.com.
Fans also will be able to track the locomotive via UP's Steam Locomotive Tracking webpage, and via the UP Steam Twitter feed (@up_steam).
No. 4014 fans planning to view the locomotive trackside are reminded of the safety-focused UP policy regarding photography and video of UP equipment, posted here at UP.com.
Following a 17-year operating career, UP delivered No. 4014 to RailGiants Train Museum in January, 1962. No. 4014 was one of 25 Big Boys built for Union Pacific and was used primarily for freight service on the transcontinental railroad route beginning in 1941. UP plans to restore the locomotive to operating condition.