Insights
From Rocket Scientist to Railroader, Meet Amber McDaniel
Posted November 24, 2014 10:17 AM CDT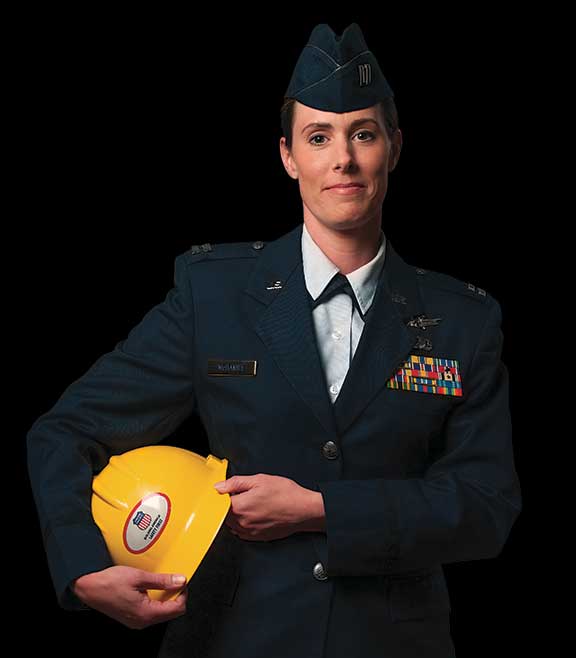 Hard work and long hours were nothing new to Amber McDaniel when she joined the railroad. In six years as a member of the Army National Guard responding to state disasters, she fought fires in South Dakota and helped restore power to Nebraska communities after an ice storm.
But before she joined Union Pacific, she also served in the Air Force, where she led efforts on the proposed design for the Air Force ICBM. Her work ranged from prototyping and designing the missiles to determining how to avert misleading strikes — a rocket scientist! Deployed to Iraq, McDaniel worked in procurement on the first joint effort with the Iraqi Ministry of Defense and Iraqi Ministry of the Interior to purchase mine-resistant combat vehicles.
Impressive credentials. And UP is proud to have Amber on our team.
Union Pacific offers many unique employment opportunities for veterans and actively recruits through military transition offices and career fairs. GI Jobs recently ranked Union Pacific fourth on their list of military-friendly companies.
Growing up, McDaniel was surrounded by railroaders. They all were union/agreement employees, and with the exception of one uncle, they all worked for the BNSF Railway. "I always knew that's where I was headed, a career with the railroad," she said. But life for an agreement employee can be difficult, and sometimes there were grumblings at home about process and schedules.
With that in mind, McDaniel said when she joined the railroad, it would be with an eye toward trying to make operations better, and helping to improve the quality of life for employees like her family. Recently assigned to an Operating Services fuel efficiency project, Amber believes her work on this project will do just that.
"It's about saving fuel, but how do you do that?" she asked. "Efficiency in operations saves fuel, but then touches all aspects of the railroad. This new project has lots of challenges, and lots of excitement."
In addition to her work as a senior manager in Operating Services, McDaniel also serves as president of the employee resource group UP VETS. The group's mission is to recruit, develop and retain military veterans through engagement in the company and community. The UP VETS group is working to help meet UP hiring needs through connections with other veterans and reserve units. Technical skills learned in the Air Force as well as leadership training are just two things from her military career that continue to serve McDaniel well at the railroad.
"My advice to those transitioning into the civilian industry is to focus on the core values instilled in you, and the technical and leadership skills you acquired," she said. "Those skills are invaluable whether you're serving your country as a soldier or serving your company as a leader. I tell every veteran I meet that I could not have made a better decision than to come to Union Pacific."