Insights
New Commercials Showcase Several UP Communities
Posted October 27, 2014 03:33 PM CDT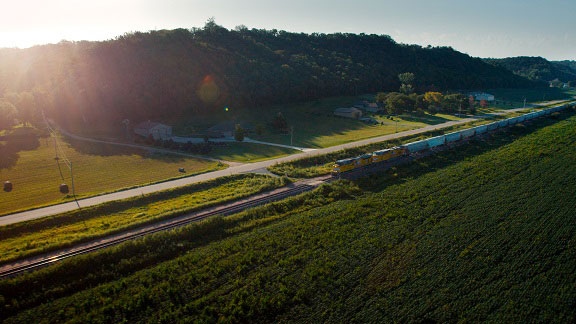 A still from "Carrying a Nation's Pride," shot between Council Bluffs and Missouri Valley, Iowa.
By now you've seen the new Union Pacific television commercials airing on network and cable channels nationwide. The ads showcase our pride in the role we play in delivering the goods Americans use every day, providing jobs and supporting the communities in which we operate. The commercials, titled "Our Salute" and "Carrying a Nation's Pride," were shot primarily in Omaha, Nebraska; California Junction, Iowa (20 miles north of Omaha); Dallas-Fort Worth and Portland.
"We wanted to make sure we represented the different types of landscapes, terrain and communities in which Union Pacific operates," said Tom Lange, assistant vice president-Corporate Communications for Union Pacific. "The shots in Omaha and California Junction capture the essence of the Midwestern plains."
Lange said shots of the Dallas skyline combined with track gang footage shot near Ft. Worth reflect the urban and rural extremes of Union Pacific's southern region, which also includes Louisiana, Arkansas and Oklahoma.
Helicopters were used to capture compelling aerial footage along the Columbia River Gorge near Cascade Locks, Oregon, 45 miles east of Portland. The helicopter crew coordinated with UP's operating managers on the ground to know when the train was coming and how fast it was going. The locations of the train and the helicopter were carefully timed with the sunset.
The stunning locations in Nebraska, Iowa, Oregon and Texas were chosen for their natural beauty and because of the important role they play in the Union Pacific rail network, operated by more than 19,000 employees throughout the four states.
"I love that we were able to shine a light on the softer side of what we do," Lange said. "When we think of railroads, it's usually something very concrete – things like locomotives, cars and tracks. But at the end of the day, Union Pacific is in the business of helping people live their lives. All of the hard work and grit matters because we're moving a nation forward by moving the products Americans rely on each and every day."
Stay tuned! A third commercial begins airing in November.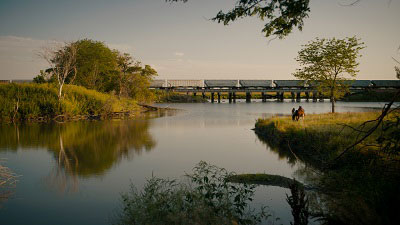 A still from "Our Salute," shot near California Junction, Iowa.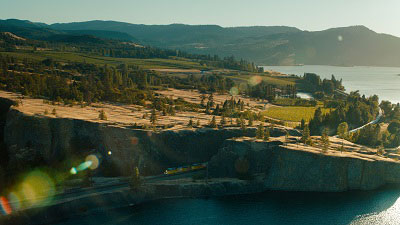 A still of the Columbia River Gorge from "Our Salute," near Cascade Locks, Oregon.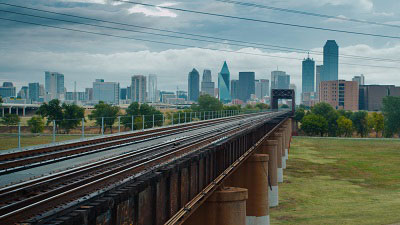 A still from "Carrying a Nation's Pride," shot near Dallas, Texas.