Community
UP Employees Reach Out with Back to School Barbecue
Posted August 13, 2014 09:16 AM CDT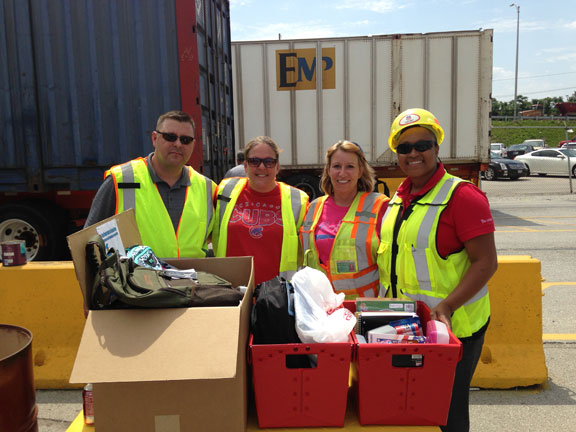 Pacific Rail Services employees, who work at Yard Center, from left are Charlie Read, Becky Walsh and Debra Moore. Kajanda Love, Union Pacific manager - Intermodal Operations, is on the right. Not pictured is Zetron Harvey, Union Pacific senior manager - Intermodal Operations, who generously donated all the food.
It's back to school season! In an effort to connect with their community, Yard Center Intermodal employees in Dolton, Illinois, held a Back to School Barbecue to collect school supplies and raise funds for Bryant Elementary School in Harvey, Illinois. The cash collected will be used to purchase more school supplies.
At the event, employees sold hot dogs, hamburgers, chips, cookies and soda, raising a total of $400. Another $400 was collected in donated school supplies. Kajanda Love, Union Pacific manager of Intermodal Operations, coordinated the event with her co-workers. "By reaching out to those younger members within the community, I believe we can have a positive, far-reaching impact," Love said. "Events like this will give us a greater opportunity to make a difference."
Arlisa Bolton, communications manager with Harvey Public School district, was excited to receive the supplies. "We have a program in our district that helps out the homeless. We typically get about 240 homeless students every year," Bolton said. "We'll have these supplies ready to help them out this year and it means a great deal. The trains and trucks they've seen their whole lives will actually be associated with something wonderful now. This helps out a lot."
The Harvey Public School district will be having a back to school parade on September 13. Union Pacific employees are invited to come watch the parade. Bolton said to keep a lookout for a banner thanking UP's Dolton, Illinois, team for their generosity.