Community
Armour Yellow and Big Red Team Up for Special Train
Posted April 21, 2014 03:30 PM CDT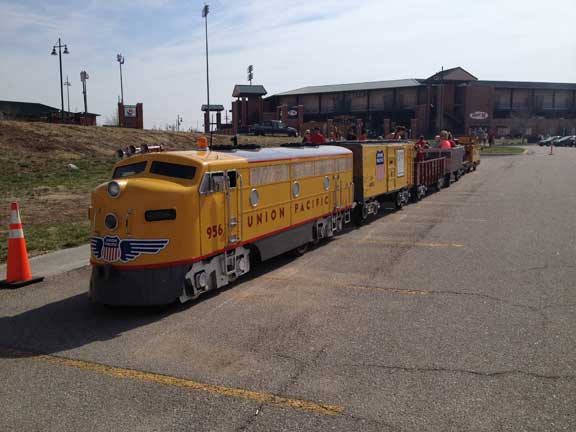 UP Mini-train No. 956 outside Haymarket Park April 12. Lucky attendees of last week's Spring Game got free rides from UP's popular ambassador.
Union Pacific's mini train was in Lincoln, Neb., April 12 providing rides to attendees of the University of Nebraska Cornhuskers annual spring football game and calling attention to a special train that will operate across the state June 28.
Recognizing that Union Pacific and the University have strong bonds with so many towns across the state, the two are partnering to further that connection with those communities.
As part of its celebration of 125 years in college football, and to thank the fans who support all Big Red programs, head coaches for Nebraska's men's and women's sports will board The Union Pacific Big Red Express Saturday, June 28. The football program, even with 125 years of history, is the younger partner in this relationship with Union Pacific, a 152-year-old company with its roots in Nebraska.
"Our mini-train was a hit in Lincoln and called attention to the operation of the Big Red Express in June," said Donna Kush, UP vice president of Public Affairs-Northern Region. "The Big Red Express demonstrates our pride and our commitment to communities across the state of Nebraska, including four whistle stops and other communities where 8,000 of our employees live and work every day."
The Union Pacific Big Red Express is the Nebraska version of a historical throwback - the whistle-stop tour that brought Presidents Harry S. Truman and Franklin D. Roosevelt to important cities where they could step off the train, stand on a platform and communicate directly with the people they served. "That's what we're doing, but we're not really selling ideas; we're just meeting people and thanking them for all the support they've shown to the University of Nebraska Athletics, year after year and decade after decade," said Paul Meyers, Nebraska's Associate Athletic Director for the Husker Athletic Fund. "Union Pacific is a corporation that has helped us maintain our tradition, and we thought it was a great idea to ride their tradition to help support our own."
It will be a whirlwind trip with a world of great intentions. "Our head coaches are really looking forward to connecting with our fans, so they can thank them for their phenomenal support of Nebraska Athletics," said Michael Stephens, Nebraska Assistant Athletic Director of Marketing and Licensing. "It will also be a great opportunity for our fans to hear from our head coaches and get a chance to interact with them."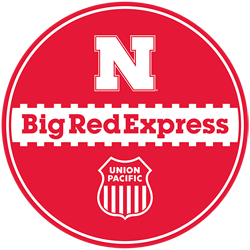 The Big Red Express!