Community
Funds Support Veteran Services Center
Posted August 12, 2014 04:54 PM CDT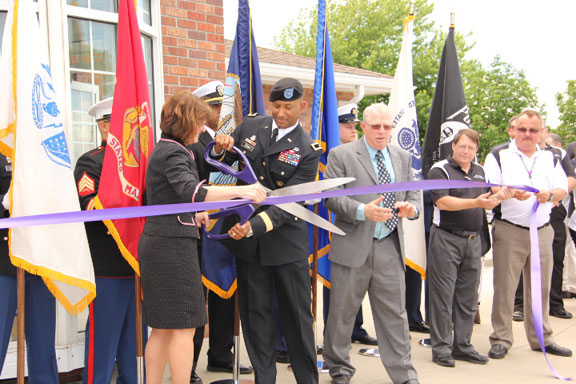 United States Army Brigadier General and Bellevue University alum Jason Evans cuts the ribbon with Dr. Mary Hawkins at the opening of the Military Veteran Services Center on May 31, 2013.
Honoring the significant presence of military veterans in the UP workforce, the Union Pacific Foundation recently donated $10,000 to the Bellevue University Military and Veteran Services Center (MVSC). The MVSC is located on Bellevue University's main campus in Bellevue, Nebraska, and offers services such as career counseling, one-on-one mentoring and a comfortable, quiet space to study.
On hand for the presentation was Jesse Miller, Union Pacific manager of training and development - Marketing and Sales. Miller is also an Army veteran and the training and career development chairman for UPVETS, Union Pacific's Veteran's Employee Resource Group (ERG). "UPVETS is proud to support the Veteran Services Center. It's a great local organization," Miller said. "I'm confident this donation will be a catalyst in expanding the Service Center's ability to support the men and women who have served our nation."
About 20 percent of UP's 46,000 employees have military backgrounds, and UPVETS, founded in 2011, is now one of UP's largest ERGs, with more than 750 members.
Bellevue University President Dr. Mary Hawkins, thanked the Union Pacific Foundation for its contribution and said the money will be used to replace the carpeting in the 5,400-square-foot center, as well as install five computer stations, furniture and specialized equipment to facilitate Skype-like face-to-face services for online students.