Safety
See Tracks? Think Train! Stay Safe
Posted October 7, 2014 02:00 PM CDT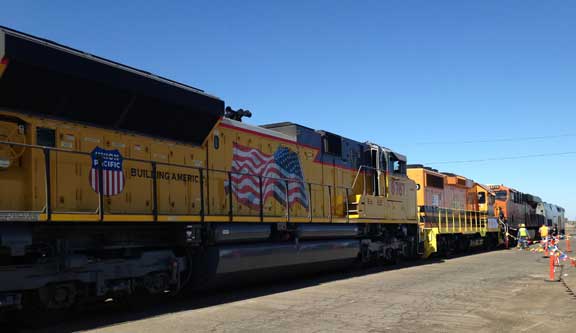 September was California Rail Safety Month and a great opportunity for students and transport drivers to get a rare up-close look at 450,000-pound locomotives at the Union Pacific Fresno rail yard and the California State Railroad Museum in Sacramento.
Teaming up with local Operation Lifesaver groups, UP and its rail industry partners hosted the events to stress the importance of the 'See Tracks? Think Train!' campaign, aimed at raising awareness about risky pedestrian and driver behavior around railroad tracks. OLI has indicated that vehicles at train crossings and pedestrians walking on tracks account for 95 percent of all rail-related deaths, and almost all of these deaths are preventable.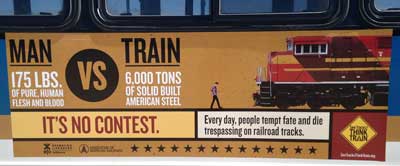 "Through the collaborative efforts of California Operation Lifesaver, our rail safety partners, local community leaders, first responders and local law enforcement, our 'See Tracks? Think Train!' campaign continues to reach and educate the public on how to stay safe and make good decisions around train tracks," said Nancy Sheehan-McCulloch, Northern/Central Region Coordinator, California OLI. "The support of our rail partners and law enforcement draws attention to rail safety and promotes public awareness — reminding them to be alert and stay safe."
During the Fresno event, UP Police presented a Safety Spike award to Fresno, Madera and Tulare police officers who work closely with UP to make community members aware of the dangers on railroad property. At the Railroad Museum, Roseville police officers were honored with the Safety Spike award for their work with UP in the community.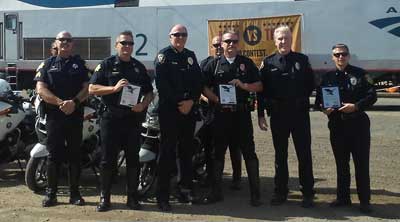 From left, Sgt. Bruce Owen and Capt. Andy Hall, Fresno Police; George Slaats and Sgt. Bryan Moore, Tulare Police; Darrin Davis and Commander Dino Lawson, Madera Police.