Safety
Converted UP Boxcar Becomes a Classroom
Posted October 29, 2014 02:46 PM CDT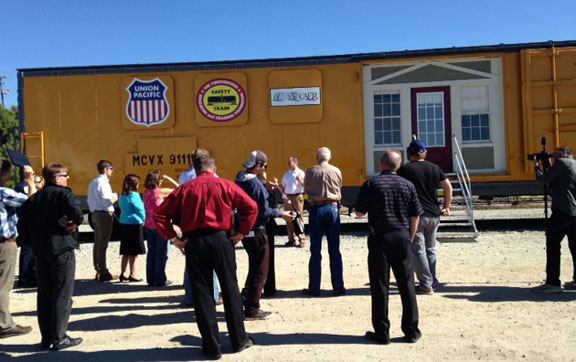 The new classroom was unveiled in San Luis Obispo, California, on October 24, 2014.
When is a boxcar more than a boxcar? When it's a mobile classroom!
This boxcar's entrance is designed to resemble the welcoming doorway of an old-time depot, but once inside, first responders and community leaders are treated to an enhanced learning experience covering a variety of topics including how hazardous materials are shipped.
Union Pacific, in collaboration with The Firefighters Education and Training Foundation, earlier this month unveiled the newly converted boxcar that will serve as a mobile classroom, expanding UP's fleet of training equipment used to educate emergency responders.
"We are excited about using the mobile classroom to support our extensive roster of first-responder training programs," said Bob Grimaila, Union Pacific vice president-Safety, Security and Environment. "This investment increases access to specialized hands-on training for firefighters and other emergency responders along our rail lines, and enables us to build more relationships with the leaders who help keep our communities safe."
UP reaches out to fire departments and other emergency responders to offer comprehensive training in communities where the railroad operates. The company annually trains approximately 2,500 local, state and federal first-responders on ways to minimize the impact of a potential derailment. In total, UP has trained nearly 38,000 public responders and almost 7,500 private responders (shippers and contractors) since 2003. This includes classroom and hands-on training.
Using the climate-controlled boxcar, UP will pair classroom education with first-hand rail operations observations to provide emergency responders with an opportunity to learn about how hazardous materials are shipped, tank car types and construction, and the railroad's protocol in the event of a derailment. The mobile classroom also will be used in conjunction with UP's training tank cars to provide hands-on experience in assessing tank car damage, including making various on-site repairs, controlling releases from cars and teaching fire suppression techniques.
At the unveiling in San Luis Obispo, California, more than 100 attendees heard presentations about safety, training and response from Tim O'Brien, Union Pacific director-Environmental Operations, Hazmat and Union Pacific Special Agent Tim Bockman. Local Phillips 66 representatives from the Santa Maria Refinery used the opportunity to provide an overview of, and answer questions about, their crude-by-rail project.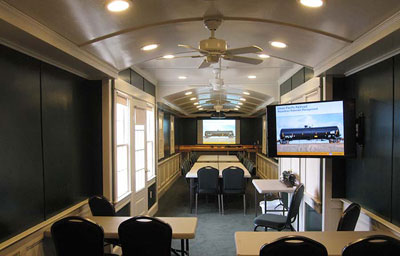 Interior of Union Pacific's classroom boxcar unveiled in San Luis Obispo, California, on October 24, 2014.