Steam
Enthusiasm, Expertise Surrounds Big Boy Restoration
Posted April 3, 2014 09:00 AM CDT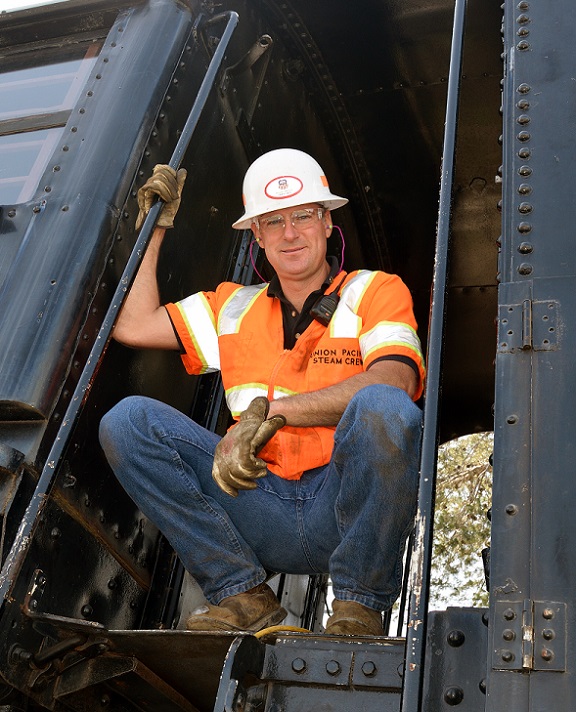 Ed Dickens, senior manager-Union Pacific Heritage Operations, leads the team restoring the 600-ton Big Boy No. 4014 steam locomotive.
Union Pacific steam locomotive specialists are helping breathe new life into a behemoth of yesteryear. The world's largest locomotive, Big Boy No. 4014, is being prepared to travel 1,300 miles to Union Pacific's Heritage Fleet Operations in Cheyenne, Wyo., where it will be fully restored in the coming years.
For the past 52 years, the 1.2-million-pound locomotive was on display at the Los Angeles County Fairgrounds in Pomona, Calif. Preparing it for the journey to Cheyenne is no small feat, and leading the effort is Ed Dickens, senior manager-Union Pacific Heritage Operations.
"Ed is a great steward of our steam program," said Diane Duren, Union Pacific executive vice president. "He appreciates the program's historical significance to employees and steam fans, and has the expertise to lead this truly unique endeavor."
Dickens has headed Union Pacific's steam team since 2010. He has an extensive and rare background in steam engines. After military service, he operated and repaired the bygone engines for the Georgetown Loop before gaining additional experience working on them for the Durango Silverton Narrow-Gage Railroad. Dickens joined Southern Pacific in 1993 and worked in the Denver area, becoming a locomotive engineer in 1994. While running diesels, he continued to impart his expertise within the steam locomotive fraternity, assisting other railroads with their heritage programs.
"There's a small group of professionals who work on steam locomotives. Many know each other, and share knowledge and experience," Dickens said. "You end up wearing a lot of hats, serving as both operator and mechanic."
Dickens loves both aspects. Welding and crafting one-of-a-kind parts to fix problems offers as much thrill as guiding a 600-ton relic down the rails.
Before making its way to Cheyenne, the No. 4014 required a practice run and preliminary restoration. In an operation that in itself required months of preparation, the locomotive's caretakers prepared to move the locomotive 56 miles from the fairgrounds to Union Pacific's West Colton Yard for more thorough inspections and repairs.
The steam team fashioned a portable workshop near the locomotive, loading trailers with tools, parts and blueprints. In addition to cleaning and inspecting all moving parts, and removing unneeded drive mechanisms and pistons, a temporary track was constructed to evaluate the locomotive in motion.
Covering a mile-long section of the fairground's parking lot, a wheel loader towed No. 4014 over 40-foot sections of track that were individually leapfrogged to the front after the locomotive was pulled across them. Each panel was relocated more than 21 times to traverse the lot.
"There are parts of a locomotive that you can't easily inspect until it's in motion," Dickens said.
The Big Boy headed to West Colton Jan. 26. It was attached to UP 1996, a diesel locomotive painted with Southern Pacific heritage trade dress, as well as three other diesel engines and 10 cars to meet braking requirements. At speeds less than 25 mph, the diesels towed the steam locomotive for its first time on public rail in more than half a century.
Because of their length - twice as long as a modern diesel locomotive - Big Boys are articulated; the large boiler is attached to the rear engine, and the front engine follows the track curvature made possible by a giant pin and centering device. This construction allows the nearly 133-foot-long machine to negotiate curves with a fascinating motion.
"That device had been sitting in the central position for 52 years," Dickens said. "When it went around curves, it exposed parts that hadn't seen the light of day for half a century."
The best part of the project is the public enthusiasm it inspires. More than 100 people followed the locomotive along the way to West Colton. Thousands more visited during the weekends the locomotive was on public display, with many wanting to shake hands with the men and women who brought the machine back to life.
Now, the steam team waits for weather good enough to encourage fans to visit the No. 4014 along the rails to Cheyenne.
"We see entire families tailgating, waving flags, and kids holding pictures of trains they have drawn," Dickens said. "There are very few things you see that can rival that."
Accompanying the Big Boy on its way home will be a diesel locomotive in the lead to provide power, one at the back to provide downhill braking, cars loaded with equipment for repairs that may be needed along the route and enough additional cars to provide required braking.
"It's kind of like the holy grail of all steam locomotive restorations," said Austin Barker, lead journeyman machinist. "Bringing one back is an honor."
Steam team members include Bryce Allen, conductor; Barker; Charles Cross, machinist; Kirt Clark, fireman; Don Crerar, boilermaker; Brandon Turner, boilermaker; Dickens; Bradley Eggeman, foreman general; and Ted Schulte, steam locomotive fireman.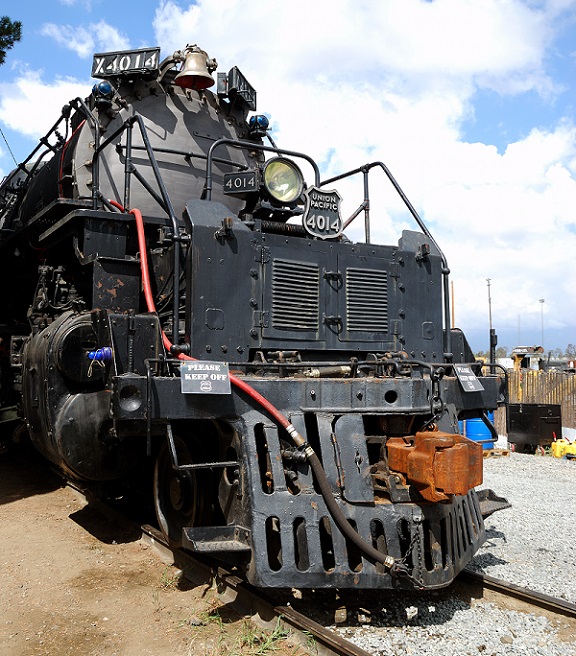 No. 4014 waits in West Colton, Calif., before making its journey along the rails to Cheyenne.