Community
'UP's Biggest Fan' Gets the Ride of His Life
Posted April 10, 2014 09:56 AM CDT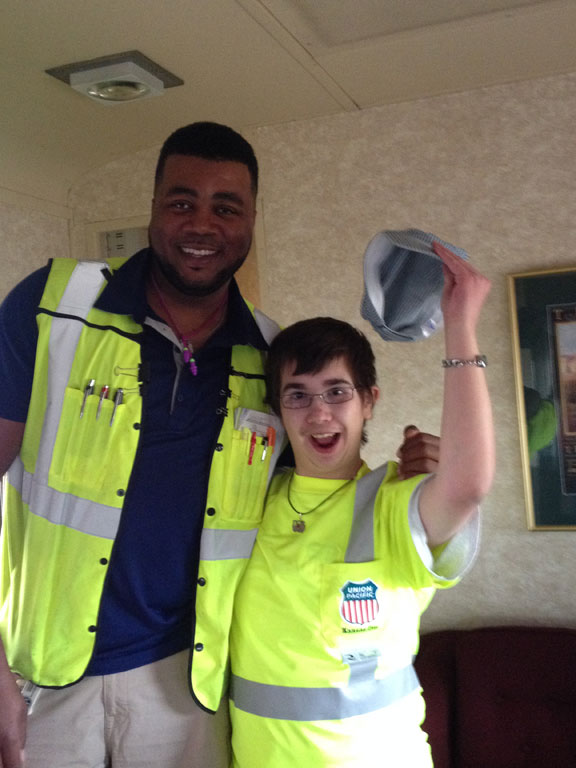 Jacob's hat is off to "hero" AJ Bouvia!
What started as a story about a boy who loves trains and a Union Pacific employee proud of where he works became a day "there weren't words to describe."
UP Southern Region Conductor AJ Bouvia has a passion for his job, which he shared with 16-year-old rail fan Jacob Guasco in a chance meeting at their local Wal-Mart. Darlene Guasco, Jacob's mother, sent a thank you note to a local Union Pacific contact, which made it to Bouvia's superintendent and UP headquarters in Omaha, Neb.
Tom Lischer, assistant vice president-Harriman Dispatching Center, then superintendent, received a copy of Ms. Guasco's note, and wanted to send Jacob goodies to "celebrate UP's Biggest Fan." The reaction was the same from many employees who read Jacob's story.
With the help of Raquel Espinoza, UP director of Public Affairs in Houston, arrangements were made for Jacob to participate in a Safety Day event acknowledging Union Pacific's relationship with local emergency responders. Jacob got to ride the train, pulled by the Boy Scouts of America locomotive, UP No. 2010. He also received gifts from a number of UP employees.
Jacob has Barth Syndrome, which has caused numerous health issues. He is home schooled and lives a sheltered life while waiting for a heart transplant. His mother said he doesn't get a lot of social opportunities.
"There aren't words to describe what a wonderful day this was," Ms. Guasco said. "Jacob was in heaven. And for me, seeing my son so happy, that was the best part for me. Firemen, police, our military — they are heroes, but so are people who have an influence on our kids, people that our kids can learn positive values from — and that's AJ. That's Jacob's hero, right there."
Jacob described his experience as "awesome," and one of the best days of his life. He's ready to do it all again. "I'd like to work for UP some day," he said.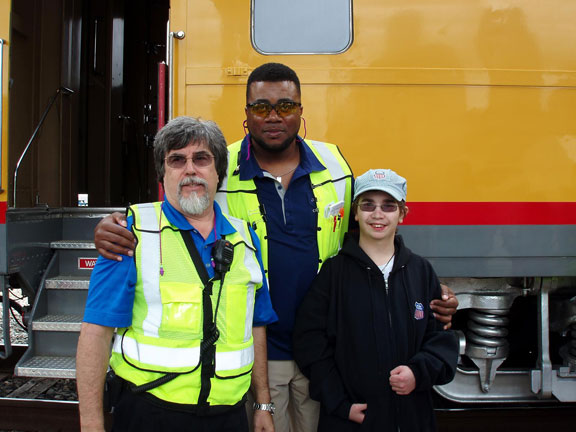 Jimmy Carter, Union Pacific senior manager-Operating Practices; AJ Bouvia, Union Pacific conductor; Jacob Guasco.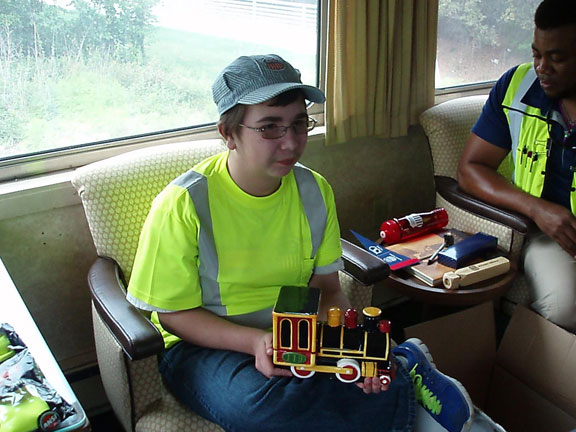 Jacob unwraps gifts in the UP business car Cheyenne.