Employee Group Leads Museum Tours During Black History Month
Posted March 21, 2013 11:37 AM CDT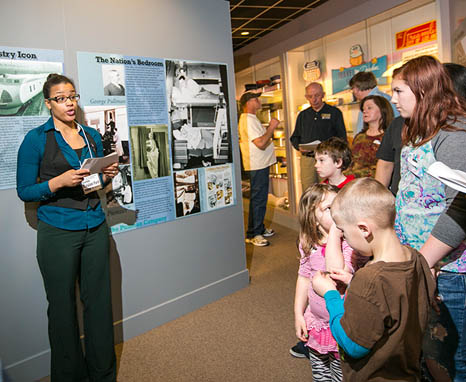 UP's Kaiulani Ford, Marketing & Sales, leads a tour through the Union Pacific Railroad Museum.
The Union Pacific Railroad Museum partnered with members of UP's Black Employee Network (BEN) in February to celebrate Black History Month, offering a new in-school educational program and guided museum tours.
The school program was designed for 8th grade students. Throughout February, BEN members presented in Omaha- and Council Bluffs-area schools, reaching more than 800 students. The students learned about African-American history within Union Pacific and the railroad industry.
"The program focused on the African-American contributions and opportunities with Union Pacific throughout the company's 150-year history, from working on the Pullman cars to the opportunities and accomplishments black employees have at Union Pacific today," said Beth Maynes, education coordinator for the Union Pacific Railroad Museum.
BEN members also led public tours of the museum's exhibits, and educated visitors about how African-American history is interwoven with rail industry and Union Pacific history.
The Union Pacific Railroad Museum, located at 200 Pearl St. Council Bluffs, Iowa, is open from 10 a.m. to 4 p.m., Tuesday through Saturday. Admission is free. The museum is closed Sunday and Monday. Please visit www.uprrmuseum.org or call 712-329-8307 for further information.