Safety
UP/Oklahoma Partnership Targets Grade Crossings
Posted September 22, 2014 01:15 PM CDT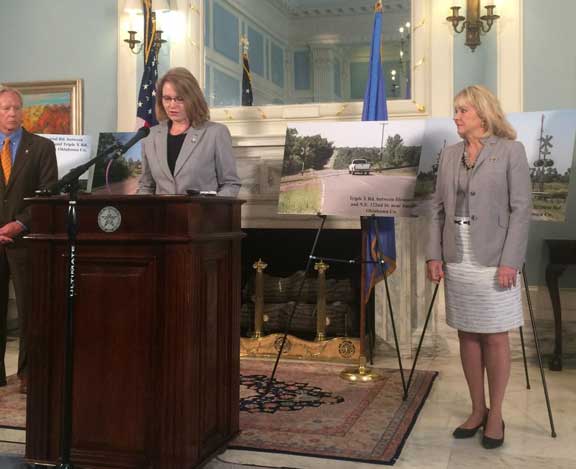 From left: Union Pacific's Brenda Mainwaring, vice president of Public Affairs, addresses the crowd as Oklahoma's Governor Mary Fallin listens.
Oklahoma Governor Mary Fallin recently announced a $100 million crossing upgrade project to ensure the safety of travelers statewide. The state's investment could add or update railroad crossings at more than 300 locations, with half of those locations being Union Pacific crossings.
The investment will add enhanced enforcement measures - such as electronic crossing arms and flashing lights - to a number of passive grade crossings. As part of the program, Union Pacific will pick up the cost of maintaining the new crossings.
The project strikes home for Union Pacific's Brenda Mainwaring, vice president of Public Affairs, Southern Region. Speaking at the project's launch, Mainwaring said several years ago she had an experience that is a daily occurrence for most railroad engineers and conductors.
"From the cab of a locomotive, I watched a mom with her kids race our train to try to get to a grade crossing before we did," Mainwaring said. "Up until the very last second, it wasn't clear whether she was going to stop or was going to make the worst decision of her life. To this very day I remember seeing her face and thinking that she and her children might not walk away."
Through hard work and successful partnerships, the number of grade crossing collisions on U.S. passenger and freight railroads has fallen 80 percent since 1980. Governor Fallin's program could help reduce that number further. Union Pacific's Clay McManaman, manager of Industry and Public Projects, who is coordinating UP's participation, said the improvements could reduce the chance for driver error. "At a passive crossing - where there is no signal, just a sign - it's up to the driver to make a decision," McManaman said. "Adding these enforcement measures will eliminate the possibility that a driver could make the wrong decision."