Safety
The Picture of Safety - Stay Off the Tracks
Posted September 17, 2014 09:00 AM CDT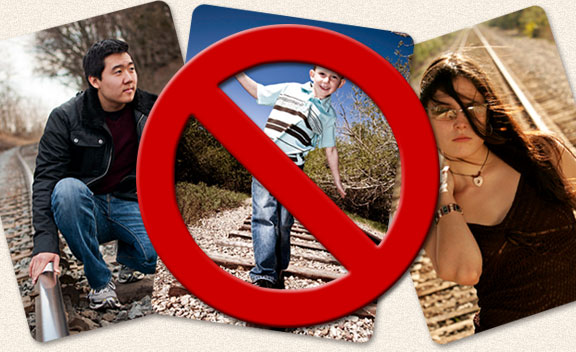 The UP CARES public safety initiative is spreading the word, but some people still aren't getting the message to stay off the tracks:
Recently a Nebraska high school volleyball team began to get in position for their team photograph on the double main line railroad tracks that see more than 50 trains per day, unaware of an approaching train. Thanks to a railroad employee who saw the team and contacted the train dispatcher, disaster and heartbreak were averted. The train crew applied the emergency brakes, stopping in time.
The situation also might have been avoided if the coach had been aware of this startling statistic from the Federal Railroad Administration:
Last year in the U.S., more than 900 people were injured or killed while trespassing on railroad property.
This year, as fall weather arrives, Union Pacific is urging professional photographers to refrain from taking photographs of sports teams, high school seniors, wedding parties and other subjects on or near train tracks or trestles.
In 2012, a teacher who taught art and photography was struck and killed by a train while taking photos on the tracks. In response to tragic and preventable incidents like this, UP is working with Professional Photographers of America on rail safety education outreach to the professional photography community.
UP is committed to public safety through various channels such as community events, media outreach, law enforcement partnerships, employee resource groups and Operation Lifesaver. The UP CARES public safety initiative brings together communities in a collaborative and caring effort to promote railroad grade crossing and pedestrian safety.
"As part of our UP CARES initiative, we want to remind photographers that walking on or near railroad tracks is extremely dangerous because you never know when a train will come along," said Lawrence Wenko, Union Pacific director - Public Safety. "We urge professional and amateur photographers alike to set the right example for others by adhering to the safety guidelines."