Insights
Illinois & Union Pacific Officials Announce Passenger Service
Posted April 14, 2014 09:25 AM CDT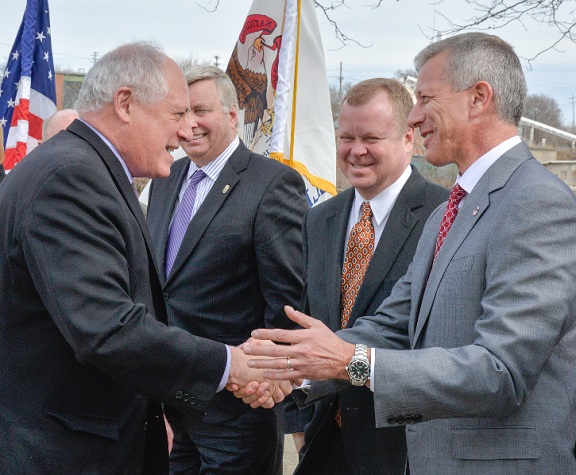 Illinois Gov. Pat Quinn, left, welcomes UP President and Chief Operating Officer Lance Fritz at a ceremony in Rockford April 10 where agencies announced new passenger service that will connect Rockford to Chicago. BLET Chairman Paul Piekarski, center left, and Amtrak Senior Director Ray Lang, look on.
Passenger service returns to Rockford, Ill., in 2015 after a 34-year absence.
Union Pacific has been working with Illinois Gov. Pat Quinn and the Illinois Department of Transportation to develop passenger service from Chicago to Elgin, Huntley, Belvidere and Rockford beginning in the spring of 2015. The project was announced at a ceremony held in Rockford April 10.
Lance Fritz, Union Pacific president and chief operating officer, said UP "is very happy to be able to take an under-utilized line and refurbish it so, if at some point we would have an opportunity to see increased freight traffic, we would be able to do that."
Fritz said Amtrak, which will own the rolling stock and engines, wants to run trains at 79 mph, which will require signalization on unsignaled territory. The train initially will be restricted to 59 mph, with the speed increasing to 79 mph in 2016.
"Union Pacific couldn't be a prouder partner for bringing passenger rail to the city of Rockford," Fritz said. "We understand the value of large-scale capital investment. We invested $200 million in the state of Illinois last year. We've invested a billion dollars in the state of illniois in the last five years."
Fritz added that UP has 4,000 employees in Illinois; 200 of which were hired in 2013.
The new service is part of coordinated development project for Rockford, which last saw Amtrak service in 1981.