Community
UP-sponsored South St. Paul Youth Task Force Has Global Impact
Posted October 1, 2014 11:36 AM CDT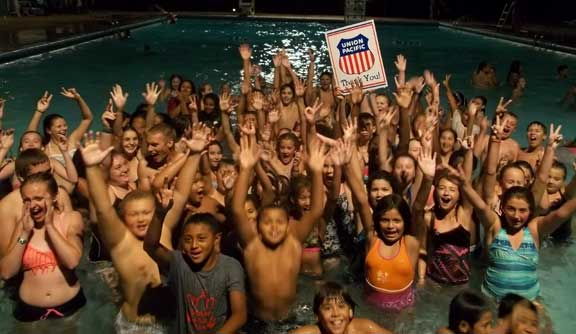 South St. Paul children gather for a night of Swimming Under the Stars.
It's Saturday morning and the South St. Paul City Hall smells faintly of Funions, fruit snacks and Roarin' Waters Capri Sun. Twenty-three sleepy-eyed 10-to-18-year-olds are gathered around a conference room table with Mayor Beth Baumann and the city's community affairs liaison, Deb Griffith. "I always ask them, does anyone want fruit or anything," Griffith said. "The answer is always, 'For what?!'"
What brought them together is a story that began in 2008, when South St. Paul Mayor Beth Baumann received a report that her city had a problem with underage drinking and smoking. Mayor Baumann knew she needed an effective way to get through to the city's youth to stop the trend. To tackle the problem, several kids from grades five through 12 were selected to form a task force that would address the lack of activities for area youth.
Seven years later, under the care of Mayor Baumann and Griffith, the South St. Paul Mayor's Youth Task Force has grown to include more than 50 kids from across the city. The task force doesn't use city funds. Instead, 60 to 70 percent of the group's budget is met through a grant provided by the Union Pacific Foundation. "The donation from Union Pacific freed us up to do some extra things," Griffith said. "It provides operating funds so we can focus on planning bigger community events and campaigns."
Campaigns such as:
Increasing participation in the city's annual food drive, which has more than tripled since they became involved;

Providing fun events to keep the community's kids busy, like Swimming Under the Stars -- a pool party that attracts hundreds of children to one of the city's pools one night a week in the summer;

Recycling pumpkins into fertilizer after a community-wide "smash fest."
And most ambitious of all, adopting a school in Sierra Leone, West Africa. "To be part of 'We Day' -- a statewide day of Minnesota youth empowerment -- the task force has to do a local project and a global project," Griffith said. "This year, we decided to adopt a school in Sierra Leone for our global project."
Here's how it works: Through the Free the Children project, the school creates a wish-list and the task force is responsible for providing the money to pay for as many wish-list items as possible. The list includes things like school supplies, health kits, classroom furniture, textbooks, even goats for area families.
"All money raised during our Swimming Under the Stars event -- $2,900 in just about nine weeks -- is now going to buy these supplies," Griffith said. "If we hadn't received the Union Pacific grant, we would have never been able to be involved in something like this."
On October 6, Griffith and the kids will present a check to the Free the Children organization at a city council meeting. Griffith said beyond its many projects, the task force has accomplished what it originally set out to do.
"From what we are hearing from the kids, drinking and smoking isn't as much of an issue anymore," she said. "And I can see the task force is continuing to make a difference in this community. Kids with disabilities are working alongside the jocks on the football team. The seniors in high school are patiently helping the fifth graders, and the fifth graders are learning how to participate in groups like this. I love hearing about how empowered they are, and I love how proud they are of everything they have accomplished together."