Safety
UP Invites Nebraska Firefighters Trackside for Training
Posted December 9, 2014 01:00 PM CDT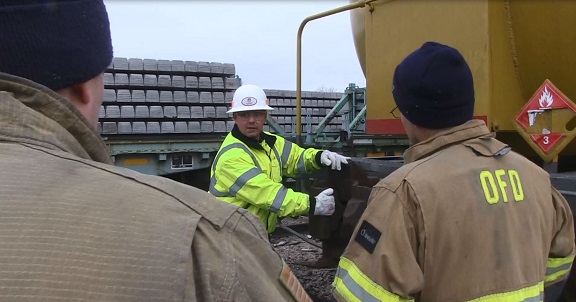 Union Pacific Manager of Hazardous Materials Ben Salo, center, discusses tank car safety with members of the Omaha Fire Department.
"If it ain't rainin', we ain't trainin'," joked Union Pacific Manager of Hazardous Materials Ben Salo who wasn't deterred by sideways sleet as he prepped the railroad's new boxcar classroom and training tank car for Omaha's Fire Rescue 33 team.
The railroad's Hazardous Materials Management (HMM) Group seizes opportunities – sunshine or snow – to work alongside public responders in the name of incident response education.
Rescue 33's rig rolled up to the trackside training site Nov. 26 for a three-hour refresher on railroad operations, equipment and procedures. Salo led a discussion with firefighters on contacting the railroad during an emergency, reading shipping documentation, derailment safety considerations and assets the railroad can provide in the event of an incident. In addition, a tour of the training tank car included an overview of tank car fittings and construction, and safety features and procedures.
Providing no-cost training to public responders is Union Pacific's most substantial preparedness effort. Having cataloged every fire department that may respond to an incident along the Union Pacific network, HMM team members reach out to fire departments on an annual basis to offer training or information to assist fire departments in their preparation for a potential incident. Training consists of classroom and hands-on activities.