Community
UC-Davis Engineering Students Receive Real-Life Rail Perspective
Posted April 2, 2014 10:00 AM CDT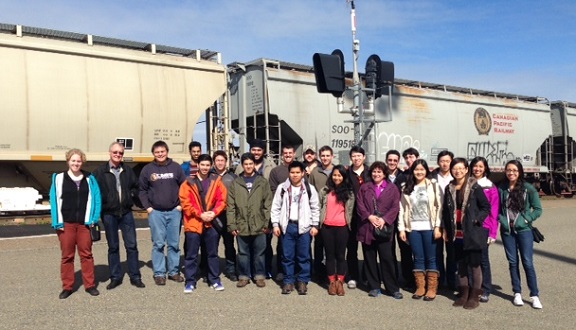 University of California-Davis students got a view of railroad operations from the field when they visited UP's JR Davis Yard in Roseville.
Not all engineers at Union Pacific operate trains. They build bridges and facilities; they manage rail yards; they budget time, manpower and money. And when they come to Union Pacific through the Operations Management Training Program, they hit the ground running with management responsibilities.
Members of the Engineering Clubs at the University of California-Davis recently visited UP's JR Davis Yard in Roseville, and were surprised to learn about the extent of opportunities. The day-long visit was hosted by UP representatives from the Human Resources, Operating and Public Affairs departments.
"Our Internship and Career Center, as well as our School of Engineering, has had a relationship with Union Pacific for at least 15 years," said Pam Swartwood, Engineering and Physical Sciences Coordinator-UC-Davis. "And the relationship has become more significant with the passage of time."
Swartwood said prior to yard field trips, students are unfamiliar with the role of engineering and technology in the operation of a railroad. "This helps get the message out to show them the part they can play in today's railroad," she said.
Student visitors ranged from freshmen to seniors, master's degree candidates to professors. "One of the Civil Engineering students told me he was even more excited about exploring opportunities with UP after his visit," said UP Recruitment Manager Elizabeth Lewis.
"We greatly appreciate all the opportunities and support Union Pacific provides to Davis," Swartwood said. "The students appreciate the opportunity and time taken to show them something close up, outside the classroom, instead of just being talked at. Shane Keller, UP regional vice president-Western Region, was there and the students saw tremendous value in that."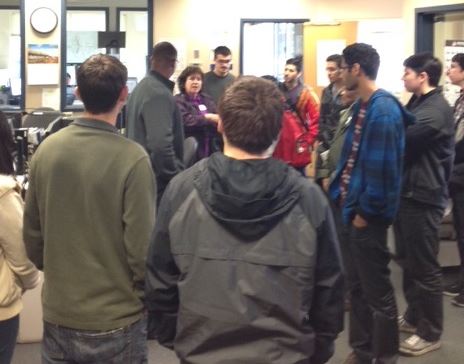 Students gather inside the JR Davis Yard field office.