Community
Historic Agreement Reflects Trust Between UP and Confederated Tribes
Posted April 23, 2014 02:00 PM CDT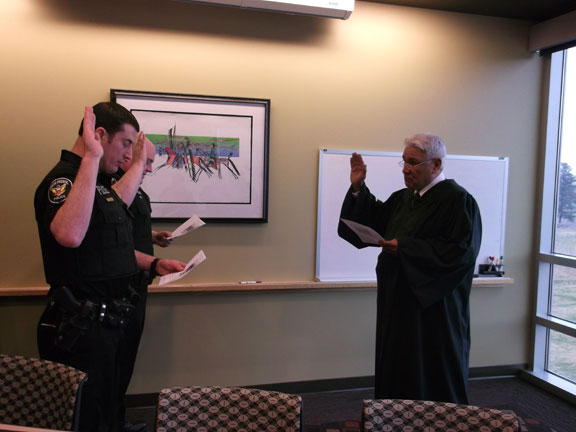 Umatilla Tribal Court Chief Judge William D. Johnson commissions Union Pacific Senior Special Agents Vincent P. Hoffarth, left, and William R. Aarde as law enforcement officers for the Confederated Tribes of the Umatilla Indian Reservation.
For the first time in their inter-related history, the Confederated Tribes of the Umatilla Indian Reservation (CTUIR) and Union Pacific have a policing agreement permitting UP Police to assist in law enforcement within the reservation located between Pendleton and La Grande, Ore.
In a ceremony at the Nixyaawii Governance Center on the Umatilla Indian Reservation in August 2013, Union Pacific and the CTUIR signed a Memorandum of Understanding that led to this opportunity for joint community policing. In March 2014, Union Pacific Police Officers Vince Hoffarth - Portland and William Aarde - Hermiston, were sworn in as officers for the CTUIR.
"The Tribal Police may have different words for assigning authority," Hoffarth said. "But we now are commissioned police officers for the CTUIR. This shows an element of trust in us, both as UP employees and as police officers."
Special Agent Aarde has worked with the Tribal Police for more than 13 years, and says he always has had a good working relationship. "This commissioning is an honor, and not something the tribe or the tribal police take lightly," he said.
The Umatilla Reservation covers about 172,000 acres, almost 273 square miles, some of which is quite rugged and remote. UP's easement covers about 24 miles of track with associated rights of way, and for safety and security reasons, the railroad usually doesn't allow access to that area. However, when tribal lands were ceded to the government more than 150 years ago, members of the CTUIR retained their rights to fish, hunt and gather foods and medicines within their lands. They exercise and protect those rights today, and the inability to access their hunting grounds frequently caused concern.
As part of the Master Access Agreement, which represents almost two years of negotiations, tribal members living on or near the reservation now can gain access to land constituting the UP right of way near the Meacham Creek Road, but only after passing a railroad safety course. "Some members are OK with that, others might not be in favor," said Tribal Police Chief Tim Addelson. "But it feels good. Both Officer Hoffarth and Aarde are very professional, and I expect it will all work smoothly."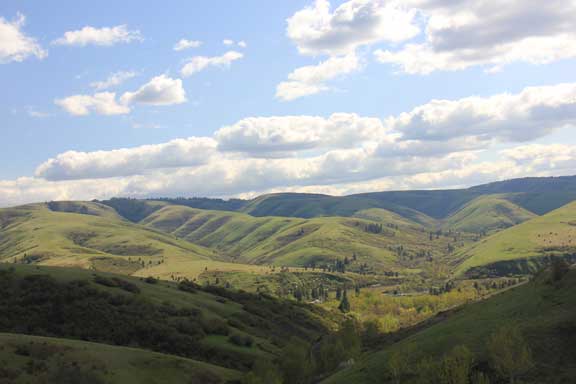 Confederated Tribes of the Umatilla Indian Reservation (CTUIR) Photo Courtesy of the Confederated Umatilla Journal.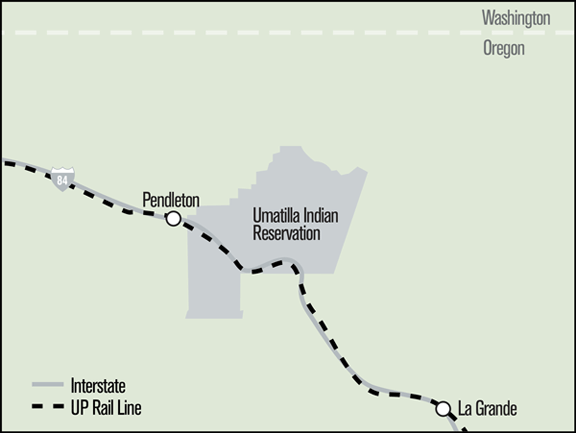 Map showing relationship between UP rail line and Umatilla Indian Reservation (CTUIR).