Insights
Military Veteran Employees Featured in New Union Pacific Commercial
Posted November 11, 2014 12:40 PM CDT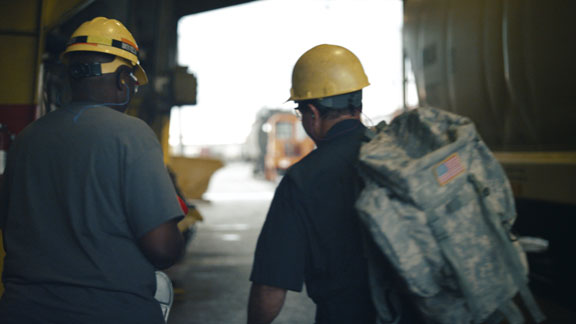 In this scene from the latest Union Pacific commercial are Fort Worth mechanical shop employees Michael Prince, left, and John Kilpatrick. Both are military veterans.
When Union Pacific electrician Robert Gutierrez joined the Marine Corps, his goal was to follow in his father's footsteps.
"I wanted to get out and see the world. My father also was a Marine, so I figured that would be the route to go," Gutierrez said. "I stayed in for four years. I was active duty until September 2003 — that's also when I was hired at UP."
Gutierrez's story is a familiar one. More than 20 percent of Union Pacific's workforce has military experience, with some, like Gutierrez, still serving in the Reserves and National Guard. Gutierrez, Angelo Rocha, a journeyman machinist, and Aaron Weaver, a right of selection systems engineer, are just three of the military veterans recently featured in Union Pacific's new "Answering the Call" commercial, currently airing nationwide on prime-time network and cable television channels. All three employees work at the Fort Worth, Texas, mechanical shop.
"My friends have been calling me 'Hollywood,'" Rocha said. "My daughter loves it, too."
The commercial showcases what UP's nearly 10,000 veteran employees do every day: continue to serve their nation by connecting and building America. Often, the skills veterans gain during military service translate well into successful railroad careers. "In my opinion, you need the same discipline and motivation to succeed here, too," Gutierrez said.
"When you're in the Army, the Marines, the Air Force or the Navy, you have this certain camaraderie," Rocha said. "Esprit de corps is the actual term we used. It's when you're just full of spirit and motivation."
Rocha said he felt a similar camaraderie when he began working for Union Pacific. "When I got to the shop the first day, right away I felt that feeling I was missing with other jobs and situations," he said. "I felt that vibe I once had. I know my co-workers are looking out for my well-being and my family's."
Weaver, Rocha and Gutierrez all say they're happy to be carrying on a different kind of tradition working at Union Pacific. "I work for a 150-year-old company that has allowed me to continue its heritage," Weaver said. "There's a lot of pride in being able to work for a company that's built half the United States."
To all the Veterans who have worked or who currently work for Union Pacific — today we honor you. Thank you for your service, and welcome home.
Fort Worth mechanical shop employee Robert Gutierrez as seen in the latest Union Pacific commercial.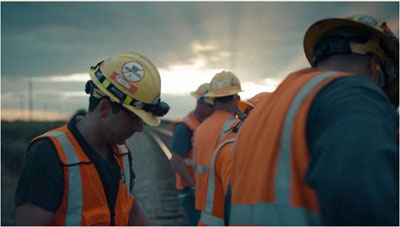 Fort Worth mechanical shop employee Angelo Rocha.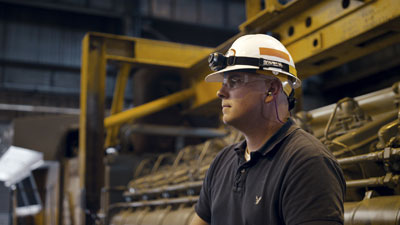 Fort Worth mechanical shop employee Aaron Weaver.