Insights
UP Committed to Those Who Served
Posted May 9, 2014 04:17 PM CDT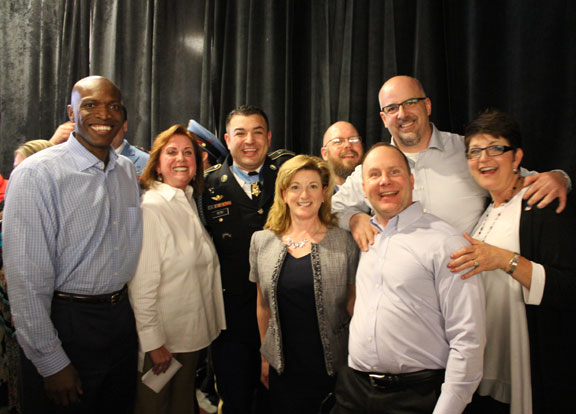 UP VETS members and UP employees are pictured with Sgt. Leroy Petry, Congressional Medal of Honor recipient and Grand Marshal of the Texas Cavaliers' Military Fiesta parade.
For the second time in as many years, Union Pacific made a donation to the Wounded Warrior Project ® (WWP), a program dedicated to serving veterans and service members who have incurred a physical or mental injury, illness or wound related to their military service on or after September 11, 2001.
More than 50,000 service men and women have been injured in recent military conflicts. In addition to physical wounds, it is estimated as many as 400,000 service members live with the invisible wounds of war including combat-related stress, major depression and post-traumatic stress disorder. Another 320,000 are believed to have experienced a traumatic brain injury while on deployment.
UP Executive Vice President and Corporate Secretary Diane Duran presented the WWP with a $150,000 donation during a special celebration held during the Texas Cavaliers' Military Fiesta last month. Joining Duran were members of UPVETS, an employee resource group at Union Pacific dedicated to the recruitment, development and retention of military veterans and interested employees through engagement in the company and the community.
"We remain committed to actively recruiting the many talented troops returning home from service, and feel privileged to be able to repay a small part of our nation's debt to them through this donation," Duren said.
The gift marks UP's second time contributing funds from tax credits the company earned for meeting various government criteria for hiring veterans. UP presented a $60,000 donation in November 2012.
"We are honored that Union Pacific continues to support this generation of injured service members and their families through Wounded Warrior Project," said Adam Silva, chief development officer-WWP.
In 2013, UP hired more than 800 military veterans, including 95 disabled veterans. Veterans comprise about 20 percent of the company's workforce.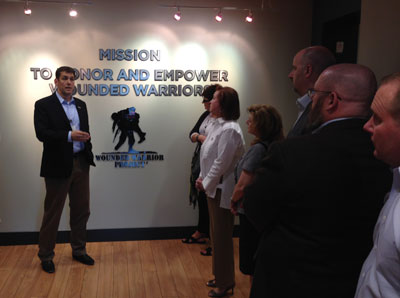 UP employees and members of UPVETS learn about the Wounded Warrior Project® (WWP), from Gregory Frey, manager, WWP-TRACK Program, which guides the men through their first year of college life and facilitates the transition from combat soldier to student.