The design of Union Pacific's heritage locomotive goes back to the 1940s, but its inspiration came about a year ago.
Nearing the end of more than a decade of service as a Union Pacific Corporation board member, Gen. Charles C. Krulak, who served as the 31st Commandant of the Marine Corps, attended a farewell luncheon hosted in his honor by UPVETS, a Union Pacific employee group that supports veterans of the armed forces.
Krulak was presented with a red, white and blue HO scale model of a veterans-themed Union Pacific locomotive painted by a local high school student. Pleased with the idea of a locomotive dedicated to honoring veterans, Krulak asked Union Pacific Chairman, President and CEO Lance Fritz to make it a reality.

Just over a year later, on Oct. 19, 2017, locomotive No. 1943, The Spirit, was unveiled to the public at San Antonio's Sunset Station.
Work began when Union Pacific's Chief Mechanical Officer John Estes tasked Director of Locomotive Engineering Mike Iden with the project. Iden sketched out his idea and sent it to Debra Schrampfer, director of brand management and Employee Communications. Schrampfer assembled a team that included Iden, Chad Leahy, graphic designer, and Jim Astuto, the 2016 president of UPVETS.
The team began pulling together design elements and researching railroad and military history working with Patricia LaBounty, manager of the Union Pacific Museum.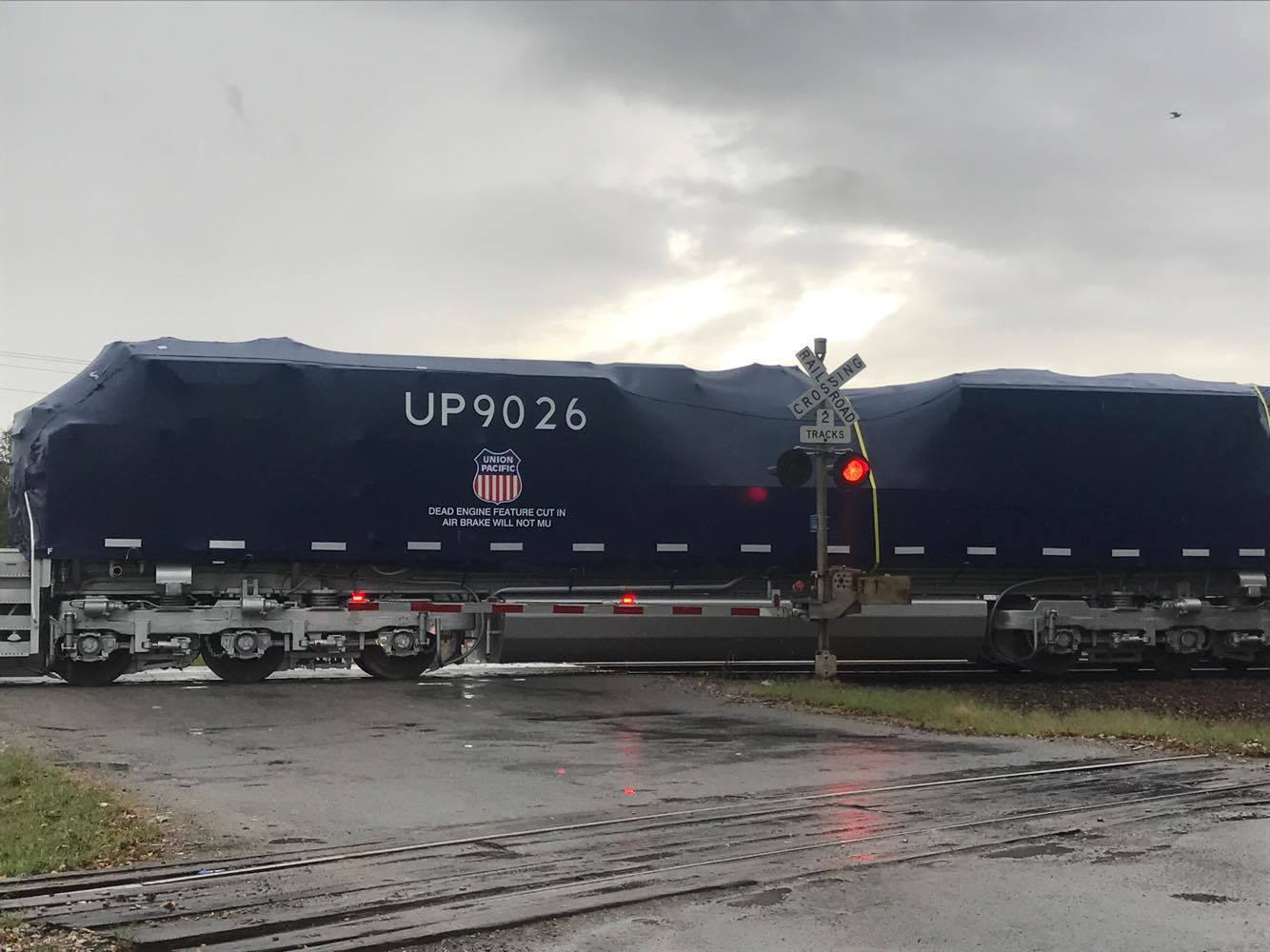 Meanwhile, Iden looked for a locomotive to paint. "I picked a new EMD unit delivered in August 2016," he said. "It was locomotive No. 9026. We picked it for its reliability, even though it had just been painted less than six months earlier at the factory."
The locomotive was taken out of service and shipped to Mt. Vernon, Illinois, to National Railway Equipment, where it was sand-blasted, primed and painted.
"We wanted a design that would signify each of the five branches," said Astuto, who retired from the Air Force as a Master Sergeant after 21 years of service. Today, he works as a data integrity consultant in Union Pacific's Marketing and Sales Department.
"Each one of the colors represents one of the branches," Astuto said. "First, there's Air Force Silver, followed by the Coast Guard's racing stripe and the Navy's Battleship Gray. The camo at the end is for the Army and Marines."
Including the POW/MIA symbol was very important to Astuto. "We gave it its own section on the tail. When the locomotive moves forward, it's the last thing people see," he said. "They're never forgotten."
Once the paint was dried and cured, the locomotive was covered before leaving the shop to keep the design hidden. The cover displayed the locomotive's original number, 9026.
"There were a number of things we did to protect the surprise," Iden said. "Throughout the whole process we limited electronic communications. We were careful with emails, and tried to make a lot of phone calls instead."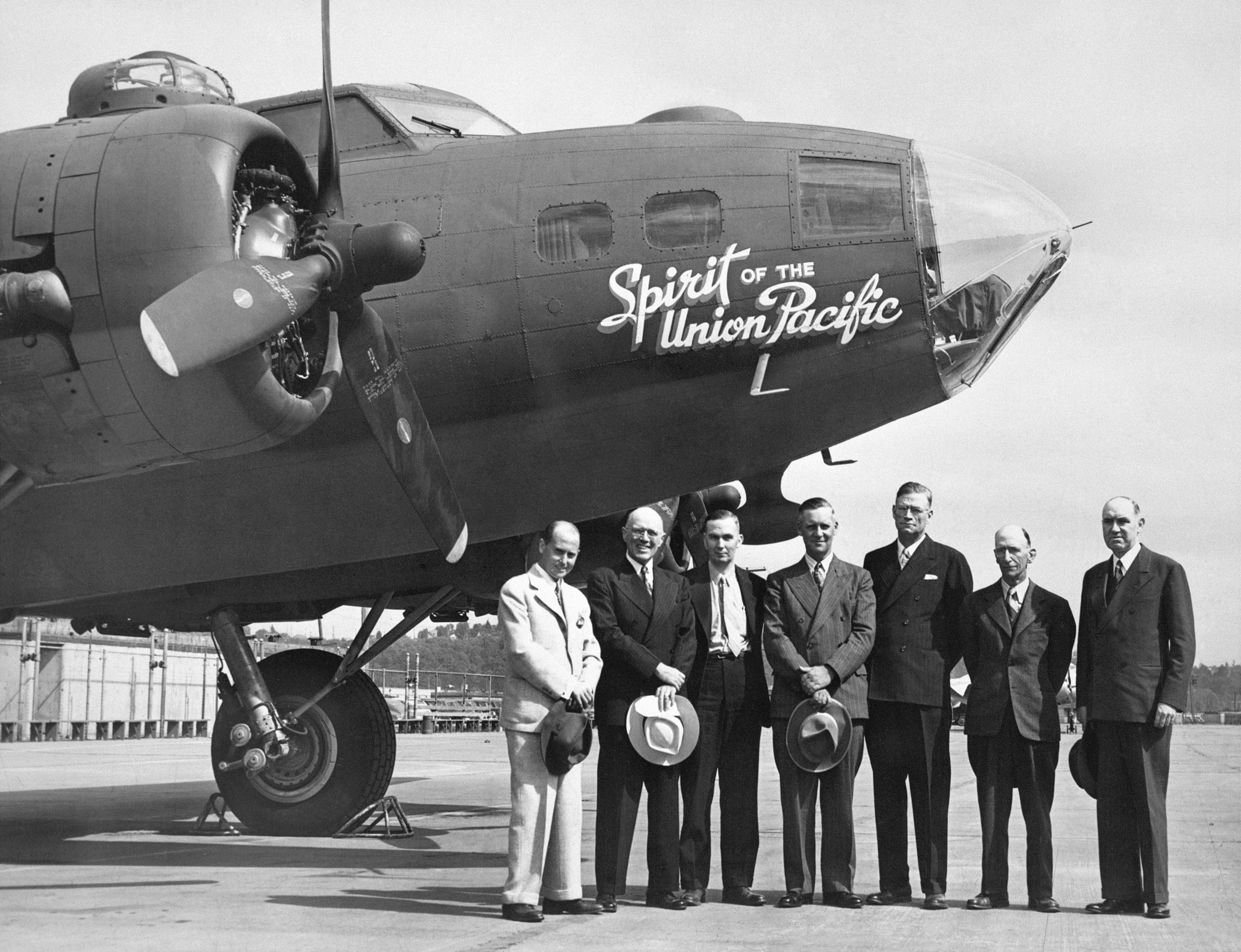 The locomotive's new number and moniker signify Union Pacific's long relationship with the U.S. armed forces. A Boeing B-17 Flying Fortress was christened "the Spirit of Union Pacific" in 1943, recognizing employees who funded the purchase of the plane through war bond contributions. The Spirit of Union Pacific was assigned to the 571st Bomber Squadron and shot down on its fifth mission during a raid on enemy installations in Munster, Germany.
"This company always has provided a service to our nation, whether it's during peace or war time," said Ruben Lopez, West Point graduate, retired Army Captain, executive sponsor of UPVETS and general superintendent of Union Pacific's Western Region at the Harriman Dispatching Center. "We have a working relationship with the military. We never want to have to go to war, but we're always ready. Whether it's through a business relationship or through acknowledging the accomplishments of veterans, we're never going to walk away from supporting them."
About 17 percent of Union Pacific employees are veterans. Lopez said Union Pacific is committed to veterans, and the locomotive is just further evidence. "As an employee of Union Pacific and as a veteran, it's always great to honor and remember those who allow us to be here. We can't do enough for those people," he said.