We're sharing highlights of their 50 year railroad journeys from Jim Guerin, Andy Mendoza, J.W. Nichols and George Sanders.
Guerin Adds Memorable Chapter to Family's 110-year Tradition of Railroading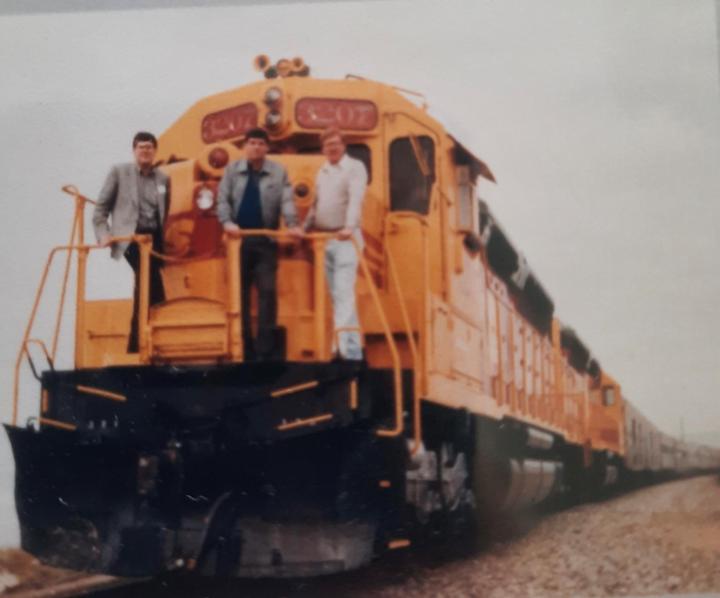 You could say railroading is in Jim Guerin's blood.
His grandfather hired out as a station agent for the Southern Pacific in 1910, followed by his father, who started in 1939 and eventually became a vice president of traffic and sales. His sister worked for the Southern Pacific for a few summers in the passenger reservation bureau, his brother-in-law as an engineer, and his sister-in-law as a switchman and yardmaster at Ozol Yard in Martinez, California.
So, his decision to join the railroad in June 1970 after he graduated from college was easy.
"Coming from a railroad family, you get immersed into the operations your whole life," Guerin said. "It seemed like steady work and a lot of fun."
The Los Angeles native was first hired as a brakeman for the Southern Pacific, then a few years later became a fireman where he worked on the San Joaquin division. When he had an opportunity to become a locomotive engineer in 1974, he took it.
"All the responsibility is on the engineer's shoulders," he said. "I felt pride in the work and a sense of accomplishment."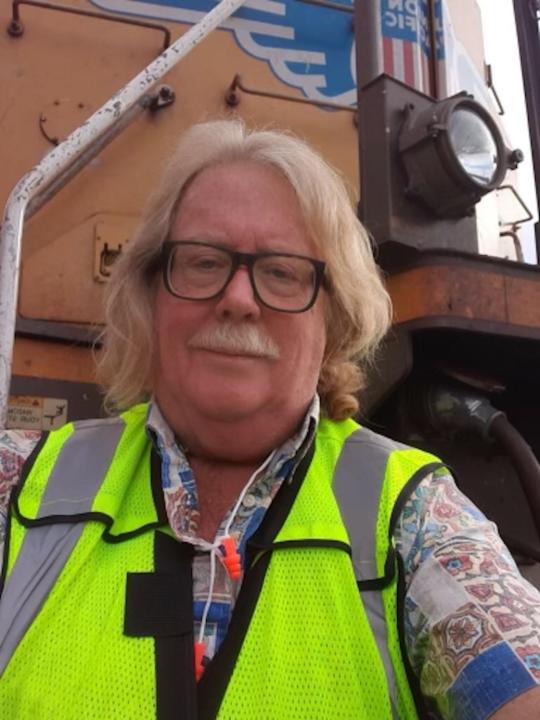 As a California native, he loved the coastal route he kept until 1996, which took him from Los Angeles to Bakersfield and San Luis Obispo. But that route hasn't been the only highlight of his 51-year career. There was the time he drove the Ringling Bros. and Barnum & Bailey Circus train from Los Angeles to San Luis Obispo; the day he piloted a steam engine carrying replicas of the queen of England's crown jewels up the coast as part of the collection's U.S. tour; he enjoyed working the Positive Train Control test trains when Union Pacific was building the program; and, perhaps his favorite memory, the time he was the locomotive engineer on an officer's special train on which his dad was a passenger.
Today, Guerin works at UP's Intermodal Container Transfer Facility, helping build outbound trains traveling from Long Beach to Houston, Chicago, Dallas and Louisiana.
He's known among his supervisors and peers as a mentor, a leader and a dependable employee who knows how to solve problems and take on any challenge, said Kevin Garcia, senior manager-Train Operations, Transportation, who has worked with Guerin for 27 years.
"He has an impeccable safety record," Garcia said. "He is someone we can always count on to get the job done without any supervision. He's an all-around good guy."
Guerin's approach to his current responsibilities illustrates the old-school work ethic he learned from his grandfather and his father years ago – one of dedication, precision and pride in a job well done.
"I like the sense of accomplishment of putting all the cars in the right order and completing a task to 100 percent," he said. "When I build a train with my crew, it's perfect. There are no issues. It's nice to see it done correctly."
Check out Jim Guerin's Insights blog: "Some Wise Words from a 51-year Railroader."
'I Go Wherever the Railroad Needs Me': Signalman Mendoza Travels Widely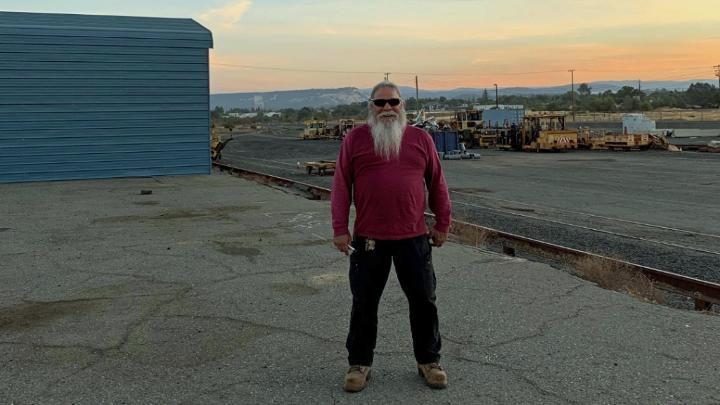 After 50 years on the railroad, Signalman Andy Mendoza still loves Union Pacific, and his job. He has no plans to retire anytime soon.
"I'm just taking things day by day now," he said. "I like working with the railroad. I could have retired 15 years ago and didn't, because I like it. This job has kept me going."
Mendoza's work covers territory in Arizona, New Mexico and California; his railroad career has also taken him extensively through Arkansas and Louisiana.
"Most of my time with the railroad has been spent in hotel rooms," he said. "I go wherever the railroad needs me."
Mendoza, who turned 75 in September, began his career with Southern Pacific on Feb. 24, 1971, as a "track walker."
"Back then, there were no computers or online applications," he said. "You just went into the roadmaster's office and asked if they had a job open. If they did and liked you, they hired you on the spot."
Mendoza spent seven years inspecting track and operating yard switches before joining the Signal Department. He also held roles as a welder and signal foreman.
"As time went by, I decided to bid for a signalman job and that's what I've been doing ever since," he said.
Mendoza's commitment to service is a recurring theme in his life. Before becoming a railroader, he served in two branches of the military.
"I joined the Army in 1965, right out of high school, and served a year in Vietnam from 1966 to 1967," Mendoza said. "When I discharged, I joined a Navy two-year program and was on an aircraft carrier before going back in the country on the riverboats."
Mendoza's supervisor, Manager-Signal Construction Marc Chavez, has taken note of his work ethic and commends him for it.
"He is humble and quiet; an honest, hardworking person," Chavez said. "I've known him 25 years; he was my foreman when I hired on. He is knowledgeable and likes teaching and helping newer employees.
"When I asked him if he was thinking about retiring, he told me 'You know Marc, I'm having fun out here and I look forward to coming to work every day.' It's clear he loves what he does."
Mendoza says a simple philosophy has guided him in his career: "The railroad has taken care of me; and, in return, I did my best to take care of my responsibilities to it. UP gave me opportunity to do what I wanted in life."
Mendoza lives in Merced, California, with his wife, Patricia. They enjoy spending time with their children and 11 grandchildren, in addition to going to the coast and taking walks with their American bulldog, Thor.
Nichols Surpasses 50 Years Reportable Injury Free
Subscribe to
Inside Track
For John Nichols, working for the railroad meant joining "the family business."
He grew up in a strong Southern Pacific Railroad family. His mother was a Southern Pacific clerk for two decades. His brother, cousins and several in-laws also were railroaders. Therefore, Nichols figured he should give it a try as well. He did that for the summer of 1970, and he's never looked back.
"I graduated high school on a Friday night, went to the railroad Monday morning and have been there ever since," he said. "My summer job turned into a career."
It's been a 51-year reportable injury-free career to be exact.
Nichols recalls being one of the first in his region to use a simulator in a California-based training class before being promoted to locomotive engineer.
"I was one of the first Texas and Louisiana employees to go to that class," he said.
Nichols notes that he wouldn't trade his role for anything as he continues to mark up to work the extra board in Ennis, Texas, where he's been since 1972.
"Over the years, I've been able to see a lot," he said. "I've been from Ennis to San Antonio to Houston. I've been from Tyler to San Antonio and the long pools, taking trains from Ennis to San Antonio and back. I've been to Denison, Sherman, as well as other places."
The Texoma Service Unit employee adds safety has been a focus for him throughout it all. He said it's "an overall mindset I've developed over the years."
"It's just the way I was taught," Nichols said. "I want to be safe."
Understanding the potential risks on the railroad, he seeks to help reinforce a safety mindset for others. When Union Pacific acquired Southern Pacific and Total Safety Culture arrived, Nichols bought in immediately. He became an Ennis I-Team member, served a year, and is still supportive of TSC.
Nichols said it's important for him to maintain his focus and keep his mind clear of non-work-related issues when operating tons of machinery. He encourages others to do the same.
"Don't let outside things influence you," he said. "That's hard to do sometimes, I tell you."
And by making that his life pattern, it has made working safely a normal course of action throughout Nichols' career.
'Those Relationships Are Why I'm Still Here': Sanders Reflects on Lifelong Career
Pacific Northwest's George Sanders has built up too much momentum to throw the brake on his railroad career – he keeps coming back for more. Twice, he filled out paperwork to retire, but so far – it just doesn't seem to stick.
"I didn't come from a family that classically retired," Sanders said. "My dad retired to New Zealand when he was 58 and was bored immediately. He became director of New Zealand's public broadcasting company.
"That's retirement in my family. We think it's good to keep busy."
Sanders has kept that family tradition going.
Based in the Pacific Northwest, Sander's UP career zig-zagged between Portland's Albina Yard and a few additional Union Pacific locations. In 1970, he was hired on as a conductor and trainman in Portland, Oregon; soon after, he was promoted to yardmaster and then manager-Yard Operations.
In 1994, Sanders transferred to Salt Lake City, Utah, where he was a manager-Terminal Operations for about two years before returning to Albina, where he had the same responsibilities from 1996-2002.
Sanders' 51-year career has maintained a theme: All roads lead to Albina Yard.
From that point, he alternated between Albina and Seattle, Washington, becoming senior director-Train Operations before taking the role of director-Terminal Operations for the Seattle-Portland region.
"It's hard to leave relationships I started building on the railroad 30 or 40 years ago," Sanders said. "Those relationships are why I'm still here."
His current role?
General manager of Longview Switching Company (LSC) within Network Planning and Operations. LSC is an independent entity overseen by UP and BNSF Railway.
"It's hard to tell what I will do next. In 51 years, UP always has been there for me and my family. I believe it has been a wonderful reciprocal relationship."
George Sanders
Sanders enjoys spending time with his wife of 27 years, Dana, and his daughter, Milla.