We're sharing highlights of their 50 year railroad journeys from Bill Gaston, Ralph Niau, Dan Knutsen and Nick Garcia.
Fifty Years of Railroading and 2 Million Miles Later: Dan Knutsen Still Loves His Job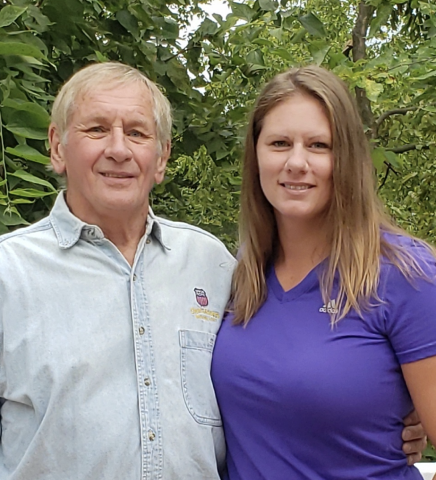 Dan Knutsen began driving tractors as soon as his feet could reach the pedals.
Growing up on a farm in Clinton, Iowa, Knutsen was one of seven children – which means seven times the work. At a very young age, he started driving Oliver and Ford tractors on the farm and became fascinated with operating heavy machinery.
When the opportunity arrived to work as a Chicago and North Western Railroad brakeman in 1970 – it piqued his interest.
"I was fascinated (with trains), so I thought that would be interesting for me to do," Knutsen said.
And it was. The longer he was around trains, the more he wanted to move beyond switching cars – he wanted to run an engine.
"I think everybody's dream as a young person is to run a train around the track," Knutsen said.
Knutsen earned his locomotive engineer's license in 1972 and has been running trains ever since. Throughout his career Knutsen has been based out of Clinton, Iowa, but his routes have varied over the years, from Clinton to Boone, Des Moines, Cedar Rapids and Dubuque. He currently runs trains from Clinton to Missouri Valley and back. Fifty years of railroading, and 2 million miles later, he still loves his job.
"I pride myself on how good I am as a locomotive engineer," Knutsen said. "I don't brag about it – I just do it. It doesn't matter which train I'm on; I can run any engine they've got."
Knutsen likes learning new things and has enjoyed the technological improvements made to locomotives over the years, from the advent of dynamic braking to the switch to Positive Train Control.
"His love for the job shows – in his meticulous attention to detail, Knutsen leaves no stone unturned."
Marvin Stewart, manager-Road Operations, Transportation
"You don't have to worry about Dan," Stewart said. "He's a consummate railroader – the type of employee any manager would want to work with."
This 50-year railroader maintains a great attendance record, always showing up to work on time. During his off-time, Knutsen enjoys spending time with his family, and four grandsons. He can frequently be spotted in the crowd at their baseball games, or engaging in their various hobbies. Knutsen is interested in real estate, he maintains several properties in Clinton, Iowa.
Knutsen has no plans to retire soon. His fascination with locomotives hasn't waned, nor has the other part of his job he loves most – socializing with co-workers. Over the years, he said he's gained a lot of knowledge by chatting with fellow employees.
"Interacting with people is one of the best parts of the job," Knutsen said.
From Hawaii to the Mainland: Niau Finds 50-Year Career with Union Pacific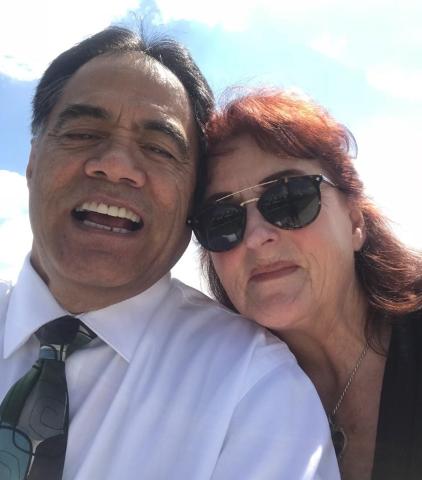 Conductor Ralph Niau from Cheyenne, Wyoming, embraced his railroad journey, working a variety of positions on the rail while maintaining a "team player" attitude. Niau is described by co-workers as congenial, dependable and a steadying influence.
This 50-year employee was born and raised on the island of Oahu, Hawaii. In the late 1960s, Niau moved stateside to study architecture, a move that would bring him one step closer to the railroad.
In January 1970, Niau hired on with Union Pacific in Rock Springs, Wyoming, as a member of the now-defunct Natural Resources Division. At that time, a UP work-study program allowed him to earn an engineering degree while launching his railroad career.
"They were looking for a draftsman who knew mechanical and civil engineering, and I had a light background in it," Niau said. "They hired me on the spot."
Niau then transferred to UP-affiliate Rocky Mountain Energy before landing in the Engineering Department, where he designed topographical surveys of tracks, trusses and mine shafts.
In 1976, Niau once again altered the plan, joining UP's Transportation Department as a brakeman and switchman, serving western Wyoming soda ash customers. Niau accepted the change and turned his focus toward mentorship, helping fellow railroaders keep an eye on the big picture.
"I've always tried to keep that thought in my mind throughout my career," he said. "If someone explains why we do what we do, it's an edge for us.
"Hawaiians have a saying, 'A 'Ohe Hana Nui Ke A Luia,' — 'No task is too big, when done together by all.'
In the early 1990s, Niau became an over-the-road conductor travelling a large swath of UP's main line from Salt Lake City, Utah, to Cheyenne, Wyoming.
Throughout his UP tenure, Niau has earned a positive reputation.
"The guy is top-notch. Ralph does his job and has a good attitude. He's just one of those employees you wish you had more of."
Brian Taullie, manager-Train Operations, Transportation
"The people I work with have helped me to become the person I am today," said Niau. "I owe a debt of gratitude to those who ensured a safe and lasting 50-year career for me."
Master Troubleshooter: After 50 Years, Garcia Welcomes Problem-Solving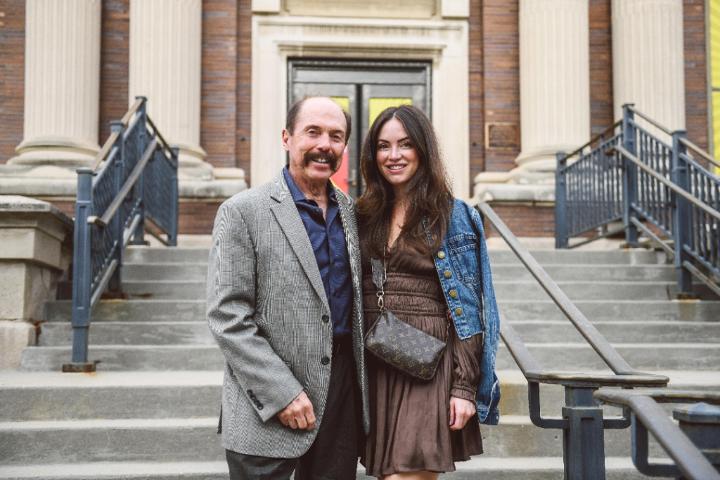 Locomotive Engineer Nick Garcia considers himself a master troubleshooter. And with 50 years of railroading under his belt, who would argue?
In fact, the El Paso, Texas, native is at his best when things don't go exactly according to plan. Because after 50 years of railroading, he's gotten pretty good at finding solutions.
"I like it when things aren't working out and you have to use your own initiative to solve (the problem)," he said. "It's good to be able to fall back on the past. That's what makes you an old head – sometimes you have to rely on experience to move freight."
Fifty years on the job helps. But having experience in lots of different positions over the years has also given him a unique set of skills.
Garcia's first exposure to railroading was in college when he worked as an iceman for the Pacific Fruit Express – a summer gig that helped he and his wrestling teammates stay in shape over the summer. It wasn't until April 28, 1971, that he was hired to be a full-time switchman for the Southern Pacific. After that, he worked in various roles as a brakeman, conductor, yardmaster and then a fireman.
When Union Pacific and SP merged in 1996, he had already been promoted to a locomotive engineer – a job he's held for the past 30 years.
"I enjoy being an engineer because it makes you think five miles ahead and five miles behind you," said Garcia, a Texoma Service Unit employee.
Staying on top of his game has meant being flexible to changes in the industry over the years, ranging from the advent of Positive Train Control to shifts in how smaller crews work together to accomplish their goals.
Subscribe to
Inside Track
"He's always asking questions and embracing change," said Michael Shindo, manager-Train Operations, Transportation, who has worked with Garcia for 26 years.
Colleagues look up to Garcia for his deep knowledge of the industry and his strong work ethic, and they also enjoy his good-natured personality.
"He's a jokester, always laughing and smiling," Shindo said. "He's one of those people who can get a smile out of anyone."
Garcia doesn't know when he'll retire quite yet, but whenever he does, he said the thing he will miss most is "those sunrises and sunsets."
Big Family Is The 'Treasure' of Conductor Gaston's Life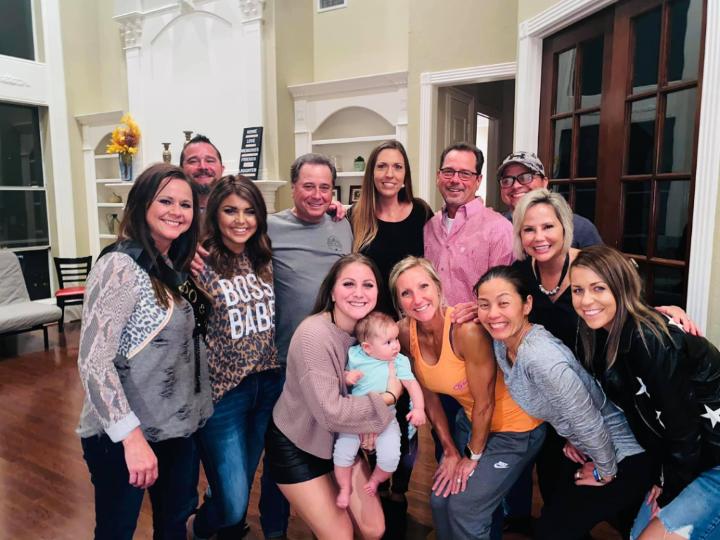 To Conductor Julian "Bill" Gaston, family is everything. It's why he gets up in the morning and the reason he decided to take a job as a switchman for the Texas Pacific Railroad over 50 years ago.
The Texas native grew up the first of seven children, has six children of his own and 23 grandchildren – and counting.
With so many sisters, brothers, daughters, sons, granddaughters and grandsons, it's not hard to see why his family is such a big part of his life.
"I was a newlywed with my first child on the way," Gaston said. "I wanted a good job to provide a good living for my family."
Over the years, he's worked as a switchman, foreman, car retarder operator, yardmaster and conductor. His routes have taken him from Fort Worth to Sweetwater, McAllister, Houston, Taylor and Mineola, Texas. He doesn't have a favorite route and his title hasn't ever mattered, he said, because he's always just wanted a job that would "best provide for my family."
However, his current job as a Texoma Service Unit conductor in Chico, Texas, where he is responsible for shoving the empties and pulling the loaded trains out of local aggregate plants, might be his favorite.
He's known by his co-workers as an employee with great character who always does the right thing, said Todd Custer, manager-Train Operations, Transportation, who has worked with Gaston since March. He's honest, helpful and friendly, has a great work ethic and is "always on top of his game," Custer said.
"You let Billy be Billy, and he'll take care of the job that needs to be taken care of."
Todd Custer, manager-Train Operations, Transportation
After more than 50 years of working for the railroad in some capacity, he has seen a lot of changes. The best part, he said, is all the people he's met over the years.
"What I cherish the most from my time at Union Pacific is that I have been blessed to have made lifelong friendships," Gaston said.
Gaston doesn't have a date for retirement yet. But he does have a few hobbies that keep him busy during his time off. He enjoys working with leather, making everything from belts to Bible covers. He also loves riding his horse and spending time outdoors. But when given the choice to spend time with family or do anything else, he always chooses his family.
"My treasure is truly in my big family," Gaston said. "Just being with them makes me smile."