When there's an emergency and you pick up the phone to report, you always hope there's a hero on the other line who knows the next step.
Subscribe to
Inside Track
At Union Pacific, those heroes are the Response Management Communications Center's (RMCC) critical call dispatchers who are ready to respond to emergencies 24/7.
From hazmat to trespassers to derailments, the dispatchers field just about every call one can imagine when it comes to the rail industry, according to Kalab Johnson, critical call dispatcher, RMCC, Law.
Johnson is part of a crew of 41 individuals who put their daily focus on responding to calls quickly and efficiently to ensure safety on and around the tracks.
"Every call yields a different response, but our protocol is very refined through years of practice," Johnson said. "It really just depends on the incident, but our calls are always a step in making the situation safer."
The team averages 1,000 calls daily.
While not all require critical responses, RMCC employees agree it's always important to call if there seems to be a problem on or around the tracks.
Johnson says one won't always know the severity or potential risks, so he and his teammates encourage the public and employees to make those calls and "report first" if they see a safety risk because the public is crucial in maintaining safety as well.
Johnson, who's been with the RMCC since 2017, says some calls are speculation, but one recent event he responded to was unlike anything he'd experienced in his time at UP.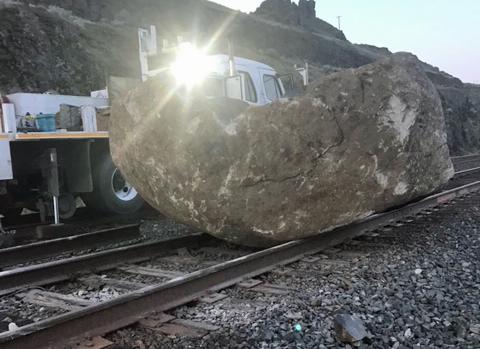 An Oregon sheriff's deputy called reporting a boulder that was "bigger than an automobile" had landed on the tracks and taken out part of a public highway above the tracks.
Upon inspection from a UP track inspector, the boulders had taken out two main tracks. Johnson contacted train dispatchers to halt train traffic over a 3-mile span, which included a nearby train.
"First and foremost, we prevented employee injury, prevented damage to our property and delay to customers," Johnson said. "Through our actions we help do what the railroad does, and that's move trains."
By doing what he does, his quick actions didn't go unnoticed.