While NASA is finding ways to use 3-D printing to provide necessities for colonizing Mars, Union Pacific is applying the same technology to make locomotive operations safer and more efficient.
3-D printing is a relatively mature technology, originally dating back to 1984; however, it wasn't commercialized until the 2000s. Functioning like an inkjet printer, 3-D printers use material – plastic, metal, glass and concrete – to lay down successive layers until a tangible object is created. Each layer or slice can be as small as a quarter of the diameter of a piece of hair.
"Early 3-D printed objects were fragile," said UP's Senior System Engineer Royce Connerley. "Today, we're using tougher plastic allowing 3-D printed parts to be dropped or treated like any other piece of equipment. It's critical in a railroading environment."
UP first experimented with 3-D printing in 2013 to prototype a handheld AEI device. AEI is a system used to keep track of rail equipment. Each rail car has an AEI tag – a small radio transponder located on its side containing equipment information. Employees working in railroad yards use handheld AEI devices to ensure trains are assembled in the proper order.
"Printing 3-D prototypes in-house accelerates our rate of change," Connerley said. "We can make modifications during multiple iterations without waiting for each version to be returned from an external vendor."
This flexibility proved invaluable while experimenting with remote-control devices used to direct locomotive movement inside a rail yard. The team wanted a safer, more user-friendly handheld device. While still in the pilot phase, feedback from field testing a 3-D printed version can be incorporated into the design.
"We can make design tweaks and have a new version ready within hours, plus the prototype never leaves UP," Connerley added. "Additionally, it ensures a complete design before we move into expensive tooling or long lead times for molded parts."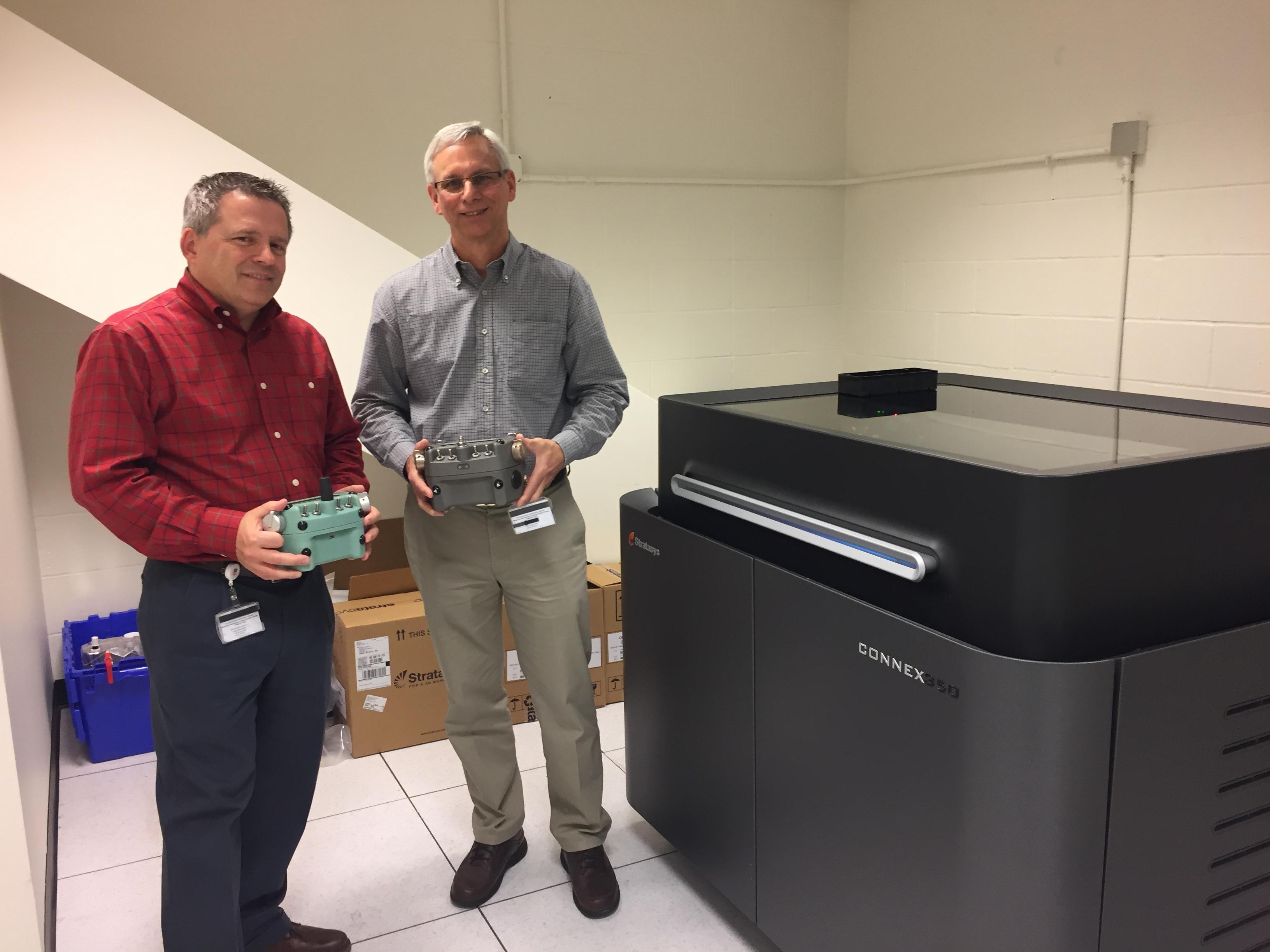 Housed in a small basement room of UP's headquarters in Omaha, Nebraska, the 3-D printer runs constantly, working on a variety of projects. Mechanical engineers first create virtual designs using Computer Aided Design (CAD) software. From there, it's almost as easy as selecting "file" and "print." Once the product is printed and cleaned, it can be used immediately.
"A client brought us a design he drew on the back of a napkin," said UP's Senior IT Manager Chuck Karbowski. "We created a 3-D model with our CAD software, printed a few pieces and it worked great."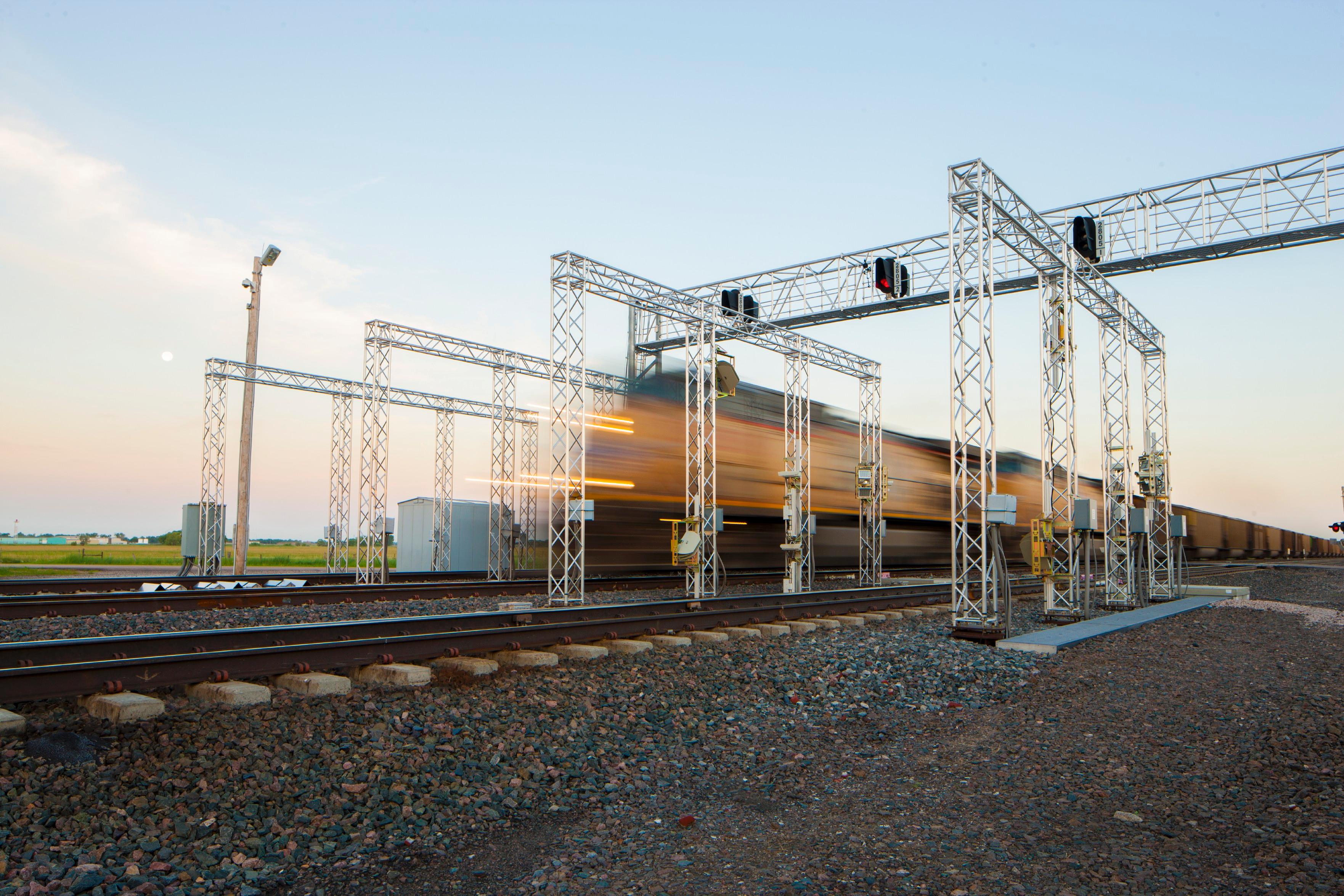 UP's 3-D printer is playing a critical role in Machine Vision – the company's imaging system capable of inspecting 22 components on a passing train. One component relies on a shutter assembly to photograph each car's undercarriage. Using a 3-D printer, UP designed an air knife that blows air across the laser for cooling and provides outward air flow to keep debris out.
"Right now, this piece is produced on a 3-D printer," Karbowski said. "Eventually, we will mass produce it in a more sustainable material."
Control of design, timing and material type gives UP a competitive edge and room to experiment in ways never previously dreamed. Will we be 3-D printing railroad parts on Mars someday? That remains to be seen.