In a few weeks, four much needed ambulances will begin their journey to Xalapa, Mexico, in specially modified uni-level rail cars.
The ambulances are part of a donation from the City of Omaha, Nebraska, Union Pacific's hometown, to its sister city, Xalapa, located 120 miles east of Mexico City. The donation included seven Hurst Extrication Tools, also known as "Jaws of Life," and several self-contained breathing apparatus. All the equipment will be transported nearly 2,000 miles via rail service provided free of charge by Union Pacific to the Mexican border, where Kansas City Southern de Mexico will complete the journey.
The donation was facilitated by the Omaha Sister Cities Association, a volunteer-run nonprofit organization that works to promote diplomacy, global awareness and cross-cultural relationships between Omaha and six sister cities located in Europe, Asia and Latin America.

"Omaha's sister city relationships are championed by local groups who have an ethnic or business connection," said John Murray, who serves on the Omaha Sister Cities Association's Board of Directors. "Right now Omaha completes business, education, artistic and humanitarian exchanges with cities in Japan, Germany, Lithuania, Ireland, Mexico and China." The Omaha Sister Cities Association was one of the first Midwest chapters of Sister Cities International, founded in 1965.
The recent exchange was a continuation of an exchange that begun in 2010 when Omaha sent two ambulances to Xalapa. "They've used them quite a bit, and the equipment is still badly needed," Murray said. "When we found out Omaha had more equipment, we asked if the city was willing to donate it."
Murray says humanitarian exchanges are unique; most exchanges are of a cultural or academic nature.
"Humanitarian exchanges show good faith," Murray said. "Omaha is blessed with a lot of wealth, and I think it's important that we share our resources in addition to sharing our culture."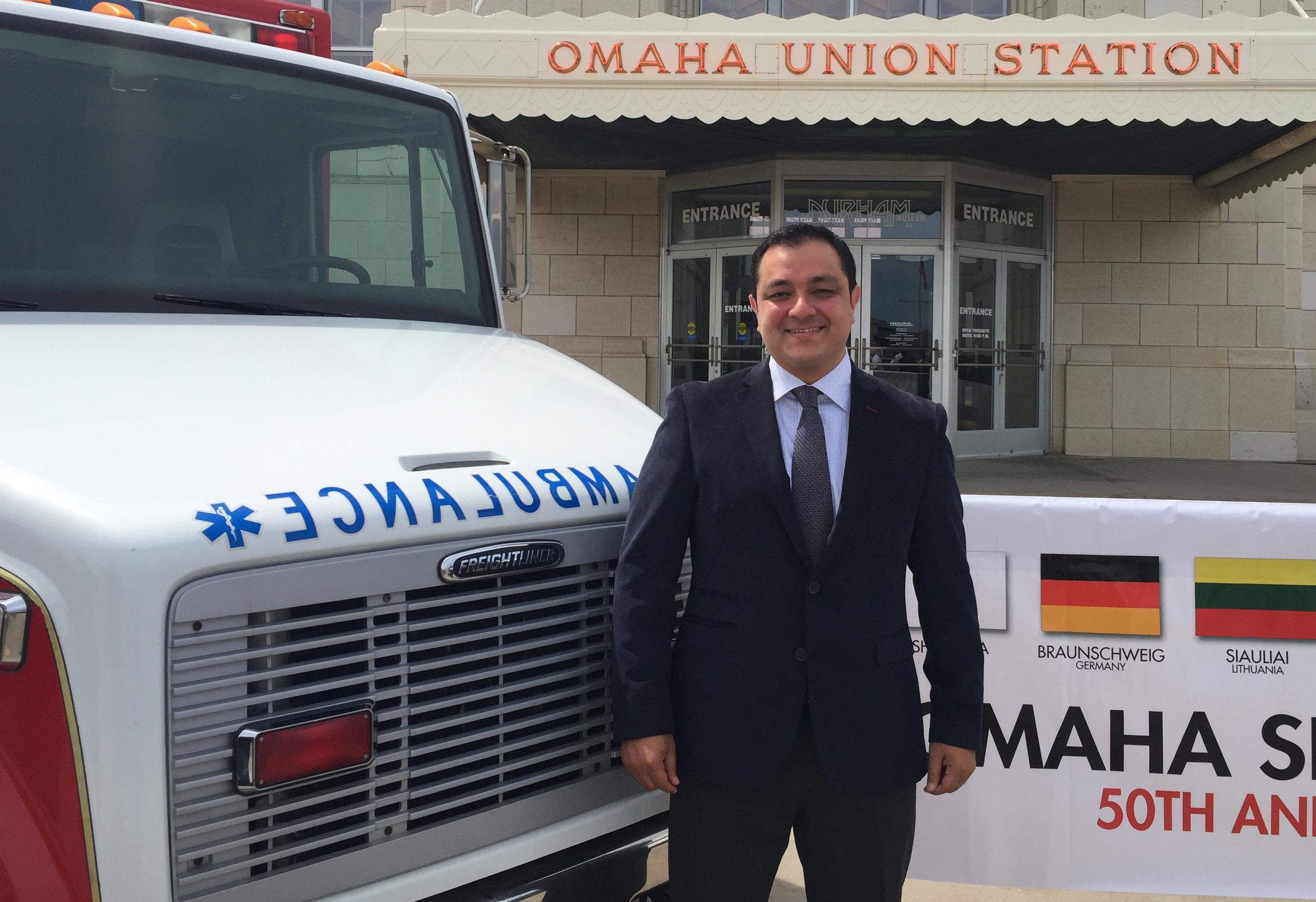 Xalapa's Mayor Américo Zúñiga Martínez was in Omaha for the May 24 ceremony held at the Durham Museum, formerly known as Omaha's Union Station.
"We are very proud to have this relationship with Omaha," Martínez said. "It lets us know about the people, culture and history of this beautiful city. The Omaha Fire Department is not only a group of heroes in Omaha, but also in Mexico. We are grateful for all they have given us."
Omaha's Mayor Jean Stothert, Omaha Sister Cities Association President Cynthia Buettner, Union Pacific Senior Vice President of Corporate Relations Scott Moore, Mexican Consul Guadelupe Sànchez Salazar and Omaha Interim Fire Chief Dan Olsen also were in attendance.
Martínez says the emergency equipment is much needed by the city's more than 700,000 citizens. "We have communities that are very, very far from the hospitals," he said. "We also have some very poor communities that are excited to receive this show of generosity."
The donation ceremony marked a decade of exchanges between Omaha and Xalapa.
"We are grateful for Union Pacific's transportation," Martínez said. "We are honored to have Union Pacific on board this excellent project. It's a humanitarian project with profound and deep roots of international social responsibility."