Union Pacific teams up with seven BYU undergrads to improve intermodal car aerodynamics.
But seven undergrads have a different destination. They're headed to a nondescript warehouse at the heart of BYU's campus. They punch a code in a keypad and push open a metal door decorated with leftover Halloween stickers. Just inside the Flow Dynamics Laboratory, a mechanical engineering team tweaks components of a NASA Mars Rover, and around the corner a model train sits inside a massive tunnel ready for aerodynamic testing. But this is no toy.
Union Pacific teamed up with BYU's capstone program, designed to give future engineers hands-on experience with real, industry-sponsored projects. The task: redesign Union Pacific's first generation Arrowedge™, making it more cost effective to produce, while maintaining or improving its aerodynamic capabilities.
First put into service in 2014, the Arrowedge device is positioned on top the first freight container of a double-stack intermodal train - containers that haul everyday items such as cell phones, televisions and clothing. The Arrowedge's tapered body allows air to more easily flow around the train's top frontmost containers, reducing aerodynamic drag and improving fuel efficiency.
BYU senior Jeff Carruth jumped at the opportunity to work on the project, explaining, "Trains are cool, plus there's the aerodynamic element."

Fellow seniors Derrik Adams, Jacob Cloward, John Linn, Aaron Terry and Justin Millerberg joined Carruth on Team Aero VI. Upon their first meeting, they quickly found their groove.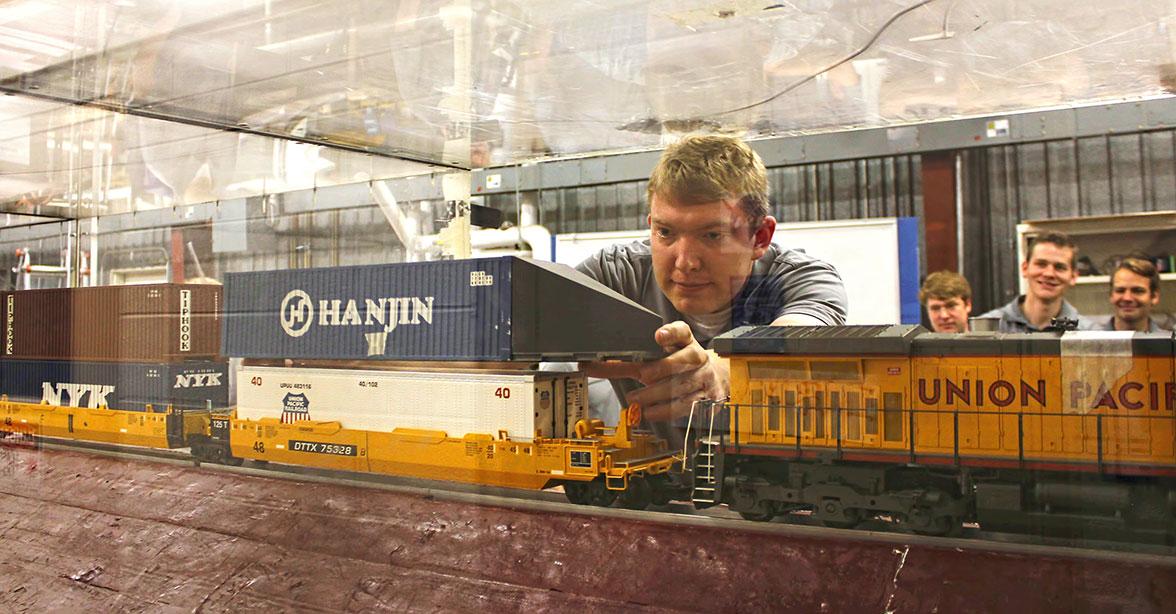 "We literally sat in a circle and started drawing ideas," Cloward said. "Once we had a design, we'd pass it to the next person to make changes. We ended up with hundreds of sketches."
The current Arrowedge includes a handle on the front called the transom, which allows a crane to latch onto and lift the container to stack it on the train. The students knew the transom hurt aerodynamics, and decided to enclose it, adding a cone-like shape and base plate to a 40-foot freight container. The design reduced manufacturing costs by more than half, but Wayne Kennedy, Union Pacific's general director of fuel conservation, who serves as a liaison on the project, encouraged the students to further simplify.
Kennedy arranged for the team to visit Union Pacific's Salt Lake City Intermodal facility, which provided valuable insight. Seeing workers operate the gantry crane to lift freight containers on and off the train and speaking to the yardmaster led them in a new direction.
"We decided to take a 53-foot container that's no longer in service, remove the first 13 feet and use the recycled material to make a pointed front," said Terry, one of the students. "Arrowedge 3.0 is virtually the same aerodynamically as the original, but at an 88 percent cost savings."
At this point, the team was ready to test the design. Junior Andrew Schaff joined the ranks as the self-proclaimed "low tech guy." He spent more than five hours hand-sanding a piece of foam, creating a miniature version of Arrowedge 3.0. It was the first of more than two dozen foam prototypes. BYU's 3-D printer created the finalized miniature models.
More than half the length of a basketball court, the wind tunnel holds a miniature version of a Union Pacific train. Outside the tunnel, three students ensure a computer is hooked up to the metal sensors that will feed it data. Papers and lightweight boxes are weighted down or hidden in drawers to keep them from being blown away by wind pumping out the back of the tunnel.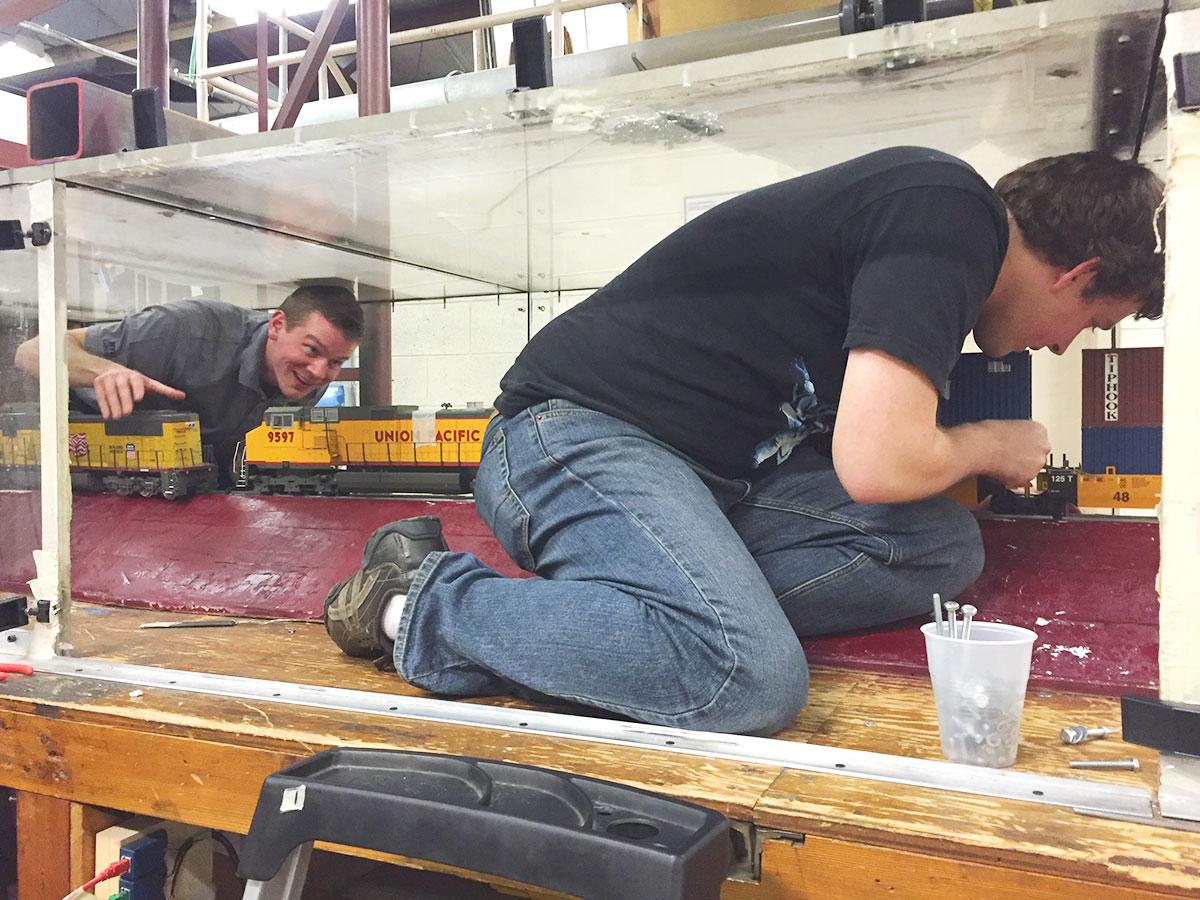 Ready for action, students don ear plugs and headphones to protect against noise. One student flips a switch, while another cranks a wheel generating wind speeds from 75 to 120 miles per hour. Wind causes the metal blocks under the tracks to bend slightly, measuring the amount of force on each train car; that force and wind speed are used to calculate aerodynamic drag.
"Drag on the first car is significantly higher than the rest of the train," Schaff said. "It gradually lessens, and after five to 10 cars, drag is virtually the same."
The Arrowedge Journey
Mike Iden, Union Pacific's general director of car and locomotive engineering, started tinkering with the concept behind Arrowedge nearly a decade ago. With his first design completed, Iden turned to Kennedy, who was involved with the company's continuous improvement efforts. Kennedy, a BYU alum, fostered the relationship with the university to test Iden's idea.
"The results were positive, but not enough to justify moving forward," Iden said. "I started doodling more ideas and eventually built the first Arrowedge model out of balsa wood in my garage."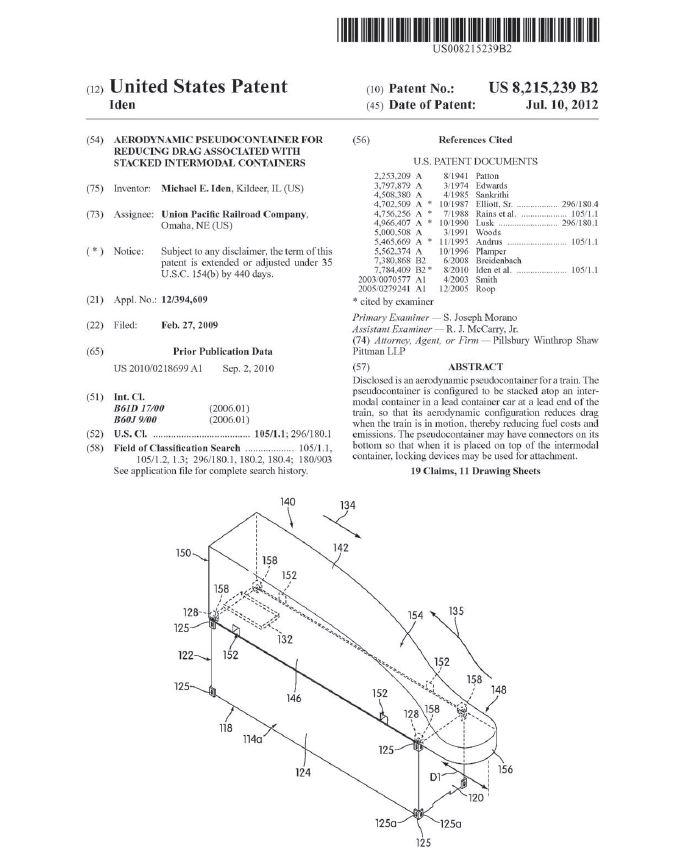 Iden's second design achieved the desired results. Union Pacific applied and was granted three patents from the U.S. Patent and Trademark Office. Another round of testing at BYU in 2010 produced more encouraging results. A life-size Arrowedge was commissioned for further research at the Association of American Railroads' seven-mile test track in Pueblo, Colorado. From there, Union Pacific was granted two additional patents, and put eight Arrowedges into service in 2014 running between Chicago and Los Angeles.
Diesel fuel accounts for about 15 percent of Union Pacific's operating expenses. Thanks to innovation like the Arrowedge, fuel efficiency has improved by more than 17 percent since 2000. Now, Union Pacific hopes to see further positive results as it moves forward with manufacturing roughly 50 of the Arrowedge 3.0 design (instead of 200 as originally reported). Once completed, the containers will be staged in various locations for efficient use along the Chicago-to-Los Angeles route.
For BYU students, this capstone project was about more than resume-building.
"I'm going to drive down the road one day, see the Arrowedge, and tell my kids about working on it," senior Jeff Carruth said. "The world always needs great ideas. Sometimes those ideas come from playing with trains."