As Union Pacific Special Agent Kevin Wells strides through the dusty San Antonio heat, he peers through shadows cast by two empty box cars.
"They're usually tucked down where you can't see them, but if you look closely at most containers, there are little cut outs," Wells said about his process for spotting trespassers hiding in trains. "You can usually see their feet or their bags... just something that doesn't belong there. They sometimes have weird pets, too. Once I ran into a group that was traveling with a dog, a rat and a duck on a leash."
Dressed for a day in the Texas heat in a black short-sleeved uniform and safety sunglasses, he stops to inspect a small shanty made out of stacked pallets. While jabbing at some trash with his police baton, he discovers several dingy articles of clothing and a bit of copper wire casing likely stolen from a nearby rail yard. "They sell the copper wire for cash," he said. "You can see someone's been living here. Their food is stacked right there."
Wells points his baton at some stacked cans of pineapple.
Inspecting a "hobo camp" may seem mundane, but it's just part of the job for Wells and his team of San Antonio special agents who are charged with protecting three rail yards and several hundreds of miles of track. Wells knows he could be confronted with a life-threatening situation at any moment. Like a few years ago when he was patrolling the yards on New Year's Eve.
"Here in Texas, people like to shoot guns off at midnight," he said. "I had received a call from someone who thought somebody had launched a rock that hit the window of a crew cab. At the time, the caller didn't realize it was bullets breaking the windows."
Wells expected to find teenagers throwing rocks. "When I pulled into the yard, shots were fired at my car," he said. "I heard the first round hit the door and then turned the wheel sharply, and heard the second round go over the roof. I took cover behind some rail cars. It was midnight, so I couldn't get through to 911 to call for back-up."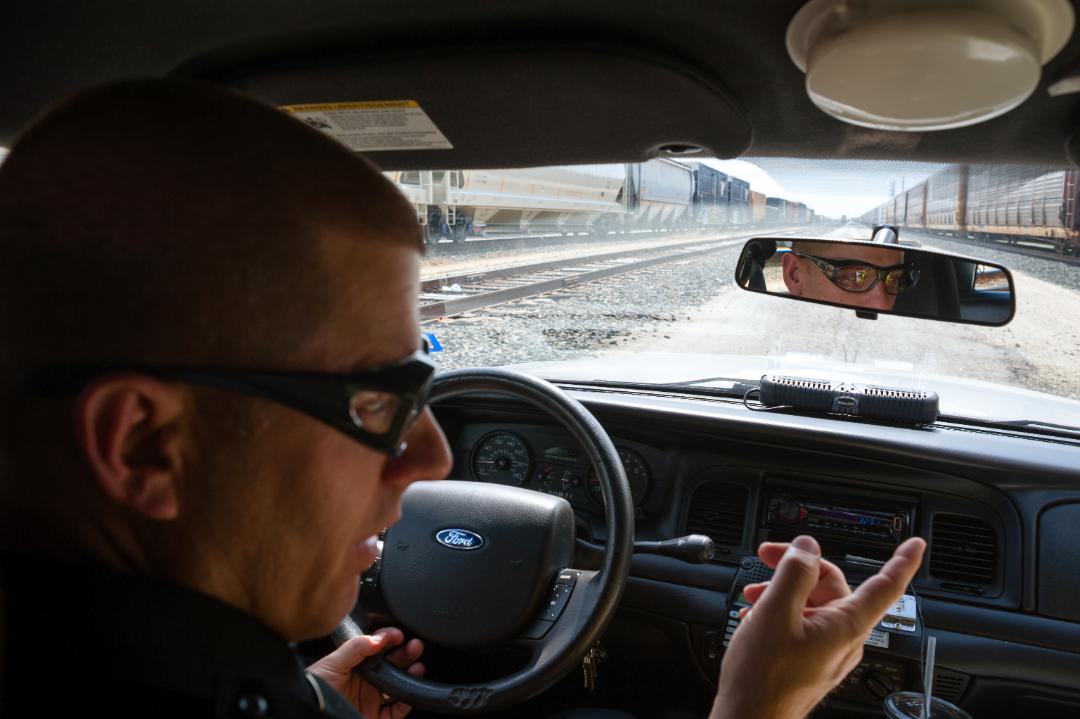 By the time back-up arrived, Wells had determined the shots were coming from a nearby tree line separating the rail yard from a residential area. However, it wasn't until several days later that officers found the culprits who could have taken Wells' life.
"They were just intoxicated and shooting at things moving in the yard; they didn't intend to hurt anybody. They just weren't thinking about what they were doing," Wells said. "I downplayed it to my wife the next morning. I don't really share stuff like that with her because I think it's important for her peace of mind. It's a false sense of security, maybe, but it is what it is."
The reality of his job is something he, his anesthesiologist wife and three children ("a brunette, a blonde and a red head," he says with a smile) have to contend with every day.
"My wife and I got together when she was 16 and I was 18," Wells said. "She's always known what I was going to do as a career."
Wells isn't the only San Antonio special agent who's been on the receiving end of a gun.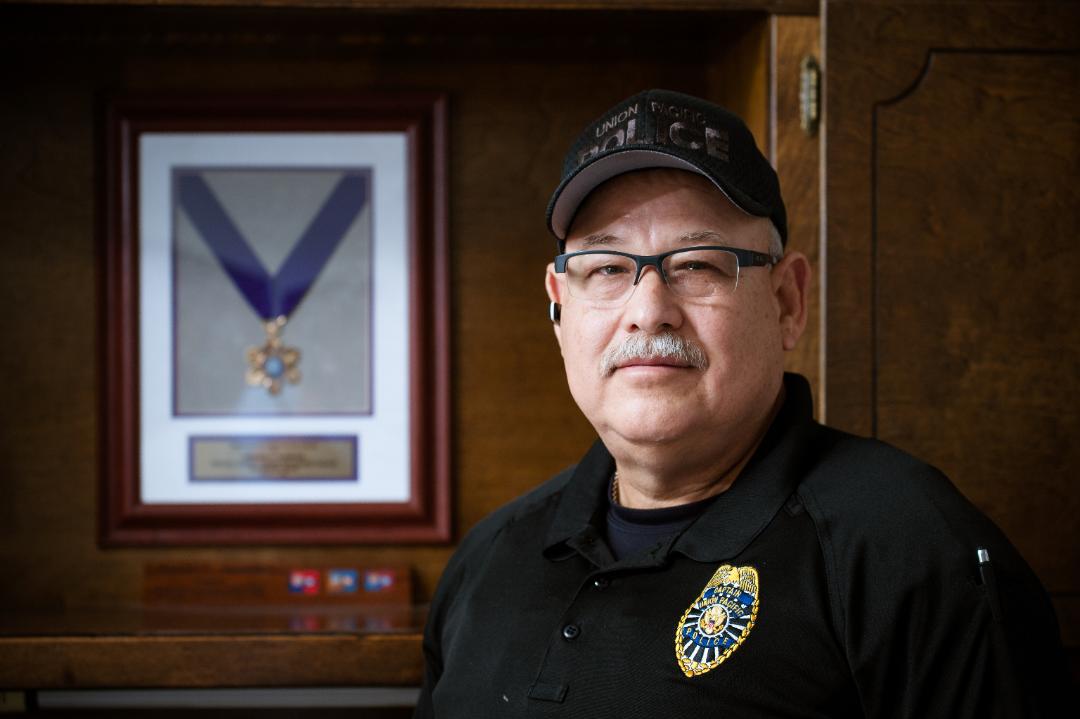 "I was shot in the back with a shot gun," said Oscar Garcia, Jr., director of division police for south, central and a portion of west Texas, and Wells' boss. "I was ambushed by a trespasser. I was inspecting cars carrying high-value loads. When I came upon one of the cars we were planning to inspect, someone was hiding behind a nearby tree. He shot at me. I went down with the impact, and before I knew it, I was in the hospital. I was in good physical health, so I pulled through at the time."
Now that Garcia is in a managerial role, his wife and grown children worry a bit less about his safety.
"That's the thing, when you have a wife or husband at home it can be hard on them," Garcia said. "We're away from home for long hours, and they're often left to manage the household. Without the support of my wife and my two boys, I wouldn't be as successful as I am now."
Prior to joining the railroad, both Wells and Garcia served as local law enforcement officers. Wells was a member of the Fort Worth Police Department, and Garcia was a member of the Webb County, Texas, Sheriff's Department after he served three years in the U.S. Marine Corps.
"We don't hire anyone who hasn't gone through a police academy, so our new employees are already law enforcement professionals," Garcia said. "All we have to teach them is the railroad, but the railroad requires a lot of training. Safety is paramount at Union Pacific, and these guys are working in a very unforgiving environment."
Wells was introduced to the railroad when he was working for the Fort Worth Police Department. "I worked a derailment investigation with a special agent out of Fort Worth," he said. "I also had been to a grade crossing investigation course, that's where I became interested."
When his wife got into medical school in San Antonio, Wells made the move, too, initially working as a narcotics dog handler at the Judson Independent School District Police Department. "Once we decided to stay here permanently, I applied for the special agent position at the railroad," he said. "I've been here for 15 years as a K-9 special agent, an instructor, and now I'm the manager of division police."
Union Pacific special agents and local law enforcement officers have overlapping jurisdictions, but UP railroad property is the Union Pacific Police Department's responsibility. The first special agents were hired during the "Hell on Wheels" era to protect cargo from train robbers in the Wild West. They were deputized by states instead of individual cities, which allowed them wider authority than local police. Today, there are 210 Union Pacific special agents across the network still tasked with protecting customers' cargo, but law enforcement has changed and their responsibilities have grown.
"It is our job to protect the railroad," Garcia said. "We are tasked with investigating any criminal activity against the railroad. We are licensed Texas peace officers."
In Texas, a peace officer is someone legally authorized to enforce state laws. This includes police officers, constables, sheriffs and their deputies, game wardens and investigators for prosecuting attorneys. All are sworn, commissioned and bonded officers legally required to enforce the laws of Texas with the power to arrest.
However, Union Pacific special agents cannot issue traffic citations in Texas. "That's a challenge for us," Wells said. "We work with local police to do traffic stops. They'll issue citations for us at problem railroad crossings."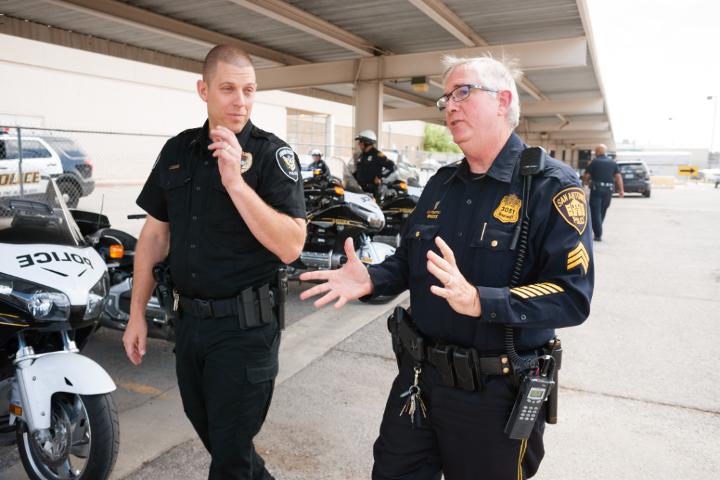 Sergeant Gregory Brooks of the San Antonio Police Department traffic motorcycle unit is responsible for enforcing traffic laws in San Antonio. Brooks said that although there are state law violations occurring daily at railroad crossings, in the past it just wasn't something they normally patrolled.
"I'll be honest with you; it's because of this liaison with Union Pacific Railroad that brought our attention to the dangerous problem that exists," he said.
Brooks says the average citizen doesn't realize the seriousness of breaking railroad-crossing laws because they haven't considered the possibility of having an accident with a train.
"There are thousands of minor accidents with other cars on the road every day, but there is no such thing as a minor accident with a train," he said. "I've seen a lot of things in all my years of being a police officer, and the train accidents are some of the worst. They're horrific."
Too often, Wells and Garcia have also seen the aftermath of when a car loses a race with a train.
"The most important part of this job is safety," Wells said. "We're trying to keep the public safe. We care about trespassing because we're trying to prevent injuries and death. Our main goal is to get people educated and off the property so they can't get hurt."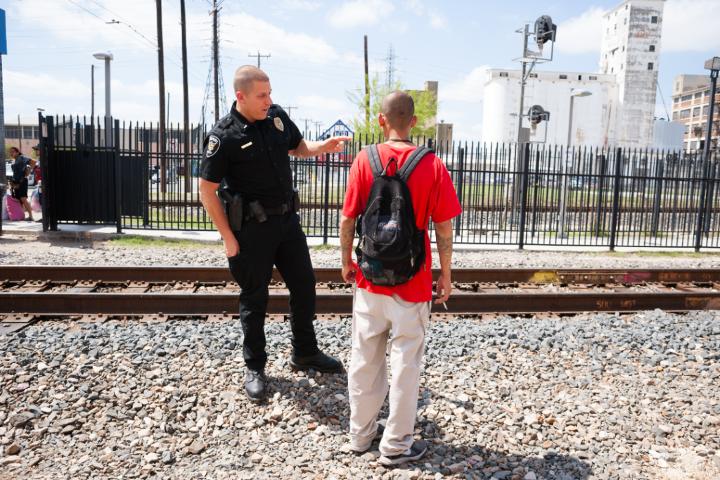 Sometimes, removing trespassers can be dangerous business. The image of the "friendly hobo" is mostly fiction. Running into people with arrest warrants is common. "We deal with a population of people who are heavy drug and alcohol users, or who have been to prison and are violating parole," Wells said. "These people tend not to cooperate, because they know they could end up in jail."
Wells says a lot of trespassers on trains carry knives, and the neighborhoods tracks run through are not always safe. "We're exposed to a lot of different things," Wells said. "We've come upon shootings that are not on railroad property, but right next to it. I've been the first person to a homicide scene here in San Antonio. You never know what's going to happen."
The other night as Wells was leaving to cover his co-worker's night shift, his son said something that made him feel a little uneasy. "My son gave me a big hug and said, 'I'll be mad if you die.' It set me back," Wells said. "The fact that he even thinks about it… he's six, but even he understands that there's a risk there."
Wells says it's impossible to keep the dangerous reality of a career as a special agent from his kids.
"They know that police officers, at times, do get assaulted or killed, and their dad is a police officer," he said. "I told him that I know how to take care of myself and that I'll be safe. All I can do is take care of myself and do the training to keep the odds on my side."