Most locomotives departing Jenks Locomotive Shop in North Little Rock, Arkansas, fit a mold: polished, armor-yellow titans ready to haul freight across Union Pacific's 23-state network.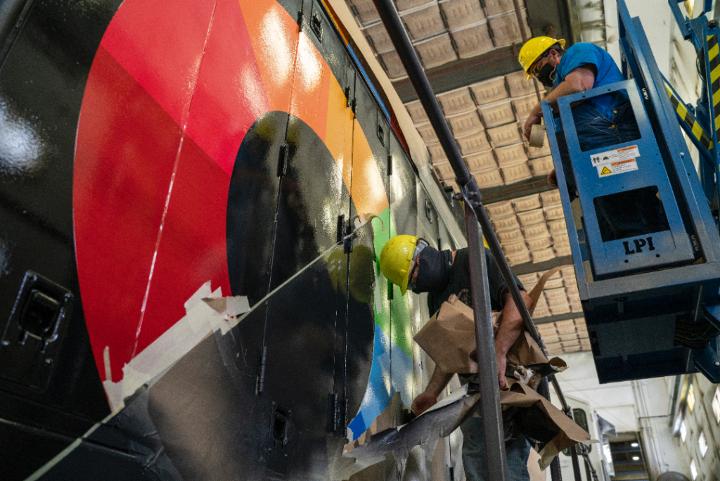 But on extraordinary occasions, ardent rail fans can catch a glimpse of something special: a gleaming UP commemorative locomotive telling a story of the railroad's past or present. That story is painted on specialized locomotive masterpieces by one craft – Mechanical carmen.
Two of these carmen, 22-year railroader Nathan McKinney and 16-year railroader Shaun Bateman, worked as a team to paint the complex UP No. 1979 We Are ONE Employee Resource Group (ERG) Locomotive, one of many collaborations they've mastered over the past 16 years.
McKinney Makes His Mark
Nathan McKinney, manager-Locomotive Maintenance, Mechanical, started his railroad career in the train yard, working on RIP tracks before becoming a carman and painter at Jenks. He followed the example of his father, a Missouri Pacific carman in Texas and after the railroad merger, a UP boilerman at Jenks.
If his father was still working on the railroad, the younger McKinney would take home the title of 'boss'–at least at work, as he now leads the Jenks group where his father wrapped up his railroad career.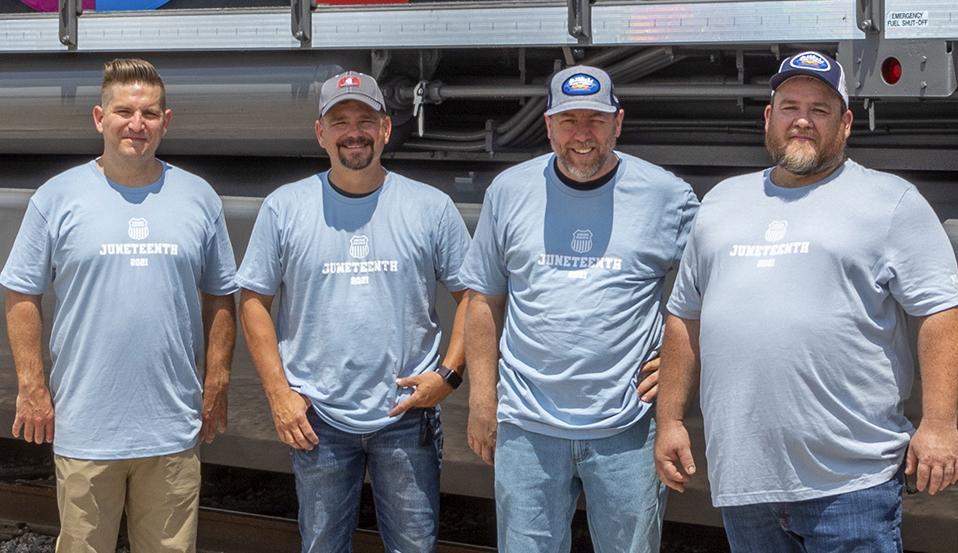 For McKinney, interacting with co-workers is the best part of the job.
"The back and forth, never knowing what someone might say keeps you on your toes," McKinney said.
UP's special commissions also keep the paint shed fresh, as commemorative locomotives require a little more oomph: a more in-depth sandblast, a little extra body work, hours of sanding to remove rough panels and attention-required detail-oriented painting, topped off with clear coat to protect the final product.
Subscribe to
Inside Track
The most complex aspect of the We Are ONE:
"Have you seen it?" McKinney said. "All the tape lines and different colors, plus using a dual-action sander for three weeks straight."
This isn't McKinney's first special project – he also worked on UP No. 1111 Employee Pride Locomotive and UP No. 4141 President George H.W. Bush Commemorative Locomotive.
"George H.W. Bush's locomotive may be my favorite so far due to the extensive touch-up we did to prepare it for his Presidential Library at Texas A&M," McKinney said.
UP No. 1979 recently toured the country, visiting UP yards across the system.
"It's cool knowing people across the country will see it," McKinney said. "I hope all who see this locomotive, and the other special projects we've worked on, can appreciate the hard work involved. I hope we continue to paint more in the future."
Bateman Carefully Prepares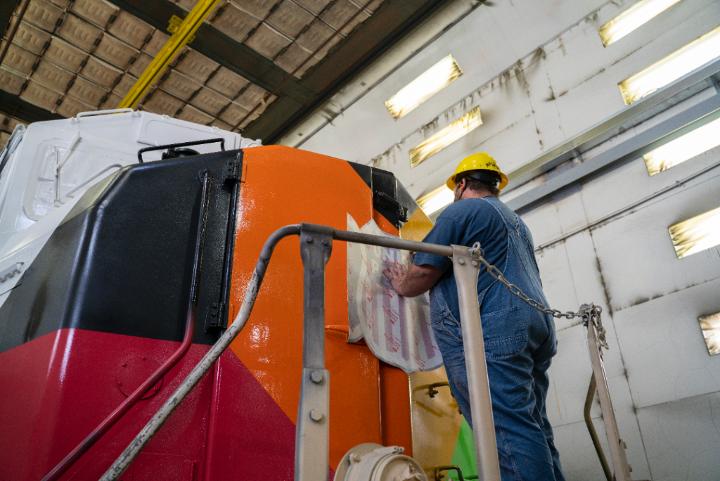 Shaun Bateman, lead carman, Mechanical, knows a thing or 50 about UP's commemorative locomotives. He also aided in the creation of UP No. 2010 Boy Scouts of America Locomotive, UP No. 7400 Pink Ribbon Locomotive, UP No. 1111 Employee Pride Locomotive and UP No. 4141 President George H.W. Bush Commemorative Locomotive.
"There's a strong sense of pride completing these special locomotives, as every part of the process is unique," Bateman said. "So much knowledge is required to do my job."
Elbow grease and power tools also help.
"The time spent prepping is extensively longer," Bateman said. "We complete more bodywork and carefully layout the graphics, making sure they are correct. The painting process is slowed way down as we take a flat 2D drawing and bring it to life on a 3D object."
Bateman started his railroad career in the train yard, working on RIP tracks before finding his way to Jenks. For him, UP was a logical career choice as many of his family members have worked on the railroad.
"I have family all over the country, and I'll be able to tell them 'I was one of two people who painted it,'" Bateman said. "I'm very proud of this project."
Bateman helped source paint, prepare the locomotive, and painstakingly apply paint and decals.