What do rock 'n' roll and bridge inspectors have in common? Just as the strings' vibrations tell a guitarist his instrument is properly tuned and ready to jam, the same kind of vibration or movement can give an engineer insight into a bridge's durability. It's called "smart monitoring" and it has the potential to revolutionize how the nation's more than 614,000 bridges are inspected.
Bridge inspections have never been more important. According to the American Society of Civil Engineers' 2017 Infrastructure Report Card, four in 10 U.S. bridges are 50 years old or older. The health of these structures is a hot topic for politicians at every level of government.
At Union Pacific, more than 95 percent of the company's roughly 18,000 bridges are inspected a minimum of twice annually by a specially trained two-person bridge inspection team, exceeding federal requirements. Bridges fewer than 10 years old and without defects are inspected once annually.
"We want to know about potential problems between regular inspections, and if there's a way to detect issues we want to take advantage of that," said Union Pacific's Director of Bridge Maintenance Todd Martindale.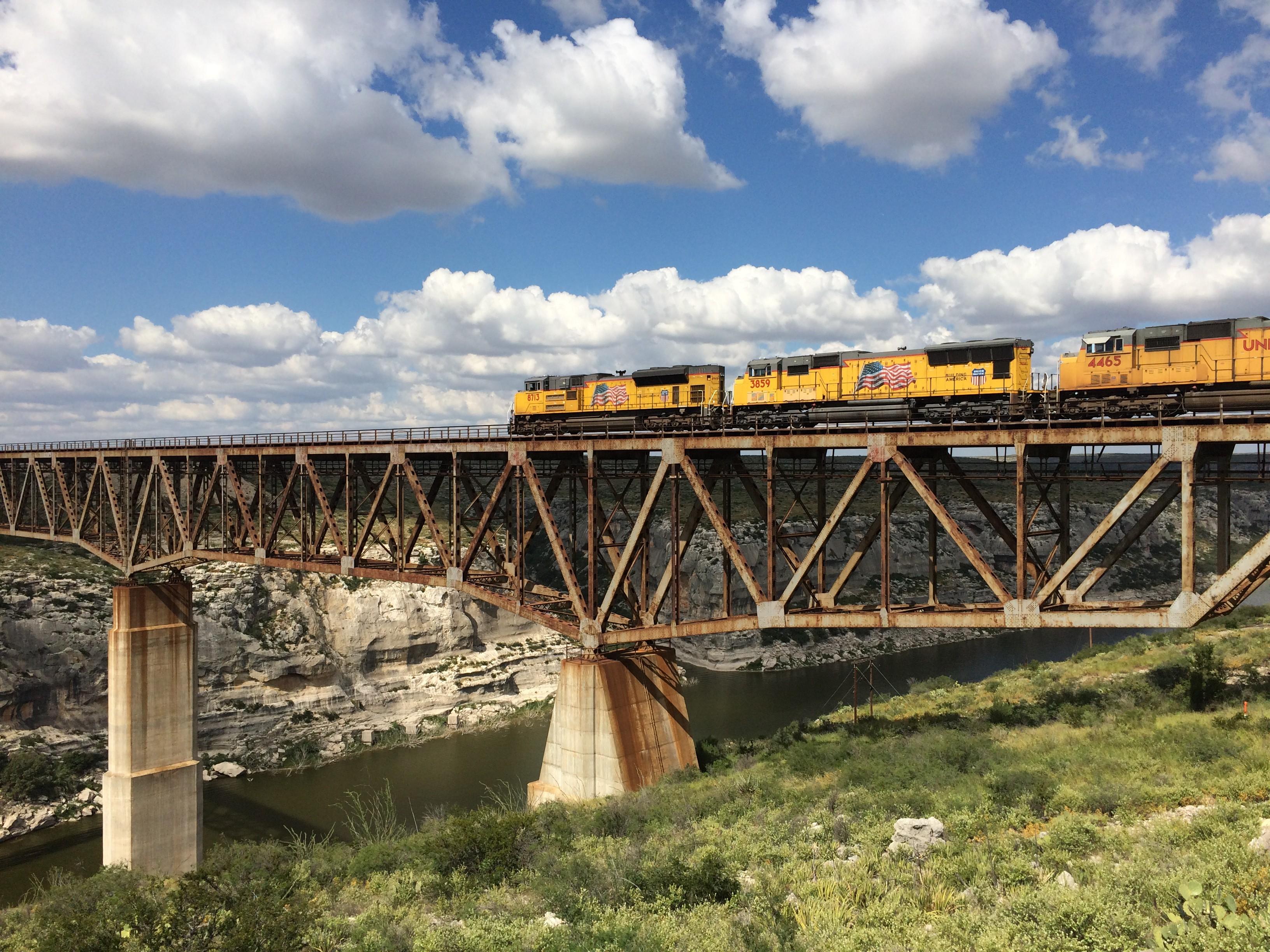 Union Pacific currently is working with three partners on bridge monitoring projects. Among them are two universities' Engineering Schools.
"Universities by nature do a lot of research and collaborate with vendors; our partnerships could lead to huge benefits," Martindale said.
The goal: An easily deployable, cost-effective solution to supplement in-person inspections, which carefully examine bridge components for cracks or other defects.
At the University of Nebraska, postgraduate students are using sensors to collect data from steel bridge members, using as the guinea pig a UP bridge in Columbus, Nebraska, built in 1908.
Subscribe to
Inside Track
"There are countless books that detail the kind of defects found in bridges," said Nebraska postdoctoral researcher Saeed Azam, Ph.D. "But how to detect a defect as soon as it occurs is something unknown to researchers."
The team first installed the sensors on specific bridge components, and after testing, created an analytical bridge model. This serves as the baseline, allowing them to revisit the site and continue collecting data. Any change in behavior could signify a potential defect.
"Quantitative data like this allow us to determine the status of a defect," Azam said. "It is objective information to aid bridge inspectors and maintenance teams, not requiring years of expertise."
The University of Michigan is working on a similar project, partially funded by a U.S. Department of Transportation grant. Students set up strain gauges on two Union Pacific bridges near Memphis, Tennessee. The devices send data through a wireless network back to the university, where researchers collect and analyze it. They're focused on how loads, such as the weight of a train or wind, impact bridge components and cause fatigue.
"Picture a paperclip. If you repeatedly bend it, it wears out and breaks. Steel components, depending on where they're located in the bridge, can develop fatigue cracks in a similar manner."
Todd Martindale
Researchers are incorporating train network influences, such as traffic volume, car weight and alternative routes, as well as bridge analysis data into a newly designed decision-making tool bridge owners can use to manage bridge work.
"For an immediate safeguard, if there's sign of distress we receive an alert from the university allowing us to immediately send an inspector to the site," Martindale said.
Another partnership already is showing results. Union Pacific is working with SENSR Monitoring Technologies to detect movement or impact to a bridge pier – the support structure underneath the bridge deck – such as a strike from a barge or vehicle. The company created a device that wirelessly processes and transmits data, and sends an alert if the structure shows an abnormality.
The technology is operational on seven key Union Pacific bridges, with installation underway at another three. Earlier this year, a barge hit the Thebes Bridge spanning the Mississippi River in Southern Illinois. Union Pacific emergency personnel and the bridge team received an alert within minutes.
"Previously, we would have taken the bridge out of service until an inspector could get to the site, which could take hours," Martindale said. "Using this technology, we can remotely monitor the structure, and if the pier returns to its normal state, we can run trains at a slow speed while the inspector is en route."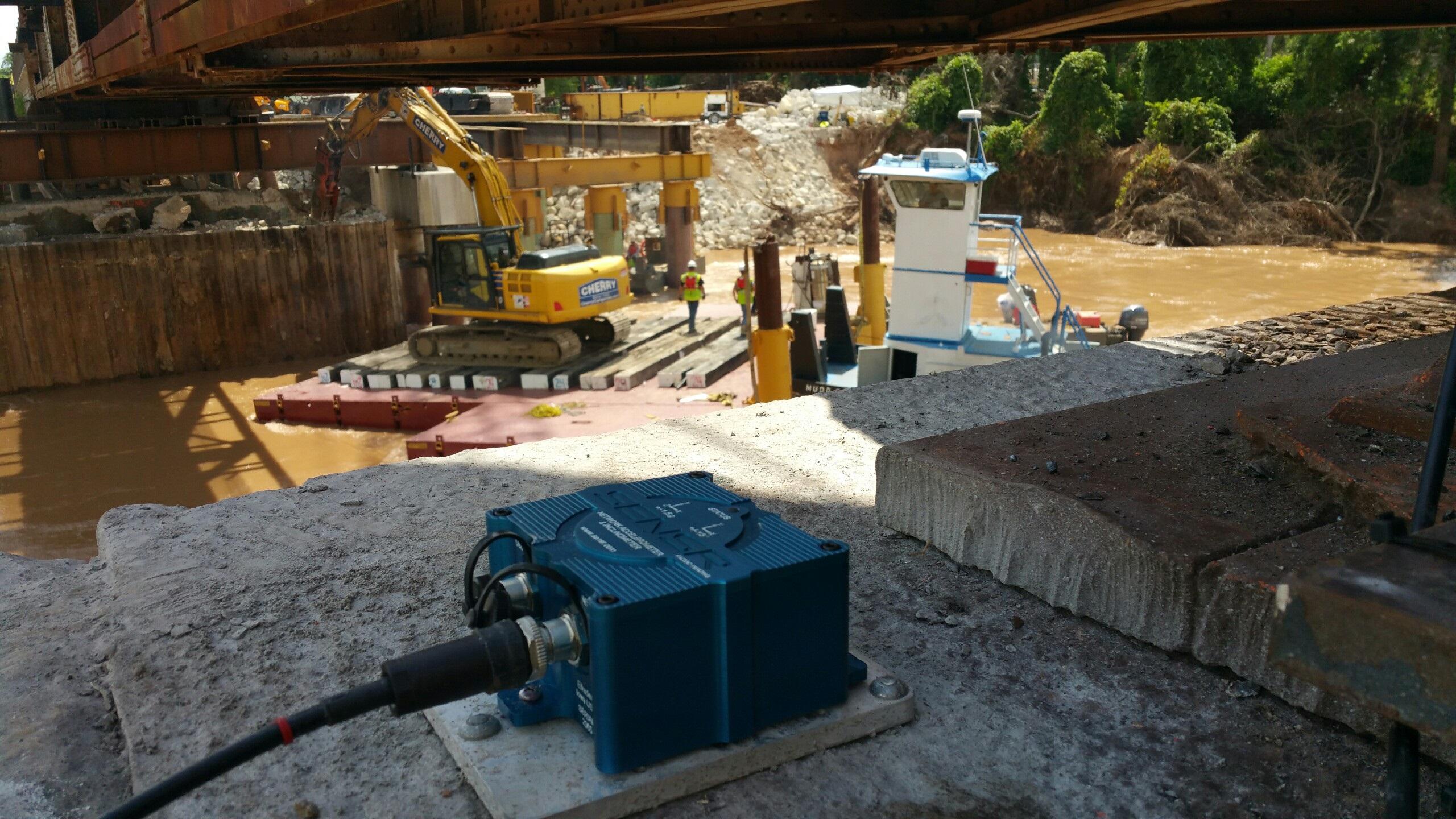 While each product is at a different stage, all show promise for the future of smart bridge monitoring. Just like there's more than one way to tune a guitar, there are other opportunities in development, such as adding monitoring devices to locomotives and rail cars.
"The theory is a bridge should have the same response every time a train passes; if it doesn't we need to look for a potential defect," Martindale said.